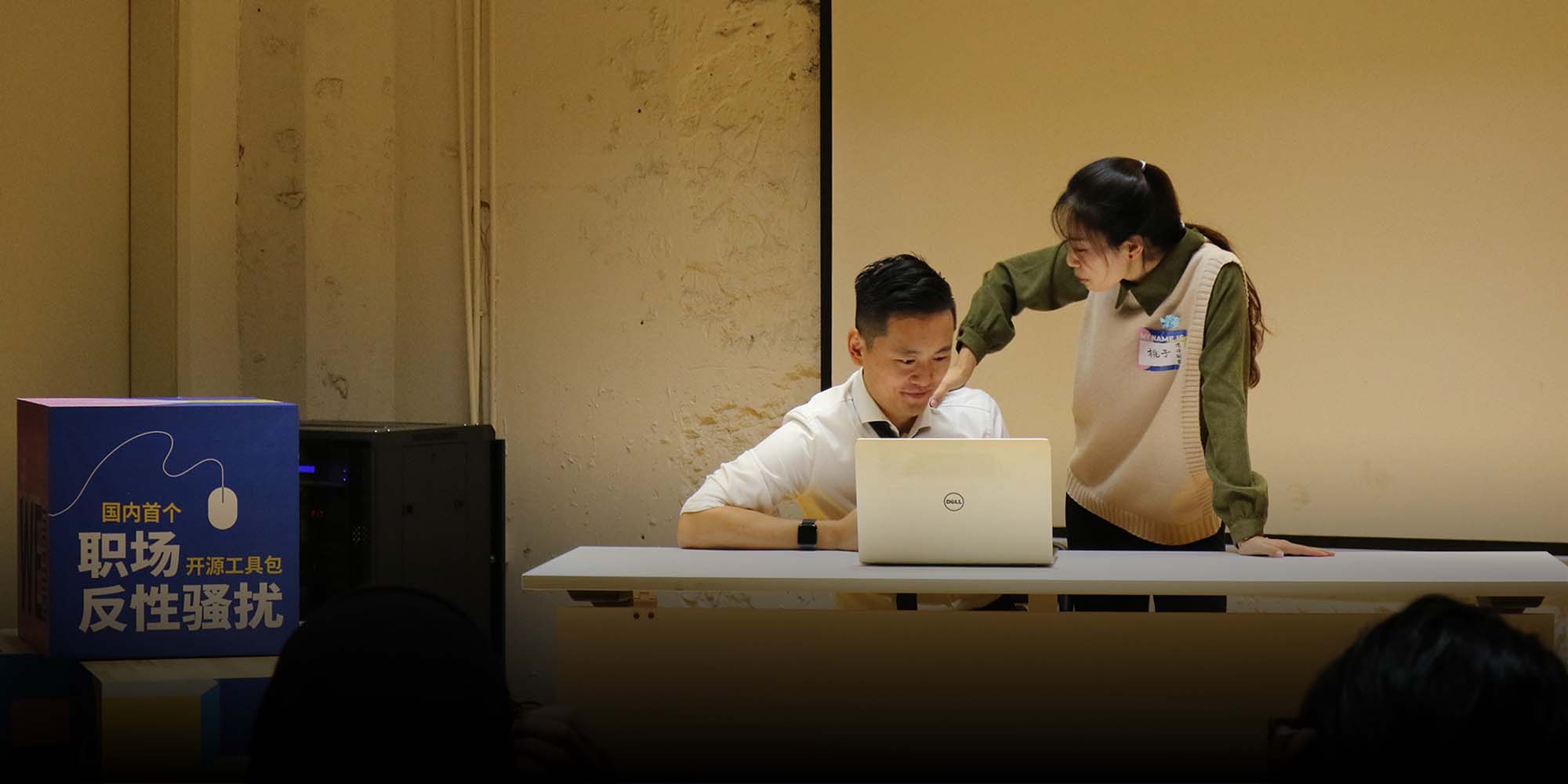 NEWS
Company Offers Free Anti-Harassment 'Toolkit' for Chinese Firms
In the absence of a unified guideline endorsed by the government, Shanghai-based BottleDream is providing open-source anti-sexual harassment resources for domestic companies.
SHANGHAI — A woman is typing away on her laptop in an otherwise empty office when her boss sidles up behind her and rests his hand on hers. "Excuse me, but I'm not comfortable with this physical contact," she says. "If you're not comfortable with this," he replies, "then you should probably resign."
According to a 2020 survey by one of China's largest online recruitment platforms, 8% of nearly 66,000 respondents say they've experienced workplace sexual harassment — such as the above scene from an awareness-raising event Saturday in Shanghai. And a majority of Chinese companies don't have any official policy against sexual harassment at all.
To address this issue, BottleDream, a Shanghai-based corporate social innovation company, has released what it describes as the country's first "anti-workplace sexual harassment open-source toolkit," including codes of conduct and a suggested mechanism for handling complaints. The free product is co-designed by volunteer feminist group and UN Women project winner EnGender China, in cooperation with other experts and consultants.
EnGender's co-founder, Wang Xiaozhe, told Sixth Tone that anti-sexual harassment mechanisms are still a novel concept at most Chinese workplaces. "The toolkit is not only about how to handle sexual harassment in the workplace, but also about companies learning basic principles and values," said Wang, who has a degree in gender studies from the University of Cambridge. He added that EnGender's guideline includes zero tolerance for sexual harassment and treating every alleged offense seriously.
Yu Chuanying, human resources director for BottleDream and the toolkit's co-designer, told Sixth Tone she came up with the idea for the project when she started formulating an in-house mechanism for the company and realized no unified anti-sexual harassment guideline exists in China.
"Our research shows domestic companies believe anti-sexual harassment initiatives for the workplace are important, but not urgent," said Yu, referring to a survey BottleDream conducted of 160 companies.
According to BottleDream, around 10 companies have decided to adopt the toolkit, and three are already enforcing it. BottleDreams' goal is to have 50 small- and medium-sized businesses using the guideline in 2021. Such companies, Yu said, are more likely to value gender equality in the workplace compared with large, state-owned enterprises.
Still, getting any business to adopt the framework can be a tough sell.
"I've failed many times when trying to invite companies to do so," said Liao Jingyi, an EnGender director who also helped design the toolkit. "They often ask me, What kind of profit can I get from this?"
While some Chinese companies may continue to prioritize earnings above equality, such attitudes may end up hurting them in the long run. According to Deloitte, an international consulting firm, each alleged case of sexual harassment costs a company $1,053 on average in lost productivity.
Not until 2018 were there legal grounds to sue for sexual harassment in China, and the country's landmark civil code — approved in May and slated to take effect next year — is the first legal basis at the national level outlining employers' responsibilities to provide a harassment-free environment for workers, including accepting, investigating, and adjudicating complaints. The code does not, however, recommend specific punishments for violators.
In June, a woman became the first plaintiff ever to successfully sue her former boss, the chairman of a well-known Chinese NGO, for sexually harassing her at work. China's judiciary had previously listed the case as one of the top 10 public-interest lawsuits of 2019.
Contributions: Chen Qi'an; editor: David Paulk.
(Header image: A role-playing scene from an anti-workplace sexual harassment workshop event in Shanghai, Oct. 24, 2020. Courtesy of BottleDream)