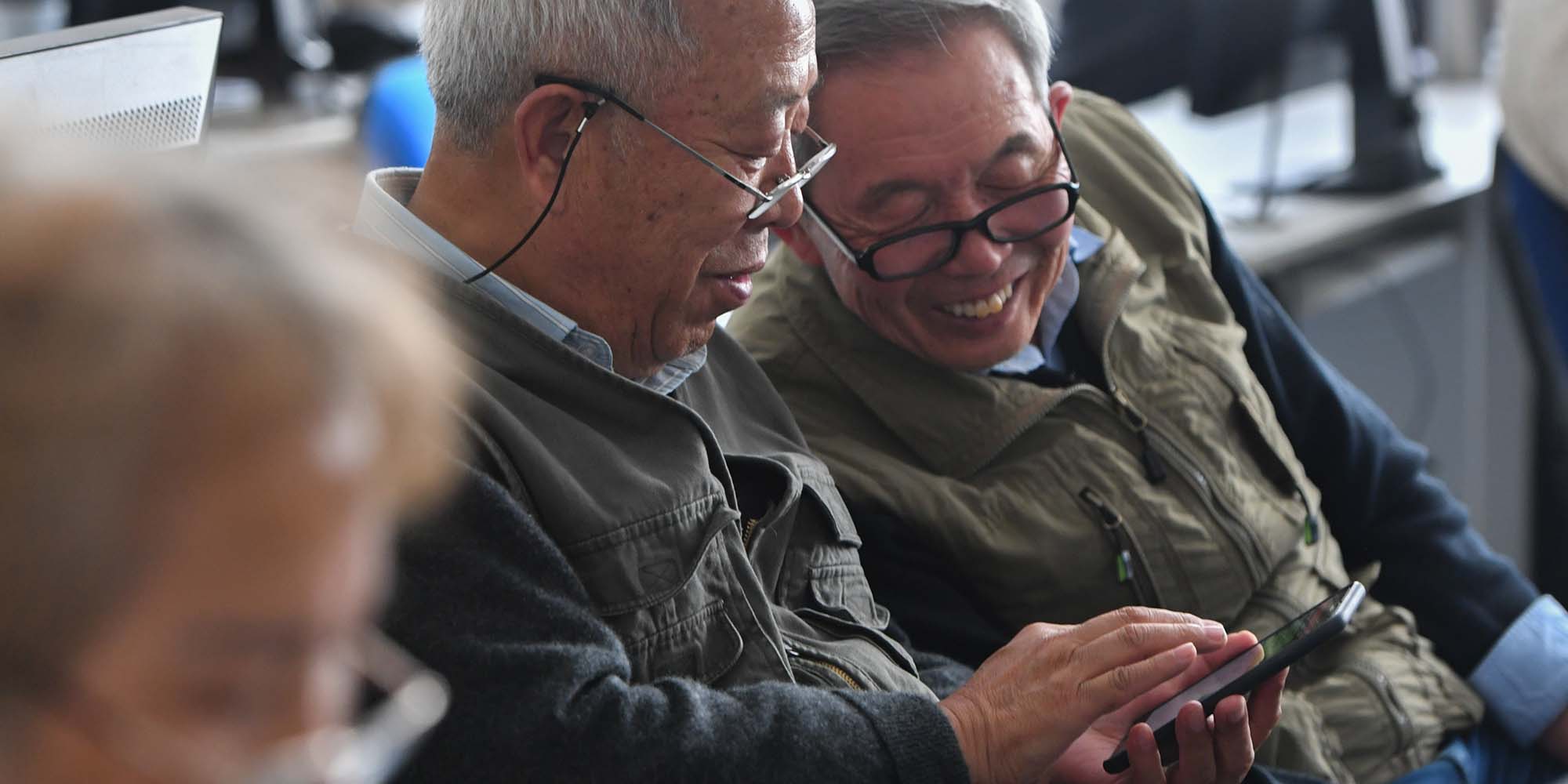 NEWS
Chinese Want Online Parental Controls — For Their Own Parents
Tired of being bombarded with fake news and links to health scams, China's young people are calling for greater control over their aging parents' social media consumption.
With the internet and social media platforms now accessible to anyone with a smartphone, China's young people are worried about the amount of time their elderly relatives are spending online, as well as some of the more dubious claims to which they're being exposed.
The conversation has intensified thanks to the trending hashtag "Why are old people addicted to short-video platforms?" on microblogging platform Weibo. Some users on the site say that, with the country's over-60 population having surpassed 250 million, the well-being of elderly internet users should not be overlooked, especially given their heightened susceptibility to scams, rumors, and other misinformation.
As for elderly internet users who are still getting used to the marvels of the digital age, many including Li Xuejun find it fascinating. The 71-year-old Shanghai resident told Sixth Tone that apps like Douyin — as TikTok is branded in China — have enriched the retired lives of her and her friends.
"We like to share fun and useful videos with each other," Li said, referring to a chat group of her friends on China's ubiquitous messaging app, WeChat. "I spend a few hours each day watching such videos. As a retired factory worker, I have plenty of spare time, so why not?"
But the children of people like Li are worried some of the content their elders consume may not be harmless. Lun Jiaxin, a 21-year-old college student, told Sixth Tone she's concerned her grandparents are "addicted" to health advice known as yangsheng — sometimes translated as "healing the body" or "maintaining good health" — judging by the frequency with which they share unscientific health tips in the family's WeChat group.
"I understand that this is their information channel, but those articles and videos are specifically tailored to elderly people, as they use bigger fonts and slower speech," Lun said, adding that the content is sometimes "anti-intellectual" in nature or contains "very outdated" information about modern medicine.
But training her elders to adopt a more discerning lens has proved to be more difficult than she imagined. "I once tried to talk to my grandma about those articles and videos, and it didn't go well," Lun said. "She became sad and thought we were ashamed of her."
Xiakedao, a so-called WeMedia account under state-owned newspaper People's Daily, warned in a commentary Wednesday that, on short-video platforms, elderly users tend to be most interested in superstitious fortunetelling and feel-good "Chicken Soup for the Soul"-style stories and philosophy. Meanwhile, dubiously effective yangsheng tips, as well as fake products and "investment opportunities," have also been known to expressly target elderly audiences.
With its rapidly aging society, China is home to a rising number of "silver generation" internet users. According to QuestMobile, a domestic market research firm, Chinese aged over 50 — roughly one-third of the country's population — together owned more than 100 million internet-connected devices. A report by the company said this demographic's most commonly used apps are WeChat, e-commerce platform Taobao, mobile payment service Alipay, and short-video platforms Kuaishou and Douyin, on which they spend on average 13 to 26 hours per month, respectively.
Some recent high-profile cases of exploited seniors have only fueled the concerns of young people like Lun. Less than two weeks ago, Sixth Tone reported on a 61-year-old woman who had fled from her husband and home in the eastern Jiangxi province to Jilin in China's northeast, where she believed she would start a new life with the famous actor Jin Dong after meeting a Jin impostor on Douyin. And last week, domestic media reported that another woman believed Jack Ma, the billionaire founder of Alibaba, had chosen her to become his business partner — provided she first transfer him 1,700 yuan ($250).
According to Xiakedao, some young people in China are even calling for "anti-internet addition measures" to be enforced for the elderly, similar to those already applied to the country's gaming-obsessed teenagers, such as real-name registration, content filters, late-night playtime restrictions.
While authorities in some parts of the country have launched local initiatives aimed at raising seniors' online awareness — including seminars, lectures, and even "spot the fraud" tests — the commentary suggested that online service providers and families should shoulder their joint responsibility to stem the tide of scams and fake news.
"We should help the elderly by providing a safe internet where they can obtain useful information and reduce the risk of them being cheated or becoming addicted," it said.
Editor: David Paulk.
(Header image: People Visual)