This is the third story in a series exploring how China's decision to end the one-child policy has impacted Chinese society over the past five years. The policy change, which allowed every family to have two children, was announced on Oct. 29, 2015. View the entire series here.
For most people in China, the upcoming national census is a minor annoyance. But for Chai Yuanyuan, it's a source of intense anxiety.
The Beijing resident, who spoke with Sixth Tone using a pseudonym to protect her privacy, is worried the once-in-a-decade survey of Chinese households will uncover her family's secret.
In March 2019, Chai gave birth to a daughter — her third child. Ever since, she's been trying to keep the little girl as hidden as possible, in case the authorities punish her family for breaking China's two-child limit.
Chai and her husband have never posted photos of their new baby on social media. Most of their friends and colleagues have no idea the child exists.
"As one of his colleagues lives in the same neighborhood, my husband never dares take our daughter for a walk downstairs," Chai tells Sixth Tone. "He's afraid of bumping into his colleague."
Despite scrapping its one-child policy in 2015, China is nevertheless facing a historically low birth rate and a rapidly aging population. The country has yet to get rid of its decades-old family-planning system and can still impose tough penalties on anyone caught breaking the rules. Couples that have a third child face heavy fines, and state employees are sometimes fired and blacklisted.
For Chai and her husband — who both work in the public sector — the threat of losing their jobs is very real. They live in constant fear that someone will report them to the family-planning bureau. Chai is also concerned the census takers might forward their details to the authorities.
Yet the family hopes if they can just keep their heads down, they might one day get a reprieve. Over recent years, there has been a slow, uneven, but undeniable shift in China toward further loosening the country's birth controls.
A growing number of experts and officials have called for the two-child rule to be scrapped, arguing it would help boost the country's plunging birth figures. In 2018, there were even signs the government might comply. 
That year, several deputies to the National People's Congress — China's top legislative body — submitted a proposal to eliminate birth limits. Some demographers confidently forecast the change would be implemented by the end of the year.
Those predictions ultimately proved to be premature, but some local authorities have taken their own steps to defang the family-planning regime. At least nine provinces, for example, have abolished regulations forcing public sector employers to fire staff for having a third child.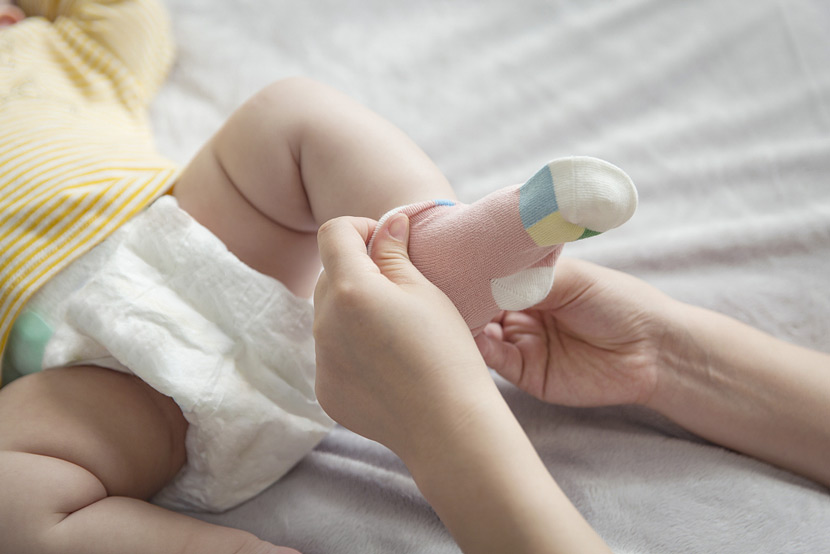 JY/People Visual
In Beijing, the rules remain in place. Enforcement, however, has become much more lax — as Chai discovered after she gave birth.
When the 37-year-old's company discovered she was pregnant again, they ordered her to submit the details of her family's household registration, or hukou. Chai did so with a heavy heart, assuming this would be the start of a painful disciplinary process. But nobody ever followed up on her case.
"My employer asked me to provide all my family's hukou information. And that was it," Chai says. "I think they're just performing their duties, in case anyone from their supervisory organization asks about the situation."
For Chai's company, monitoring its staff's offspring no longer appears to be a priority. Like most state-owned enterprises, the firm has its own family-planning office, but Chai says it has been shrinking, with several workers reassigned to other departments.
"As far as I know, the willingness to have a second child is very low among my colleagues," says Chai. "The family-planning staff at my company told me I was the first (third-child) case they'd ever handled."
After the birth, Chai was also surprised at how easy it was for her to complete the hukou registration for her daughter, which required her to show a valid birth certificate issued by a Beijing hospital.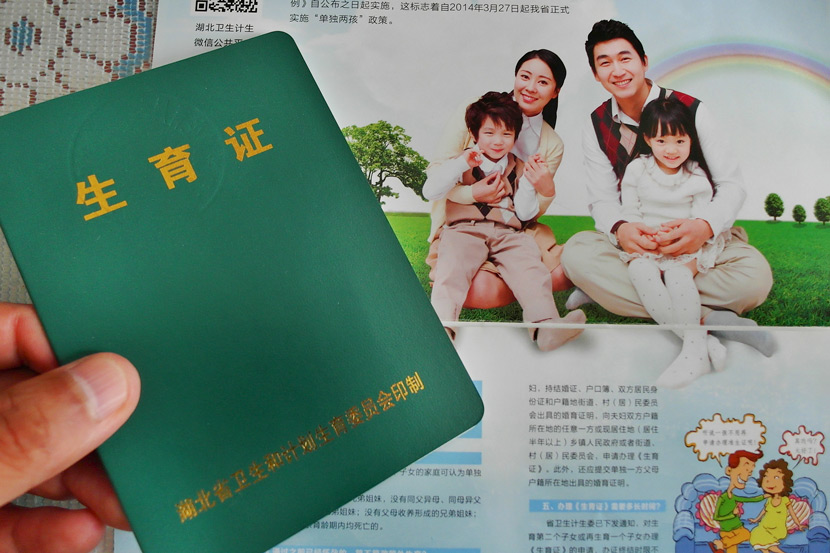 A man holds a birth permit certificate, in Yichang, Hubei province, 2014. IC
In the past, a mother planning to have a second child would need to acquire a "birth permit" to secure a birth certificate, but times have changed, according to Chai.
"It requires nothing today to establish your medical records as a pregnant woman at a Beijing hospital," she says.
Once she had secured her daughter's hukou, Chai received a call from the committee at her residential compound, asking her to confirm the situation with her third child. Again, however, nothing happened following this exchange.
"They were just double-checking if their details were correct," says Chai. "I guess they'd received the birth information from the hospital. But that was it."
Under the law, Chai's family may be liable to pay a "social maintenance fee" — essentially a fine — which the government levies to compensate the state for the cost of an "illegal" child's use of public services. In major cities, these fees can be well over 100,000 yuan ($15,000).
Chai, however, hasn't been asked to pay a fine. The reason, it appears, is that Beijing's local family-planning bureaucracy has also been hollowed out. Even if her case was reported, the offices might not have had the capacity to deal with it.
"There aren't any family-planning offices in either the community management committees or district-level health bureaus," says Chai.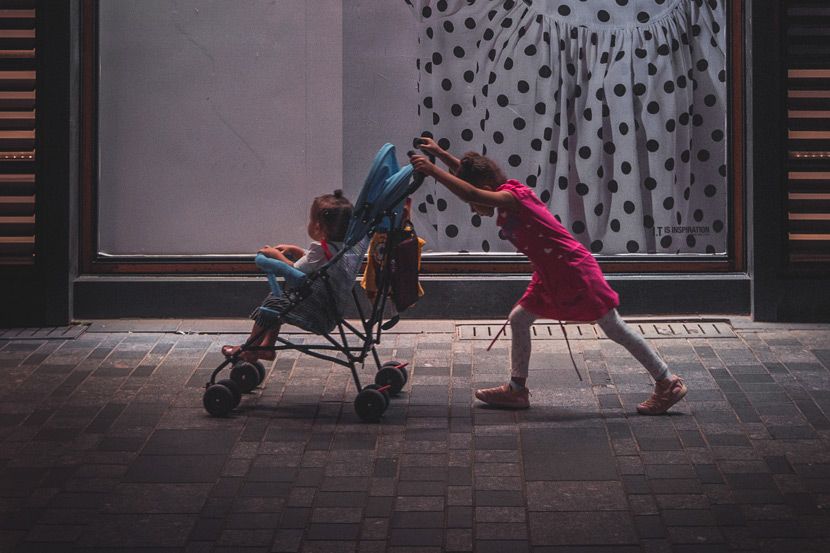 A girl pushes a toddler in a stroller, in Beijing, 2018. Zhang Chi/People Visual
Experts and community-level officials in Beijing confirmed to Sixth Tone that many community- and district-level organizations had cut their family-planning offices or renamed them "population and family development offices."  
For Chai, the changes may be a sign that Beijing is no longer focused on preventing illegal births. The municipality has one of the lowest birth rates of any Chinese region.
"I think they're turning a blind eye to the issue," says Chai. "In big Chinese cities, the eagerness to have a second child, let alone a third, is very low."
At this point, Chai's main fears are that family-planning officials at a higher level of government might get involved, or that her husband's employer will find out about her daughter. If the census goes smoothly, her family might be able to escape punishment completely.
Other third-child families, however, haven't been so lucky. 
Wang Feng, a resident of Guangzhou, a city in southern China's Guangdong province, gave birth to her third baby in January 2018 and thought she had avoided a fine. Then, in May of this year, her bank accounts were suddenly frozen, and local officials demanded she pay a 320,000 yuan social maintenance fee.
"We knew there would be a fine, but we didn't expect it to be this high," says Wang, who also spoke with Sixth Tone using a pseudonym to protect her privacy.
For Wang's family, the punishment threatens to be devastating. The household of seven, which includes two elders and three kids, survives on just her husband's salary of around 10,000 yuan per month.
After Wang's case attracted attention in Chinese media, local officials told the family they could pay in installments over three years. They refused, however, to waive the fine, or to unfreeze the bank accounts. "The issue wasn't solved," sighs Wang.
Family-planning officials in Wang's home district of Panyu — in Guangzhou's southern suburbs — say they have no plans to stop levying social maintenance fees, though they have reduced the size of the fines substantially since 2018.
"It's not a decision that can be made by a single district — it's a national law," an official surnamed Feng tells Sixth Tone. "The family-planning rules remain in place. We have to execute what's stipulated by the law."
Officials in Huangpu and Tianhe — two other districts in the city — echoed Feng's comments, emphasizing they would continue fining three-child families as normal.
"Even if you're going to have a second child, you need to register with your residential committee," an official from the Tianhe family-planning bureau says.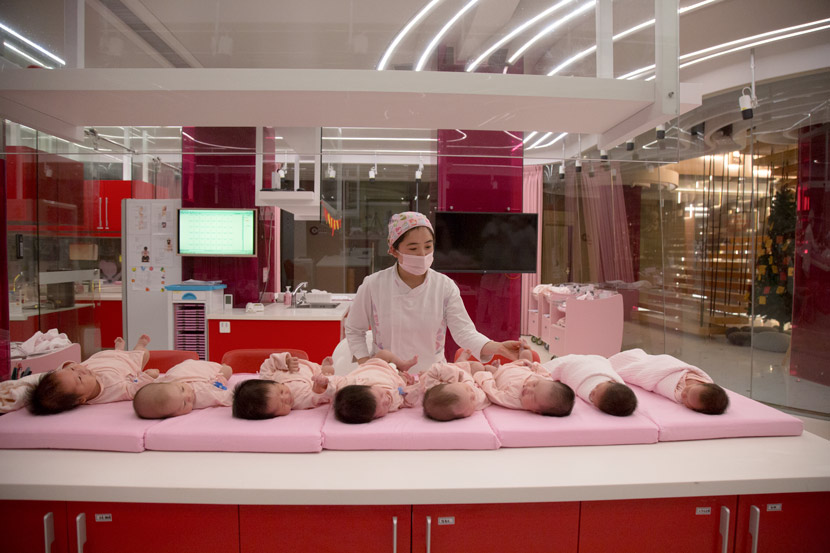 A nurse takes care of newborn babies at a private postnatal care center in Hangzhou, Zhejiang province, Feb. 27, 2019. Shi Yangkun/Sixth Tone
Tussles over social maintenance fees, however, have been erupting all over the country. A 2019 investigation by Sixth Tone's sister publication The Paper uncovered hundreds of legal cases in which families claimed to be unable to pay fines for violating family-planning rules. In the vast majority, the courts ruled in favor of the local governments.
For now, the fates of China's three-child families remain uncertain. At this year's National People's Congress, the issue again reared its head, with a deputy from Guangdong proposing the government cancel all punishments for families that have more than two kids.
Liang Jianzhang, a professor of economics at Peking University, is a firm supporter of the proposal. For him, punishing couples for having a third child is counterproductive at a time when the declining birth rate is threatening China's long-term economic future.
"It's difficult to raise a child in today's society," says Liang. "If they have more children, families are contributing to the sustainable development of the country … The tax contributions from those 'extra' children will far surpass the educational resources they'll use. And these contributions can be used to care for the elderly."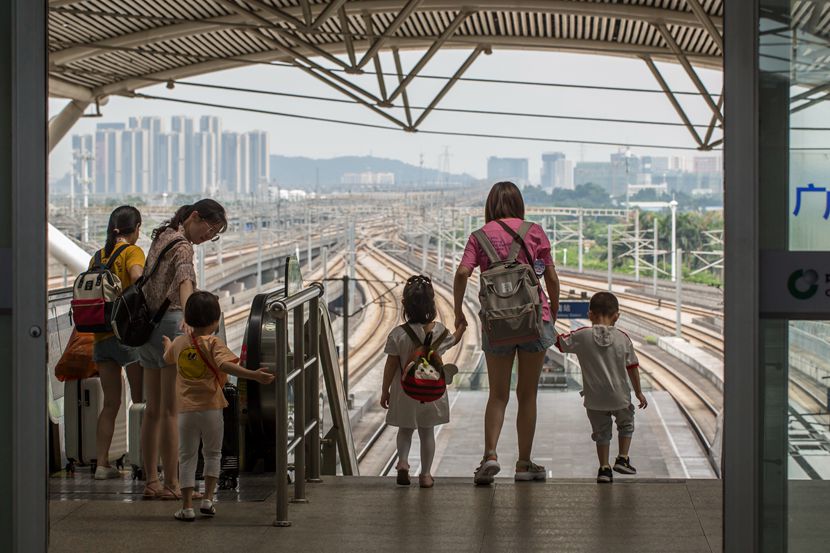 Parents and their children get ready to board a train at a railway station in Guangzhou, Guangdong province, July 1, 2019. Liang Weipei/Southern Metropolis Daily/People Visual
Ding Jinhong, a professor at the Population Research Institute at East China Normal University, doubts that removing the two-child limit would have much impact on China's aging population, as low fertility rates are an issue across the developed world. But he's still in favor of phasing out birth controls.
For one thing, the change would allow China to avoid the enormous expense of maintaining its vast family-planning apparatus, Ding points out. Between 1997 and 2012, Chinese authorities spent over 800 billion yuan on family-planning work, with most of the money going into administrative costs and awards for families who followed the rules, researchers in Beijing have estimated.
"It's very costly to manage the family-planning team," says Ding. "Although family-planning offices have been closed in some places, there are staff who continue to work in 'population and family-development offices,' which have similar functions."
As for why China hasn't introduced any major reforms in this area over the past five years, Ding says he can only offer his personal opinion.
"I guess there might be the consideration that in remote areas, the willingness to have more children remains high," Ding tells Sixth Tone. "To keep the policy in place for awhile longer will allow them to wait until the birth rate in those areas gets lower."
In 2018, the government emphasized its policy goals have shifted from keeping China's population under control, to managing the "structure and quality" of its population. The two terms can refer to the health and education levels of China's citizens, but also their age, gender, ethnicity, religion, and marital status, among other things.
But officials haven't ruled out the possibility of eliminating the two-child policy. Li Tie, former chief economist at the central government's China Center for Urban Development, says it's likely the country will relax or even remove birth limits in the future, if the fertility rate continues to decline.
"Population policies should be adjusted in line with changes in the birth rate, which is the original intention of the family-planning policy," Li says. "But even if birth controls were removed, it wouldn't mean (the government would switch to) encouraging births. The focus will remain on upgrading the quality of the population and its structure."
Additional reporting: Zhang Shiyu; editor: Dominic Morgan.
(Header image: A poster about family planning issues covers a wall in Dongwangu Village, Henan province, 2016. Zhang Taozhou/IC)