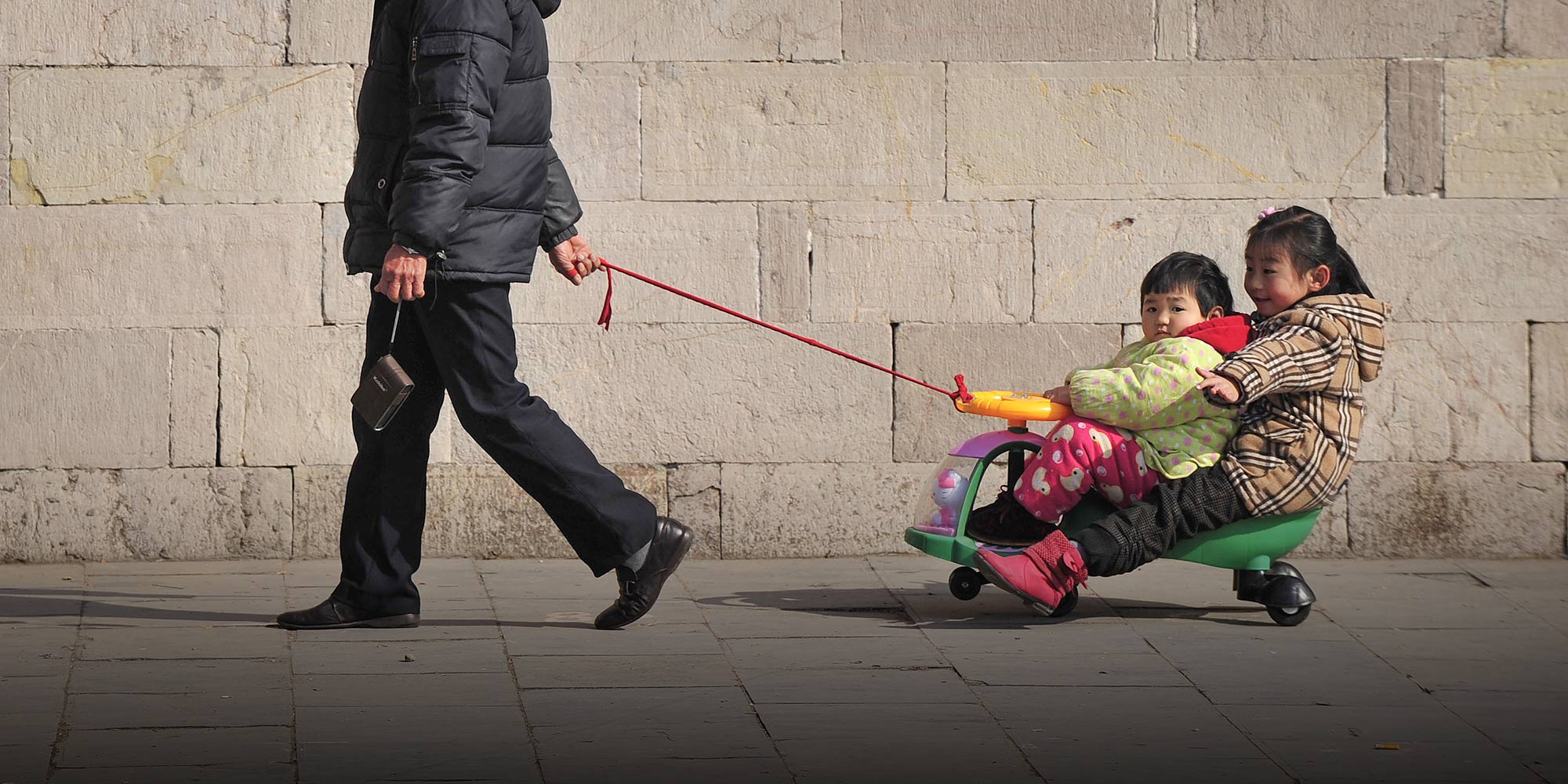 FEATURES
For China's Weary Grandparents, Two Kids Mean Double the Trouble
Chinese seniors often move across the country to help their overworked offspring raise new babies. But few expected they'd have to do so twice.
This is the second story in a series exploring how China's decision to end the one-child policy has impacted Chinese society over the past five years. The policy change, which allowed every family to have two children, was announced on Oct. 29, 2015. View the entire series here.
SHANGHAI — Some afternoons, when Liu Xiumei is sitting alone in her daughter's apartment, idly flicking between TV channels, she wonders what her life would be like if she hadn't agreed to care for her grandchildren.
"Maybe I'd be traveling around China with my husband," the 55-year-old tells Sixth Tone. "I'd still be running my small domestic help company, earning a few hundred yuan a day."
When her daughter got pregnant for the first time in 2014, Liu did what many Chinese of her age do, and selflessly moved across the country to support her. Leaving behind her life in the central Hubei province was tough, but Liu figured she'd only be in Shanghai for a few years — until her daughter was able to raise the child by herself.
But things didn't quite work out that way.
Just a year later, China announced it was finally abandoning the one-child policy. And not long after, Liu's daughter became one of millions of parents to take advantage of the new rules and have a second baby. Liu's child care duties had unexpectedly doubled.
Many Chinese of Liu's generation have faced a similar surprise over the past five years. It's an issue that's rarely acknowledged, but the country's grandparents have shouldered an enormous extra burden since the easing of the family-planning regime.
Child care has become a vexing issue for urban parents in China, as both partners often have to maintain grueling work schedules to cope with sky-high living costs. Unable to provide full-time care themselves, couples are asking their own parents to plug the gap.
Over recent years, millions of seniors have become laopiao — or "elderly drifters" — leaving their hometowns to become live-in nannies for their overworked offspring, who have often moved hundreds of kilometers away to find higher-paying jobs in major Chinese cities. 
This generation of grandparents — who grew up during the Mao period and started families in the one-child era — are usually willing to make sacrifices for their families, having invested huge resources in their only children, says Tang Xiaojing, a lecturer in sociology at Shanghai's East China Normal University.
"They think serving their children and families is a parent's responsibility," Tang tells Sixth Tone. "When their only children build a small family, the parents tend to … continue the past parent-child relationship."
But the two-child policy has created new tensions in these relationships. While some seniors push their children to have a second child, because they desire a larger family, many others would rather their families didn't expand and are reluctant to spend years looking after another infant. 
Though most see taking care of their first grandchild as a "rigid obligation," they often feel differently when a second baby arrives, according to Tang. Sometimes, the older relatives are disillusioned by the experience of raising the first grandkid. Others aren't keen on extending their stays away from their hometowns, while some feel they're now too old to provide the new infant with good care.
"The elderly might feel less energetic because they're older, and they might need to take care of their spouse, who's ill or frail," says Tang.
When Liu's daughter mentioned she was considering having another child, Liu was dismayed — and she didn't hide her feelings. She'd already been in Shanghai for several years, and she missed her husband and her carefree life in Hubei. Plus, she was exhausted.
"Raising a child is stressful," Liu recalls telling her daughter. "It was tough for me to take care of one baby — I wouldn't be able to handle another."
But her daughter's mother-in-law was eager for a second grandchild. She traveled over 2,000 kilometers from her home in the southwestern Yunnan province to help with the child care, taking Liu's place in her daughter's apartment in Shanghai.
It wasn't long, however, before the new arrangement started to fall apart. The mother-in-law — who is from a traditional, rural community — continually had spats with Liu's daughter over all manner of issues, from the superficial to deeply held cultural beliefs.
"She took it for granted that women should care for their children at home and men should go out to work," Liu's daughter, Liu Chongyang, tells Sixth Tone. "But in Shanghai, couples both have to work to support a family of three, let alone four."
Liu Chongyang's mother-in-law didn't know how to clean a modern wooden floor, and the electric cooker baffled her. After a few weeks, the daughter-in-law couldn't take it anymore.
"My daughter called me every day, begging me to rescue her from all the mess," says Liu Xiumei.
Ever since, Liu Xiumei has been living with her daughter, son-in-law, and two grandkids in a 70-square-meter apartment in the Shanghai suburbs. When Sixth Tone visits, the living room floor is strewn with children's toys. A large piano squats in one corner.
Liu's days are long and repetitive. She gets up at 7 a.m., by which time her daughter and son-in-law have dropped their daughter off at kindergarten and gone to work. She'll feed her grandson, tidy the apartment, do the laundry, and prepare lunch. By then, it's already noon.
In the afternoons, while her grandson takes a nap, Liu watches TV or browses social app WeChat. At 3 p.m., she puts her grandson on her electric bike and rides to pick up her granddaughter from kindergarten. Then, there's some time for play and piano practice, followed by dinner and a bath. The children's parents don't return home until late.
Liu normally goes to bed at around 11 p.m. "It's just the same every day, over and over again," Liu tells Sixth Tone.
On the weekends, Liu's daughter and son-in-law usually take their children out all day, and Liu finally gets to rest at home. When the family goes away on vacation, the grandmother usually heads straight back to Hubei to spend time with her husband. "That's my time to relax," she says.
Liu still hasn't decided when she'll move back to her hometown permanently. Though she aches for her old life, she has a good relationship with her daughter and son-in-law, who cover all her expenses and appreciate what she's done for them.
"They take care of the kids when they're home," Liu says. "If I left, they'd have to hire a nanny, but I'm not sure I'd trust a nanny … I'd rather sacrifice myself."
Other retirees, however, are much more reluctant to take on extra child care duties. Several tell Sixth Tone they're anxious their inability to provide adequate care will lead to their grandchildren developing behavior issues, struggling with homework, or even having an accident. They also worry their children will become dependent on them as a free labor source.
"I've worked hard all my life and I just want to enjoy my retirement with my wife," says Zhao Yaping, a 64-year-old former teacher from Shanghai, whose son and daughter-in-law have two children. "My life shouldn't revolve around their small family."
When his son and daughter-in-law said they were considering having a second child in 2017, Zhao gave them some hard truths. "I told them that once they had a second one, life would be doubly joyous, but also doubly bitter," Zhao tells Sixth Tone. "Once the baby is born, there's no turning back."
The couple, however, was determined to go ahead. In the end, Zhao helped them find a nanny and gave them 5,000 yuan ($750) per month toward the fees, but balked at becoming a full-time carer himself. Instead, his daughter-in-law became a stay-at-home mom for a few years until both kids started kindergarten.
"I see my grandchildren on Sunday afternoons, so my son and his wife can have some time on their own," says Zhao.
Unlike Zhao, Wang Huiquan didn't feel she could say no to her son when he asked her to help look after his second child, who was born earlier this year. But the 66-year-old accepted with a heavy heart. 
At the time, Wang's first grandkid had just started primary school, and she had thought she would soon finally be able to enjoy her retirement. She tells Sixth Tone she wishes the government could set up public child care services, so people like her could be freed from their obligations.
"I used to have dark hair, but now it's mostly gray," she says.
The new baby has not only brought more stress, but also more tension between Wang and her daughter-in-law. They often disagree over parenting issues. 
When Wang allows the kids to watch cartoons while they're eating, her daughter-in-law complains she's being too indulgent. Wang, however, says she's just doing her best.
"When they're naughty or screaming for food, it makes me dizzy," she says. "But my daughter-in-law doesn't get it, as she rarely feeds them herself."
Over recent months, Wang has found it increasingly difficult to cope. Her 90-year-old mother recently fell ill, and now Wang finds herself trying to care for two generations at once. The anxiety has caused her to lose over 5 kilograms in weight.
"My son said he would give me a month to rest, but I think I need more than that," Wang says.
Tang Dan, an associate professor at Beijing's Renmin University of China whose research focuses on psychological issues affecting the elderly, says many people of Wang's generation experience mental health problems as a result of their overwhelming caregiving responsibilities.
"It's common for one person to … take care of not only their grandchildren, but also their children," says Tang. "The pressure is very high."
The fact that many parents — for various reasons — don't fully assume their proper parental roles only adds to the grandparents' distress, as they often feel overlooked by their loved ones, Tang adds.
"The elderly are likely to feel lonely, because they make a large (emotional) investment but don't receive the appreciation or recognition they expect," says Tang. "This might result in them becoming depressed or having other health problems."
Concerned about the health of the country's grandparents, some experts are calling on the government to step in and protect them. Tao Tao, another associate professor at Renmin University of China, says authorities should establish emergency "respite services."
Under Tao's proposals, elderly people caring for two children should be able to apply for relief several times each year. The government would provide funding for the children to be looked after by a professional child care institution during these periods, so the elderly carers can rest.
"It would give caregivers some time off, to prevent emotional and physical exhaustion," says Tao.
Chen Xianling, however, is simply counting down the days until her two grandkids are both in kindergarten and she can finally relax. "I wish that day would come sooner," she says.
The 58-year-old has lived in Beijing for several years, having left her hometown in the neighboring Hebei province to support her daughter and son-in-law. She says her life in the capital is often lonely.
"The neighbors here don't understand my accent," Chen says. "And my daughter and son-in-law would rather stare at their phones than talk to me."
Yet Chen is delighted that her daughter has chosen to have a second kid. In fact, she was the one who talked her into doing it, promising she'd take care of the new baby for her.
"I always wished I could have more than one kid, but the one-child policy didn't allow me to," says Chen. "Two children can share the responsibility of taking care of you when you're old. This is good for everyone."
Additional reporting: Qin Siqi and Wang Xuandi; editor: Dominic Morgan.
(Header image: A grandfather pulls along two children sitting on a toy cart, in Nanjing, Jiangsu province, 2009. People Visual)