With the stock market unpredictable, real estate restricted, and peer-to-peer lending risky, a recent online investment scheme attracted hundreds of Chinese eager to grow their savings: "cloud cattle-raising."
But that, too, proved not to be anything close to a cash cow.
The dozen apps that have appeared since May promising to invest people's money into young farm animals and pay out once they've grown up turned out to be scams, Sixth Tone's sister publication The Paper reported Friday.
The apps lured unsuspecting mom-and-pop investors, who in China have proved easy prey for shakedowns, into "adopting" cattle at various rates of return. But after investing more and more money, users would suddenly be cut off from their accounts.
Li Bing, one victim, provided The Paper with screenshots of one such app, called Xinyue, showing all kinds of cows. The higher the adoption fee and the longer the breeding period, the higher the promised profit.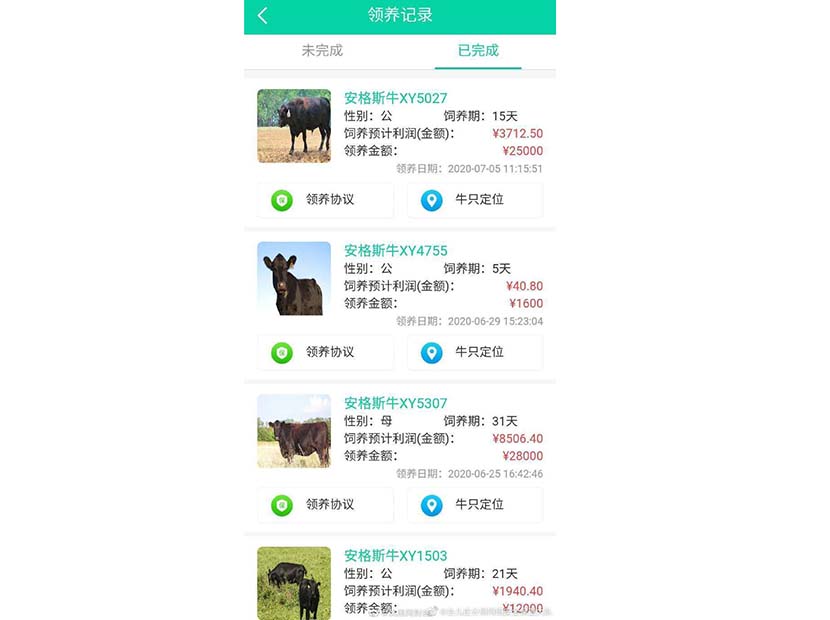 A screenshot shows details of various "cloud cattle" on the Xinyue app. From The Paper
In August, Li invested 500 yuan ($75) to try it out. By the next day, Xinyue said he had made a 5 yuan profit. When he withdrew the money, it arrived within 24 hours. Confident in the app's credibility, Li poured in more and more money. In total, he invested 250,000 yuan, he said.
Li saw his profit figure climb by the day, but on Aug. 6, the app suddenly displayed a notice saying accounts had been frozen because the local tax bureau was asking for payments after discovering the profits of Xinyue's high-income users were somehow in violation of the national tax law. Li was supposedly on the hook for 150,000 yuan. If members did not pay up, their entire balance would be handed over to the tax bureau.
When Li tried to withdraw his money the next evening, he could no longer log into the app.
All 12 cattle apps operated for about two months on average before disappearing from app stores and blocking logins, The Paper reported. They all claimed to be cooperating with animal husbandry companies. However, when several of these supposed partners were contacted by The Paper, all of them said their business licenses, domain names, and other information had been fraudulently used.
A person in charge of one such company, Shengyuan Animal Husbandry Co. Ltd., told The Paper on Wednesday that it only learned of its supposed involvement in a cloud cattle-raising scheme upon receiving a large number of phone calls in August asking why the app no longer allowed logins.
Founded in 2017, Shengyuan ran cattle farms in Horinger County, in northern China's Inner Mongolia region, but ceased operations not long after. It never had any online business.
Since August, the Horinger police department has also received calls from people who claimed to have lost money on an app that supposedly belonged to Shengyuan. "We don't have a specific count, but there are victims all over the country, there are multiple apps, and the number of people involved is quite large," an officer told The Paper.
Police said any investigation will be difficult because the Shengyuan app connected to servers located abroad, and the funds collected had already been transferred.
State broadcaster CCTV reported Monday on a similar app-based scam that promised high profits by putting people's money into purebred kittens.
Li, the victim, said the money he put into the app came from his family savings, as well as a 150,000 yuan loan he had taken out. "I feel so stupid," he said. "I've been cheated out of money that took half a life's blood and tears to save."
Editor: Kevin Schoenmakers.
(Header image: People Visual)