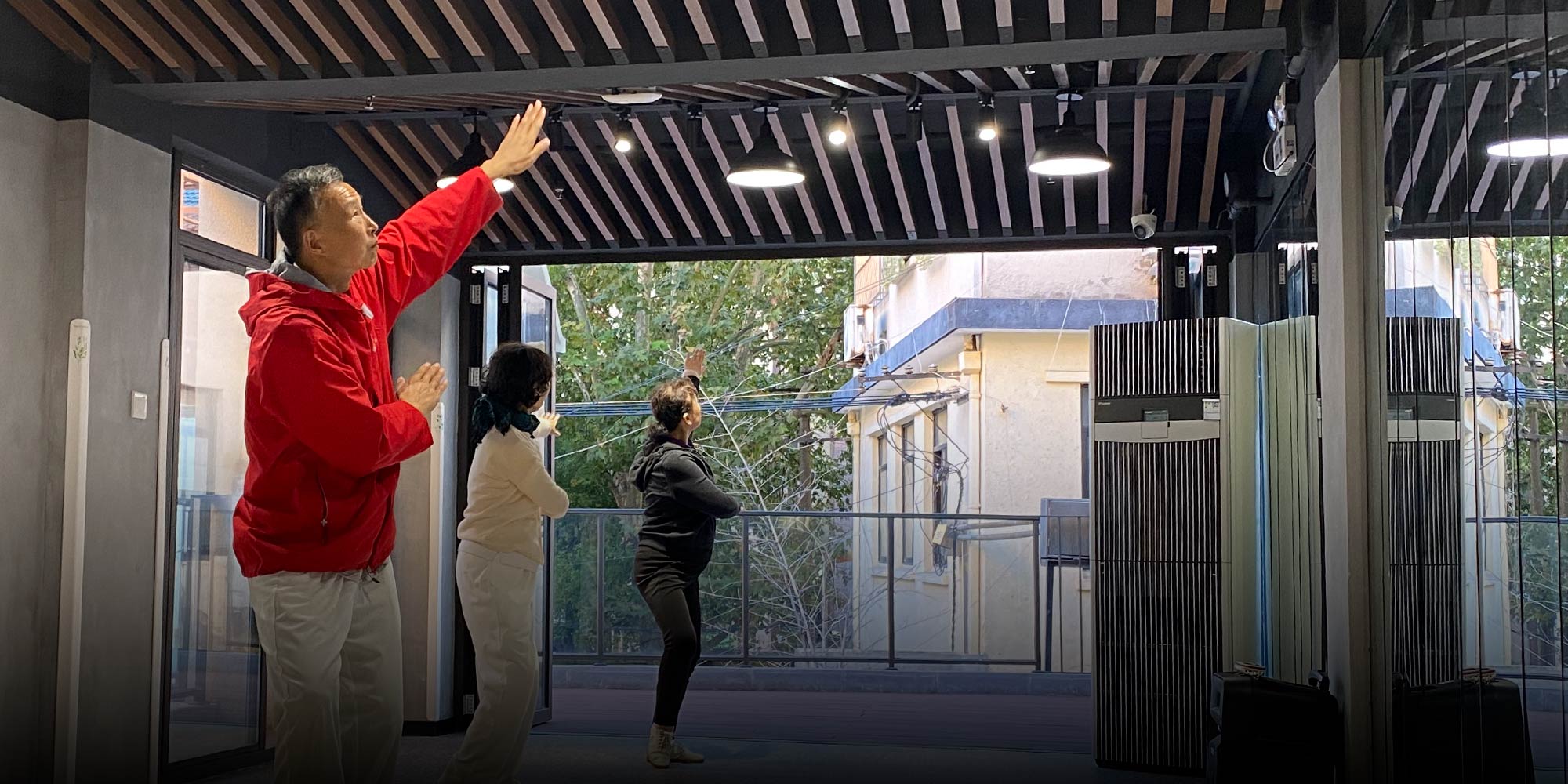 NEWS
Shanghai Touts Community Integration as Model for Elder Care
A new facility in Changning District will provide long-term care and door-to-door services while also functioning as a social hub for local seniors.
SHANGHAI — Prior to this year's Double Ninth Festival on Sunday, when China honors its elderly, over 80 seniors moved into Shanghai's largest community-based elder care center. With an emphasis on integration rather than isolation, the facility is a model for the city's approach to elder care, local authorities said Tuesday.
The Huayang Integrated Elder Care Center, located in Shanghai's western Changning District, began trial operations in September, ahead of its official opening next month. A complex of four buildings, the center can host 137 senior residents concurrently.
"The bed capacity at the center can't meet the needs of the 26,000 seniors in our community, so we're promoting door-to-door service for elderly residents who need special care," said Chen Ying, a local official.
Of the more than 62,000 residents in Huayang Subdistrict, some 42% are aged 60 or above. By the end of last year, Shanghai's elderly population had reached 5.2 million, accounting for 35% of all registered residents. 
Mao Xuezhen, an 83-year-old retired doctor, was among the first to take advantage of the care center. She recently had hip surgery, and moved into the community's nursing home last week to recover.
"After my husband passed away three months ago, I was alone at home," Mao told Sixth Tone. At Huayang Integrated Elder Care Center, Mao enjoys being surrounded by others from her generation and looked after by nurses and certified care workers. "It's much better than staying at home with a nanny," she said.
With Shanghai facing a growing elderly population, the Huayang facility is a new retirement model for the city's centrally located seniors: a nursing home that's just a short distance from the wider residential population. Apart from long-term care, the facility also offers day care for seniors and short-term services for those recovering from medical procedures. Huayang Integrated Elder Care Center also provides family support, training locals how to look after their elderly relatives and renting out health care equipment.
Other senior residents of Huayang Subdistrict who don't require regular care can still benefit from the center, where they can play musical instruments, do tai chi, or simply enjoy a cup of coffee while catching up with their neighbors. "To make us want to spend more time here, they've designed the community elder care center to be fashionable," a 65-year-old resident surnamed An told Sixth Tone.
Luxury retirement apartments and high-end nursing homes are booming businesses in Shanghai, but most of these facilities are far from the city center. In the relatively central Huayang Subdistrict, a majority of senior residents have expressed strong interest in more day care options, door-to-door services, and activity space within their community, according to Chen Ying.
"Seniors don't want to live far away from their families," she told Sixth Tone. "We established built-in elder care facilities and services, and senior residents are also getting the emotional support they need from the surrounding community, so that they're able to enjoy retirement in a familiar setting, in the company of their loved ones."
In 2005, Shanghai proposed a "90-7-3" model for elder care: 90% of seniors living independently or being cared for by their families, 7% needing home-based care services, and 3% requiring full-time institutional care.
Shanghai claims primacy as the only city in China adopt community-based retirement centers offering a wide range of services beyond long-term care as its preferred model for accommodating seniors. As of mid-October, 320 such centers have been built in the city, and that number is expected to reach 400 in 2022, according to local authorities.
According to Chen Yuebin, an official with Shanghai's civil affairs bureau, there's still plenty of room to improve local standards for elder care. "Moving forward, we will set up a star rating for these facilities, just like for hotels, and establish a credit system for standardizing and overseeing the industry," he said.
Additional reporting: Qin Siqi; editor: David Paulk.
(Header image: Seniors exercise at a retirement center in Shanghai, Oct. 20, 2020. Fan Yiying/Sixth Tone)