On a sunny morning in western China, a group of primary school students dressed in traditional Chinese costumes chant in unison on a red carpet stretched out across the schoolyard.
A few meters away, their teacher yawns, before raising his camera to snap a few desultory photographs.
He Mingfeng has been teaching Mandarin at the school for just over a year, but he has little passion for education. For the 24-year-old, moving over 1,800 kilometers from his central Chinese hometown to take the job was an act of desperation.
In law school, He's dreams of a bright future had drained away after he got hooked on borrowing money via online lending apps. All he had to do was press a button, and he'd have enough cash to buy a brand new smartphone. By the time he graduated, he'd amassed over 200,000 yuan ($30,000) in loans — and had no way to pay them back.
"My life was so hopeless, so I just hurled myself into this far land to figure things out," He confesses to the camera. "More importantly, I need to work to make money."
The hapless teacher is just one of several characters profiled in "Loading…" — a seven-part documentary series that has captivated China's netizens by exposing the dark side of the country's mobile internet revolution.
The trailer for 'Loading…' — a seven-part documentary about the dark side of China's mobile internet revolution. Produced in partnership with Muggle Broadcast. Courtesy of Sun Mengjun
Perhaps more than anywhere else in the world, the smartphone has transformed life in China over the past decade. With a few taps on their screens, nearly 900 million in the country can now manage their entire lives — from instant messaging friends to investing their savings — using over 3.6 million apps.
The companies behind these platforms claim they're forging a new era of unprecedented freedom, convenience, and opportunity. But as the documentary explores, these benefits come at a heavy cost: disorienting change, economic insecurity, and a new strain of predatory business practices.
The team behind "Loading…" knows better than anyone what life is like in the shadowy corners of mobile economy. A collective of seven journalists in their 20s, they've been covering the internet sector for years for their online tech media startup XPIN.
"We were immersed in information and stories about people in this industry every day," Sun Mengjun, the series' lead director, tells Sixth Tone. "At times, problems from the dark side of the internet just popped up."
The idea to create a series exploring these problems evolved gradually. The project started with a short film chronicling He's experiences of being entrapped by online loan sharks, which have a history of targeting students in China.
That video, titled "Due Date," went live in March 2019. The XPIN team, however, was shocked to find that the comments on the episode were filled with hateful messages blaming the victims, rather than the lending platforms that had encouraged them to take out massive high-interest loans.
"They were attacking the characters fiercely and indiscriminately," recalls Sun, "despite the fact the characters have been working so hard to move on from their past and share their stories as a warning to the public."
This experience became the inspiration for the second video in the series, "Keyboard Kills," which traces the tragic death of a victim of cyber violence. Over the following months, the team would also follow the stories of five more individuals — from a child livestreamer trying to help his mother pay off her debts, to a middle-aged ride-hailing driver whose livelihood is suddenly taken away.
When the entire series was released in August, it caused a minor sensation, racking up over 100 million views. "Loading…" appeared to arrive at just the right time, tapping into growing public resentment in China about the harsh labor conditions many platforms impose on gig economy workers.
But the videos' success is also a result of the arresting stories they unfold. Shot largely on smartphones, each episode presents an intimate portrait of an individual adrift in a fast-changing world, battered by forces beyond their control.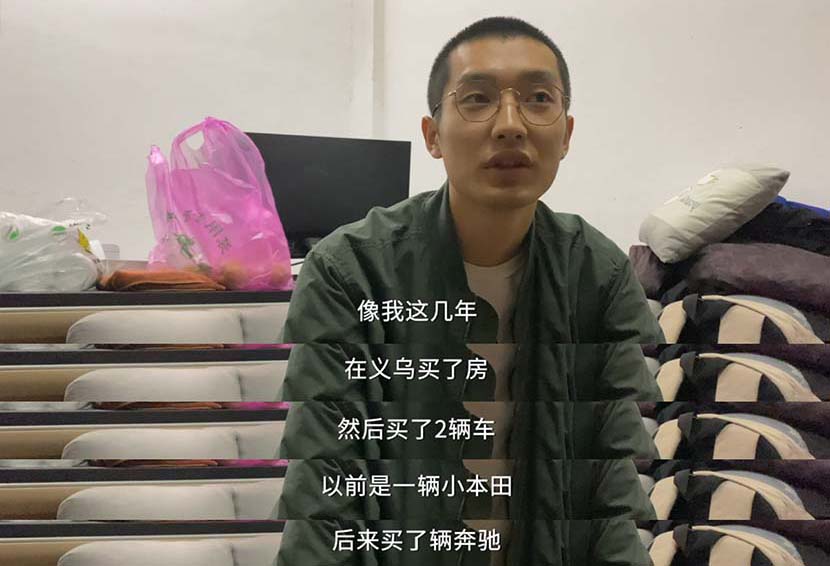 "Over the past few years, I've bought houses in Yiwu and two cars. One is a Honda; the other is a Mercedes-Benz." — Zhang Likun
Zhang Likun used to think he was one of the big winners from the rise of mobile internet. Now, he's not so sure.
Zhang set up his first online store in 2015 while he was still in college, selling banners bearing festive couplets. He caught the wave. At the time, China's e-commerce market was booming, and mobile transactions were just starting to outperform purchases through PCs for the first time.
By the time he was 23, Zhang had earned enough to buy his first apartment in the eastern city of Yiwu. He now owns two apartments and two cars, and runs a business in Qingyanliu — a so-called Taobao village on the outskirts of Yiwu. His four online stores generate several million yuan in sales each year.
Yet as the "Loading…" team accompanies him on a fishing trip, Zhang's mood is somber. The e-commerce game is changing, with 30% of online traffic now being propelled by short videos and livestreams. In this social, content-driven new world, Zhang feels like a fish out of water.
"I know nothing about short videos or livestreams," says Zhang. "I'm so worried that we'll be left behind. It's not that we might go under: It might be happening already."
Learning to make videos from scratch takes guts, and Zhang isn't sure if he's up to it. Gazing at the water, he mumbles: "A whirlpool. We live inside a whirlpool."
Sun, the director, says the feeling of powerlessness in the face of relentless change is a running theme throughout the series. As the mobile industry unleashes wave after wave of creative destruction, many characters feel unable to keep up.
"It's just too fast," Sun says. "Can't we just stop and take a look at what the internet has really done to our lives?"
For other characters, the sense of having no control is more literal — a product of working in chaotic new industries where platforms and regulators change the rules unpredictably.
Wang Yixing came to the eastern city of Hangzhou after a series of failed business ventures left him with debts of around 400,000 yuan. To repay what he owes, he's thrown himself into the gig economy.
Most of the day, he works as a ride-hailing driver for Didi Chuxing, using a car he acquired under a rent-to-own contract. In his spare time, he writes articles, makes videos, and trades secondhand goods online to make some extra cash.
Wang is convinced he'll find a road to salvation in Hangzhou, one of China's leading tech hubs that's home to high-profile firms including Alibaba. Late at night, he often picks up tech workers who have just finished long shifts at one of the internet giants, and he tells the "Loading…" team he feels a kinship with them.
"Everyone is riding the internet wave," Wang says. "There are just different types of labor."
Wang enjoys his new career as a driver, but his life suddenly swerves off-course once more when he discovers his father has fallen ill back in his hometown in central China's Henan province.
After spending a few days with his family, Wang faces a choice: stay in Henan and find a lower-paying job, or return to his life on the east coast. He finally chooses the latter, as his anxiety over having no income grows.
Once he's back in Hangzhou, Wang enthusiastically resumes his driving career. Soon, however, he faces another crisis. In January this year, Didi Chuxing announced it would crack down on rent-to-own contracts, as several shady operators had been luring drivers into agreements with sky-high interest rates.
The ride-hailing platform decided it would only allow drivers who borrowed from a select list of approved rent-to-own firms to continue operating. Wang's lender wasn't one of them. The Henan native suddenly found his Didi account had been permanently suspended.
At the end of the episode, Wang is about to return to his hometown again, where his family has helped him find work on a construction site. He still hopes to make his fortune online one day, but there's a problem: He's worried there won't be internet access at his new workplace.
"There's a popular saying, 'all roads lead to Rome,'" Wang says, taking a drag on a cigarette in his tiny room. "But some people are just born in Rome."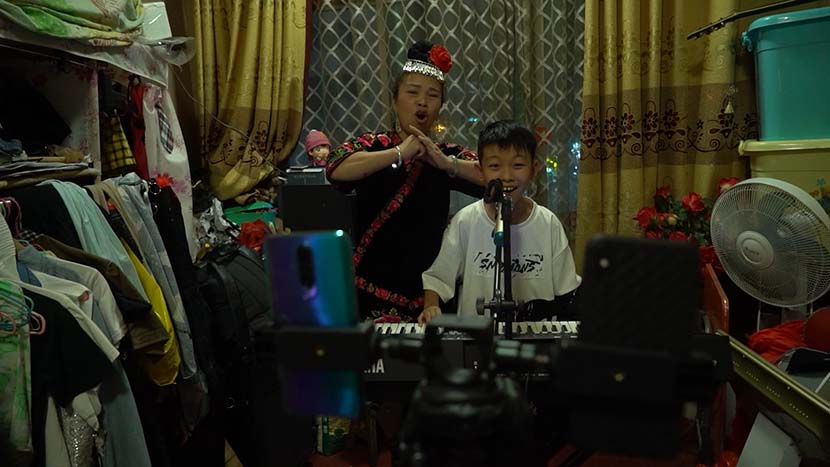 Shu Aohua livestreams at home with his mom. Courtesy of Sun Mengjun
For Shu Aohua, Rome might as well be on another planet. He's just 12 years old, yet he's already been sucked into the dystopian world of China's livestreaming industry.
Every evening at 7.30, Aohua sets up a camera near the railway station in the eastern city of Yongkang, and starts singing. He's talented. Crowds gather to hear him, while thousands more watch online and send virtual cash gifts to show their appreciation.
Aohua dreams of being a pop star one day, and he already has an impressive 1.9 million followers on the video app Kuaishou. But for now, he's performing for an entirely different reason: He needs money.
Aohua's parents got divorced a few years ago, and his mother has been struggling with poor health and financial difficulties. Aohua, who lives alone with her, constantly strives to build up his savings, in case they're needed.
"There were times she really needed money to pay off her credit cards — she needed several thousand yuan but had nowhere to borrow from," says Aohua. "If she fails to make her payments, she'll go to prison."
The child has become highly professional as a livestreamer, always remembering to greet his loyal fans. He's also adept at responding to harsh comments from users questioning why he's performing at such a young age.
"There are so many livestreamers who are much younger than me," Aohua says to the camera. "We can talk about this issue when they've stopped."
As in so many other areas, Chinese tech platforms and regulators have yet to work out what to do about child stars like Aohua. Some municipal authorities have tried to curtail the practice, but there are no nationwide regulations at present.
For Aohua, the uncertainty only adds to the stress he often feels. Kuaishou previously shut down his former account, which had over 400,000 followers, saying it was against the rules for minors to livestream unsupervised. Now, Aohua's mother accompanies him to the station every night.
As he walks home from school, Aohua tells the film crew he finds it hard to balance his studies and his livestreaming career.
"I'm under pressure," he says. "But I rarely tell my mom. She's old. I don't want to add to her stress."
Editor: Dominic Morgan.
(Header image: A poster for "Loading…" — a seven-part documentary series. Courtesy of Sun Mengjun)