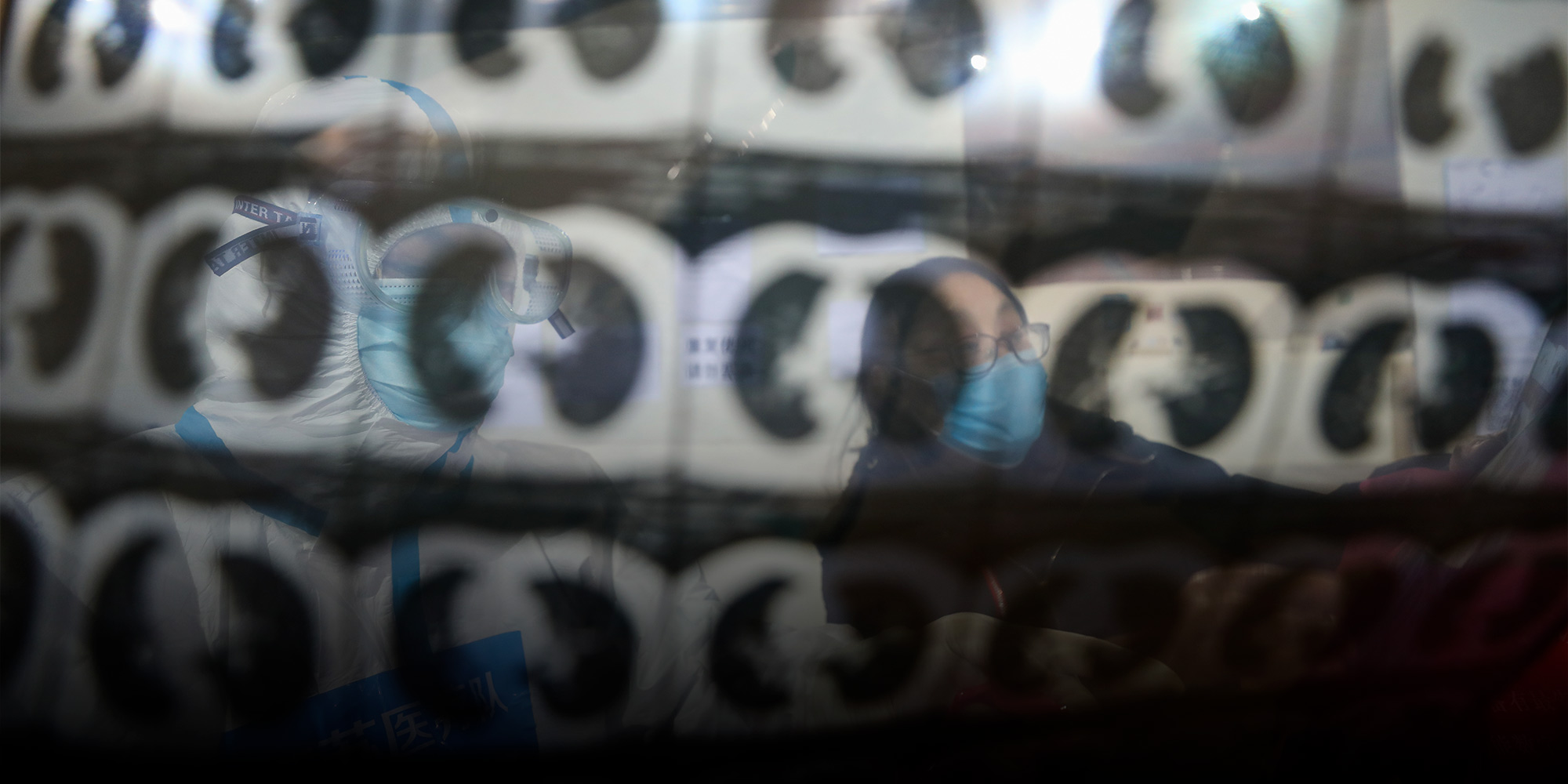 FEATURES
Bad COVID Tests, Troubling Chest Scans, and the Doctor Who Spoke Out
By pushing for coronavirus diagnoses based on CT scans of patients' lungs, Zhang Xiaochun, at great risk, helped people get the care they needed.
This story is part of a weekend column featuring translations from respected Chinese media outlets, as selected and edited by Sixth Tone. All are reproduced with the outlets' permission. A version of this article was first published in The Intellectual.
HUBEI, Central China — A selection of gauze and N95 masks hang on the handle of the door to Dr. Zhang Xiaochun's break room. Some are worn out, but most are spotless.
"During the epidemic, I'd use hot water to wash and sterilize them so I could reuse them," Zhang, 46, explains as she holds up one of her homemade gauze masks and recalls the lack of supplies in the early days of the COVID-19 outbreak. Soft-spoken, her words are terse and coherent — a far cry from the hot-blooded post she shared during those same early days on her messaging app WeChat feed, calling for a revolution in how COVID-19 cases are diagnosed.
During the start of the COVID-19 outbreak in central Hubei's Wuhan in January, many people suspected of being infected were unable to get this confirmed, either because they could not get access to a test, or because the results from the earliest and still relatively inaccurate nucleic acid tests came back negative. 
According to the fourth national diagnosis and treatment plan released on Jan. 27, "confirmed cases" needed a positive nucleic acid test or a viral gene-sequencing analysis that was highly homologous with 2019-nCoV.
Meanwhile, people who merely showed symptoms, no matter how severe, could only be identified as "suspected cases," meaning they could not get access to care. Even people with CT scans showing severe lesions on both lungs nevertheless tested negative and so had no option but to self-quarantine at home. Some even collapsed just after leaving the hospital.
Zhang, a radiologist and deputy head of the radiology department at Zhongnan Hospital in Wuhan, received numerous requests for help. However, she was powerless: "It really hurt me."
During this time, Zhang spent her days and nights poring over CT scans. She discovered that patients who tested negative had lungs that looked much the same as those of patients who tested positive: They showed sites with white patches and pulmonary inflammation that developed in similar locations and developed in similar ways.
She grew convinced CT imaging should be the primary basis for diagnosing COVID-19. She knew that this would help the large number of undiagnosed "suspected cases" receive access to treatment.
However, there was a problem: How could she speak up loud enough for her message to be heard by the government, but not so loud that she would get herself and others into trouble?
At around 10 a.m. Feb. 3, after a sleepless night spent editing a long WeChat post, Zhang finally hit "send." Despite her plea for CT scan diagnoses only being up for 10 minutes, people had raced to forward it. The effect was like an earthquake, and just a day later, the fifth edition of the national diagnosis and treatment plan added a section on the "clinical diagnosis of cases." On Feb. 12, clinically diagnosed cases were included in the case count for Hubei province.
By pushing for diagnoses based on scans, Zhang was also a catalyst for getting people with mild symptoms into quarantine centers where they could be observed and receive treatment — and not risk infecting their family members, thus avoiding countless more infections.
While people might know about Zhang's heroic WeChat post, few know about the small tragedies that happened at around the same time in her private life. Since moving to Wuhan two years ago for work, Zhang and her husband have lived in separate cities, while her parents helped them take care of their daughter in Wuhan. Her parents went on to both get infected, with her father even being critically ill for a period. Although he eventually recovered, he is dealing with physical and psychological aftereffects.
The frantic months put a strain on the household. "The epidemic is over, but my family is split apart," Zhang explains on a Friday afternoon in August. Sitting at her desk — which is covered with flowers and photos of her daughter — she slowly recounts her story. Since the outbreak, she has experienced mild depression, finding that psychotherapy has had little effect on a doctor like herself. Now she mainly relies on self-treatment, such as by surrounding herself with photos of her daughter to lift her mood.
Zhang tells The Intellectual she doesn't consider her story to be unique, rather, she sees it as just one among millions of similar stories of medical workers. The interview below has been edited for brevity and clarity.
The Intellectual: When did you first come into contact with scans of COVID-19 patients?
Zhang Xiaochun: The first time was around Dec. 27 or 28 (2019). At the time, I didn't know it was a novel coronavirus. One evening after work, a colleague in my department asked me to look at a scan. My first thought was that it looked like SARS.
I asked if SARS had returned, and they wanted to know why I'd say that. I explained that I'd been on the front lines back then and so I was familiar with it.
I was joking at the time, because SARS hadn't been around for years. Since different diseases can look the same in scans, one image can appear to be many different diseases. The manifestation of COVID-19 is similar to mycoplasma pneumonia, community-acquired pneumonia, some common viral pneumonias, and bird flu — they can all look the same. Plus, they also change depending on the time period. Identifying pathogens is not our (the radiology department's) strong point. Clinical laboratory tests — in other words, nucleic acid tests — are required to identify the pathogen.
The Intellectual: You called for CT scans to be used as evidence of COVID-19 infection on Feb. 3 in a post on WeChat. What was your experience between first seeing COVID-19 scans and publishing the post?
Zhang: I first heard official news of the presence of an unexplained pneumonia on Dec. 31 (2019). That day I was supposed to be on annual leave and was preparing to travel with my parents and daughter to my hometown in Inner Mongolia Autonomous Region for (late January's) Spring Festival. That morning around 9, the hospital called to say that something big had happened and that all leave for senior staff members was cancelled. So, I hurried back to work.
When I arrived, we were told in a meeting that a pneumonia of unknown origin had appeared near the South China Seafood Wholesale Market in Wuhan. The directors and deputy directors of each department were told to quickly begin procuring protective materials. At the time, the hospital only had 50 N95 masks, while departments like ours didn't have any surgical masks, let alone sterilizing materials.
I did all kinds of preparatory work. I asked the head nurse to get supplies and gather materials, and tasked the head technician with getting sterilization equipment. What can you do without a mask, though? Since I'd made masks when I was fighting SARS, I had some experience. So, I got the head nurse to collect gauze, and we made 12-layer masks.
Just after 11:50 p.m. on Dec. 31, our department posted a series of (science-based) articles to WeChat. I reposted them on my feed. As soon as I did, however, I saw a notice online from the National Health Commission saying that no one may announce information without permission. I deleted the posts immediately, but not before some WeMedia platforms had already forwarded them. However, they didn't reach many people and the hospital didn't reprimand us.
By around Jan. 14, things had become much more serious, and we were required to come to work more often. As such, I took to sleeping on the futon in the office, feeling that I had to devote myself fully to the task at hand.
I got students to gather all the scans and reports of suspected cases to determine what characteristics they shared. On Jan. 20, the situation had become even more serious, and all students were told to leave Wuhan. Left on my own, I had to do the research myself, day and night.
Around Jan. 23, before Spring Festival, the department tasked me with summarizing the characteristics of image detection during the occurrence and development of COVID-19 and then compiling a guide.
During this period, I told our department director that I believed these patients were (infected with the virus). But, with no nucleic acid test information and no gold standard, this could not be confirmed. Without hard evidence, the guide we were putting together wouldn't be rigorous. He understood and collected data about almost 100 positive nucleic acid tests from the hospital.
I compared the nucleic acid results of confirmed cases and the corresponding scans. Placing them side by side, I found that there were cases with similar or the same CT scans who tested negative. Many others who were critically ill did not even have a test result. Many of my friends, some of whom are my fellow doctors and relatives of my friends, also had similar CT results but couldn't get admitted to the hospital without a nucleic acid test. Back then, there was a limited number of test kits, their (detection) sensitivity was low, and people had to line up for a long time. I received multiple phone calls from people unable to gain admission to the hospital. Some people even died before they could be hospitalized and treated. I was really hurt by this.
My parents also had CT scans on Jan. 31, and my mother's nucleic acid test came back negative. On Feb. 2, I went and lined up at a quarantine site for my parents to register again for tests and scans. Someone behind me in the queue accidentally dropped a CT scan of a sick family member. From the corner of my eye, I spotted white patches on the image and told him that he didn't need to queue or go to the clinic — he should go straight for hospitalization since it was already serious. He asked me who I was and what it had to do with me. Then he added it wasn't possible to get into the hospital. Since I couldn't say I was a doctor, I replied that my family was in the same situation and asked to take a look. When he heard that, he handed over the scan. I could see it was serious and asked why hospitalization wasn't possible. When he explained that their nucleic acid tests were negative, I realized how serious things were. Looking again at the patient with his blank expression, it seemed like he wanted to die. I felt awful.
I felt terrible driving back from that place. By then, Wuhan was already under lockdown. The roads were empty, but still I almost drove into the curb. I wanted to cry but no tears came out; I just didn't have the strength. Instead, I pulled over to the side of the road and slumped over the steering wheel, the engine still running.
I tried to think about what I should do. There were so many patients, and my own family. My husband and I were living in separate cities, and I'd arrived in Wuhan just two years ago. When my parents left (to quarantine), there'd been no one to look after my 8-year-old daughter. She'd already been home alone the whole day. My parents were infected, so she might be too. I didn't know what to do. I felt powerless and desperate. I calmed myself down and didn't cry: I didn't even have the courage to — all I could think was that I had to keep on going. On the way back, I called my daughter, but there was no answer. I felt more panic, but then I thought about it, gritted my teeth, and drove back to the hospital.
Back at the hospital, I sorted out my work for the day, grabbed a couple of takeout meals, and drove home. When I got there, the room was pitch-black and completely quiet. My heart sank. As soon as I turned on the light, my daughter jumped up from the sofa where she'd been curled up and rushed toward me. I told her, in a really heartless way, to stay where she was and not come close.
My daughter just stared at me, with her small hands outstretched awaiting a hug. "Don't come close; your mom just came out of the infected area — stay where you are," I told her. "Mom, I missed you. Granny and grandad aren't here, and you won't even let me hug you," she replied.
I said: "Your mom doesn't know if she has the virus or not, so you need to stay away from me and spray some disinfectant. Let's change the way we greet each other. No hugs when I come in. We'll just hip-bump together."
My daughter made me some egg-fried rice. When she brought it to me, I could see she had a large blister on her hand. She'd even made a little red flag for me using some ribbon on which she'd written: "Stay strong Wuhan; stay strong Mom." She'd never sewed before, but she'd sewed and written it herself.
She asked me if I'd stay at home with her since she didn't want to be alone. I told her I couldn't and that I had to go to battle. She said, "Mom, you're not a soldier anymore. You left the army." I told her I'm a doctor, not a soldier, that there'd been a serious outbreak that was really bad, and grandpa and grandma were both ill. Then I asked if she thought her mom should go. She pouted and I told her she was a good girl. I told her to open WeChat and switch on her video chat with me through the computer and not to turn it off — I wouldn't either. That way, she could still see me. I sorted things out for her there and then returned (to the hospital). By that time, it was already 1 a.m.
There was no way I could sleep that night. When I got back, there were a lot of messages on my phone all asking me to look at scans. Whenever I asked, there'd be no nucleic acid test information, and they weren't able to be admitted to the hospital.
I barely slept at all. Normally I'd take some cold medicine — one pill to help me nap for an hour or two. However, that day I took one and it made no difference. All I could think about was whether or not (I should post on WeChat). I really wanted to let the prevention and control headquarters know, but after trying (a web page), it kept saying that my ID number was wrong. There was no other way for me to let the higher-ups know. All I wanted to do was make this matter as widely known as possible; then the government would get this information.
That night I edited, deleted, and reedited the post numerous times before deleting it around 5 a.m. I kept thinking whether or not I should say anything. I was weighing if it might cause panic and misunderstanding in the country's fight against the virus. After all, we professionals always worry about that.
Finally, I just had to do it. Around 9 a.m. I composed it again in a rush. Looking back, I feel like (at the time) I wrote it in a state of complete indignation, and then posted it. After posting, some people liked it, and I began to feel anxious. I commented that I didn't want likes, just for people to help spread it — and quickly — because I had no other way to do so.
After I posted it, I received a call telling me to delete it. I decided to hold off for around 10 minutes to give some time (for people to repost it). Those 10 minutes were really useful. After I deleted it, I kind of buried my head in the sand, leaving my phone in the office and not looking at it. That way if anyone wanted to call or contact me then that'd be that. I put on my PPE (personal protective equipment) and went to work.
When I returned in the afternoon and looked at my phone, I found it was inundated with messages.
The Intellectual: On Feb. 5, the fifth version of the diagnosis and treatment plan was published, including clinical diagnostic criteria for confirmed cases in Hubei province ("suspected cases with scans showing characteristics of pneumonia"). By Feb. 12, clinically diagnosed cases were included in the case figures for Hubei province. Then on Feb. 19, the sixth edition of the diagnosis and treatment plan removed the category "clinically diagnosed cases," with those patients now counted with other "confirmed cases" instead. What was your experience being the one behind this and witnessing this process? And what did these changes show you?
Zhang: For a while after posting, I felt really scared and panicky.
When I first posted it, I didn't feel that afraid. Later on, I received a string of phone calls with some people saying it had been ill-judged, and that speaking up in this way would cause problems not only for myself, but also for my bosses and the hospital. At the time, these words stuck with me. I couldn't bear to think that it might drag in some innocent people — that's why I deleted it from my feed.
However, the fact that it attracted so much attention showed that it really was what everybody was focused on. It got straight to the heart of the problem that needed to be solved at the time.
In fact, my post simply served to attract the attention of the government and the people. The Chinese government has a strong ability to respond, and senior policymakers want to hear real and solid suggestions. At the time, many representatives in Beijing from the National People's Congress and the Chinese People's Political Consultative Conference (CPPCC) contacted me and asked me to put my suggestions in writing. They submitted them for me, and (party newspaper) People's Daily also submitted (my suggestions) in the form of an internal reference. It all happened very quickly.
At around 3 a.m. on Feb. 4, I sent several voice messages to President Wang (Xinghuan, president of Zhongnan Hospital), concerned that my actions would affect the leadership. I just said, "President, I must have gotten you into some trouble. If you're punished, I'll take responsibility." He quickly replied, saying: "We're all busy and just had several meetings concerning exactly what you want. We're organizing wide-scale quarantines, so don't worry and get some rest." I was so relieved.
At a press conference held by the National Health Commission on Feb. 4, a reporter from the Economic Herald in Hong Kong asked a question about the matter. Li Xingwang, an expert from Ditan Hospital (in Beijing), responded by saying that scans had always been a standard for diagnosis. With that one sentence, that was that. When we heard those words, we knew that the matter was being dealt with. When the (fifth) diagnosis and treatment plan was made public on Feb 5., it had been incorporated.
From my personal experience, in the face of a major disaster like this, our government urgently needs professional advice from every expert. Only those on the front lines have the right to speak.
The Intellectual: How can more professionals be encouraged to make suggestions and proposals? For example, not by posting on WeChat, but through more direct means.
Zhang: Well, posting on WeChat really was an act of desperation. If someone wants to make a suggestion, who wouldn't want to make it through the right channels? Since there's no way to understand the big picture, people have no choice but to adopt this kind of relatively unreasonable method. In fact, we experts and professors are the least likely to post on social media, since we have a sense of social responsibility. We're afraid of being misunderstood and misinterpreted.
So, why not go through the hospital? The hospital is also in a difficult position. If you give it to them, they also don't know who to pass it on to. The hospital's managers aren't (medical) professionals and lack understanding. As far as they're concerned, they think, "What does it have to do with you?" Or they'll say something like, "Dr. Zhang, you just stick to your scans. I didn't receive any instructions from the leadership on how we should fight the epidemic." The things they said made me realize there was no point in arguing.
I hope such lack of professionality will become a thing of the past and that there will be smooth channels for expert advice, so this kind of thing won't happen again. This may require improvements to the national disease prevention and control system or various departments. The country may need to think about how to open up expert channels, not just regarding epidemics, but also for incidents like fires and earthquakes. For example, professionals could be granted access according to their level or rank.
Where does the saying "there are many experts among the people" come from? It's because there's still a certain discrepancy between macro planning and the actual situation. Therefore, voices from below can sometimes be the most practicable. This fact has been revealed by the epidemic.
The Intellectual: You also took part in the fight against SARS 17 years ago, and now the COVID-19 pandemic. What have your experiences taught you?
Zhang: SARS was more of a panic. At the time, I was a postgraduate student and also working as a surgeon. It felt like the world was coming to an end.
After SARS, I thought about how useless panicking is. It just leads to more confusion, and outcomes only get worse.
Afterward, I told myself that whenever something happens in the future, I'd calm down first and think carefully about how best to deal with it. There's no problem that cannot be solved. The more panic there is, the greater the harm.
I was also on the front lines for the 2008 Wenchuan Earthquake. At the time, I happened to be a resident doctor studying in western China. That day I was resting in my apartment on the 22nd floor when a little after 2 p.m. there was a big commotion, my vase smashed to pieces, and my lamp fell to the ground. My first reaction was that it was an earthquake. I rushed to the bathroom and wrapped my arms around the water pipe. Through the bathroom window I could see two tall buildings swaying from side to side. I counted more than 40 seconds before it stopped. Barefoot and wearing only my pajamas, I ran outside and then to the break room at the hospital to get some shoes. One of my classmates there kept saying to himself, "How could this happen? There's never been an earthquake in Chengdu. What's going on?" I told him to stop talking and go organize the teachers: "Everyone needs to head outside, just in case there are aftershocks. The computers also need moving out — put them out in the open, then fetch some tents from the hospital's storeroom."
At that time, the radiology director came to me and said, "Zhang Xiaochun, you've worked hard today. You should organize the staff on duty." I said, "Director, that's a lot of work, I can't do it alone. Please call all the staff back as soon as possible. Soon the wounded will start arriving." He asked me why I'd say that, and I told him that mining accidents were a frequent occurrence in Inner Mongolia. At first he didn't believe me, but he quickly (came around). Because of this experience and SARS, I was more sensitive than most to the outbreak.
When major disasters occur, there's always a lot of confusion early on, with people from all walks of life panicking. It's not to say that the government is ineffective, but rather it doesn't know what to do. That's why it's critical for us to reflect well and stay calm whenever anything happens in the future. Professionals should be contacted within the industries involved and an analysis of the situation should be made. It's no use running around like headless chickens — a lack of order never helps anyone.
The Intellectual: You once wrote that you were fond of Winston Churchill's line "Never let a good crisis go to waste." What problems do you think the COVID-19 pandemic has uncovered? How can we prevent this crisis from going to waste?
Zhang: As human beings, we need to reflect after this crisis. Every person, every group, every organization — and even the government — should all reflect.
China is a huge country with 1.4 billion people. Despite such a large population and flow of people, we've been able to overcome the situation and control things well. We should reflect on why we've managed to do so.
Individuals shouldn't let this crisis go to waste, and the medical profession should consider why there were so many missteps in the first place. I can't be the only one to have realized that.
There are undoubtedly a lot of people who are more hard-working and smarter than me, but they didn't speak up or act. Perhaps this is also something we need to think about. At that time, everyone might have had to discard some distractions — less thinking is more effective. This time I didn't think too much. Plus, the government doesn't want you thinking too much.
When confronted directly by a disaster like this, instead of complaining, speculating, or keeping quiet to protect yourself, it's better to propose solutions. The source can't be controlled, but we can control which way it heads, right? So, I proposed my own approach. All industries and professions should do the same.
The Intellectual: You mentioned the problems your family faced. What changes has the coronavirus brought to your life?
Zhang: I can't bear to look back; I don't want to think about it.
As a daughter, a mother, and a wife, I feel guilty. The epidemic is over, but my family is split apart. Some people have said that I fought for Hubei, but it's actually my entire family that fought for Hubei.
On Dec. 31, I told my parents that we had to stay in Wuhan. That day I was too busy to eat. I called my parents in the afternoon and told them there was a new infectious disease, that they couldn't go back to Inner Mongolia, and that they should cancel their tickets for Jan. 4. They were really unhappy, saying "you doctors always get carried away." They explained that there'd been no mention of it on the local news and asked what I was basing my claim on. I even phoned my uncle and asked him to try and persuade my parents to stay. I said that if it's confirmed to be a new infectious disease, their return would bring a lot of trouble to the national prevention and control. Plus, their arrival in Inner Mongolia would also cause a lot of problems for the local area and our relatives. Finally, they relented and agreed to stay.
After my father became infected, he was in a good condition for a while. However, one day he suddenly developed a high fever. The next day, he had a CT scan and the mild lesions in his lungs were discovered to have suddenly worsened. He was having difficulty breathing and couldn't walk more than a few steps without having to stop and rest.
At the time, my mom called me and said, for the sake of your mother, for the sake of both of us who've taken care of your daughter for so many years, please talk to the doctors and get your father treatment. She said they didn't want to trouble me, but asked if I could just please talk to the head doctor.
Her polite tone was so unfamiliar. As I listened, I felt terrible. If you can't love your own parents, how can you love others or think for ordinary people?
Of course I love them. But in this situation, I couldn't stop working for the good of society just because they're on their own. At that time, Director Peng Zhiyong, Director Cheng Zhenshun, and Director Xia Jian from the emergency department helped me a lot. I called them the "three musketeers." I said I'm putting my father in your hands, please do everything you can to help him — although I couldn't ask them to promise he would get better. Otherwise, after the outbreak ended, I wouldn't be able to go on.
My father was admitted to the ICU and put on a ventilator three days later. His immune system was completely destroyed. It took some powerful drugs to pull him back from the brink, although he was left with some aftereffects.
As a daughter, my behavior was absolutely unfilial. Although my parents were unwell, I was still taking part in the fight against the epidemic. Even when my dad was close to death, I left him there in the isolation ward. That's why my parents are so cold to me. They think: You spent all your time and energy caring for the rest of society and saving others, and in the end, your father ended up in intensive care.
When my parents talk about Wuhan now, the look on their face changes. They don't watch TV anymore because the mere mention of the coronavirus brings the fear rushing back. Whenever they feel unwell at all, they immediately assume it is the aftereffects of the disease.
When I'll return home (in Inner Mongolia, where her parents and daughter moved after Wuhan's lockdown ended), they'll allow me to pick up my daughter, but not to stay with them. I'm not allowed inside the house. My husband, although more supportive, has also complained that being separated put our whole family at risk.
During this time, I did my job with integrity. Their sacrifices have been bigger than could be expected from ordinary citizens. That's why I feel sorry for them. I'm not the only person in this situation: Thousands of medical workers — thousands of families in fact — have gone through similar experiences. The only difference, I think, is the degree.
I have mild depression at the moment because I can't stand the stress. Why do I have so many photos of my daughter (in my office)? Because seeing her gives me a reason to live. I think maybe time will help heal (the wounds). I want to give my parents some time, and also me, too. My daughter will turn 9 years old soon. In the future, I may have to spend more time with my family and not be apart from them for such a long time.
The most important things to me now that the epidemic has passed are family, life, and peace.
The Intellectual: Is there anything else you'd like to add about your experience?
Zhang: This was a people's war, not just the work of medical personnel. The key was cooperation between people from all walks of life. We medical workers rushed to the front lines. But, if there weren't so many volunteers helping us with such aspects as logistics, including solving difficulties regarding materials, could we have won the battle?
Take Wuhan, for example. When the citywide lockdown was announced, people all stayed put at home. Everyone shared this kind of cohesion, public spirit, and sense of responsibility. That's what I felt most deeply. This was the greatest strength in defeating the epidemic. I've taught a lot of classes on the subject of faith to high school and university students, and I tell them that whatever behavior you think of as heroic, including mine, is really just human nature. Don't put people on a pedestal. When thousands of individuals come together and each do what they should, to the utmost of their abilities, we can get through an epidemic.
I don't think it's necessary to dwell on who did what during the epidemic. People just did what they were supposed to. None of us did anything spectacular.
Translator: David Ball; editors: Kevin Schoenmakers and Yang Xiaozhou.
(Header image: A doctor checks the CT scan of a patient in Wuhan, Hubei province, March 5, 2020. Chen Zhuo/Changjiang Daily/People Visual)