In a case suggesting China's criminals may be drawing inspiration from Western TV shows about desperate, drug-dealing teachers, police in the eastern Jiangsu province have busted a 51-person supply chain of marijuana buyers and sellers headed by a university employee.
According to a local media report Friday, the faculty member, surnamed Yan, taught computer classes at an unnamed university. In 2017, he began to dabble in dealing marijuana, together with another suspect surnamed Zhou who was the grower for the operation. By relying on digital currencies and a dizzying collection of fraudulent identities, the two men were able to earn over 500,000 yuan ($74,000) in just four months.
Police in Jiangsu's Yixing County busted the operation "recently," according to the report. They were alerted by a known drug user's suspicious activity on an international social media platform. That man, surnamed Jiang, later received a courier delivery of tea packets that police found contained marijuana.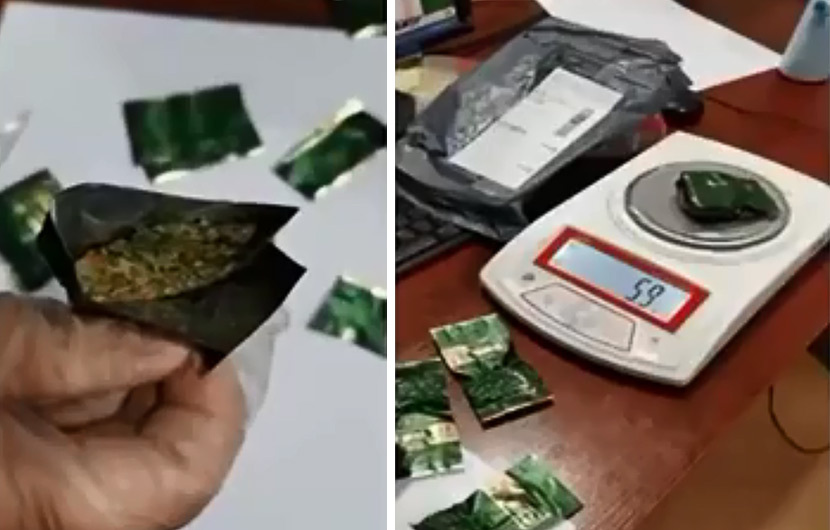 Screenshots from the local news report show tea bags stuffed with marijuana. From @荔枝新闻 on Weibo
Jiang didn't know the identity of his dealer, but police traced the package to Liaoning, a province in northeastern China, and a man who told them he had agreed to let a friend use his identity — his national ID-linked phone number, as well as his Alipay and WeChat Pay online payment accounts — in exchange for 1,500 yuan.
Police were able to track down this friend, a middleman surnamed Li who procured alternate identities for those in need of them. From a payment made to Li, police found Yan, the computer teacher. When they searched Yan's home, they found 50 grams of marijuana and dozens of unused SIM cards. This in turn led them to Zhou, the grower, who was also in Liaoning.
Drug trafficking is a serious offense in China. According to the country's criminal law, marijuana is classified in the same category as heroin, cocaine, and other hard drugs. Depending on the scale and circumstances of an operation, smuggling or trafficking in illegal drugs can be punishable by 15 years in prison, life imprisonment, or death.
China has been stepping up policing of drug-related crimes in recent years, with authorities in large cities conducting frequent raids on bars and clubs beginning around 2017. Such operations have often involved corralling everyone in the venue and testing either their urine or hair for traces of drugs, particularly marijuana. Foreigners caught during these raids, many of them English teachers, have faced immediate deportation — even those who claimed their positive tests in China were the result of prior marijuana use in a country where it was legal.
China may heavily police marijuana use within the country's borders, but that doesn't mean it's opposed to growing the recreational plant for export. In Yunnan and Heilongjiang provinces, farmers looking to cash in on Western appetites for cannabidiol, a chemical in marijuana that doesn't produce a high but can have a calming effect, are hard at work growing fields of cannabis — legally, if under strict supervision by the authorities.
Contributions: Ye Ruolin; editor: Kevin Schoenmakers.
(Header image: Moment/People Visual)