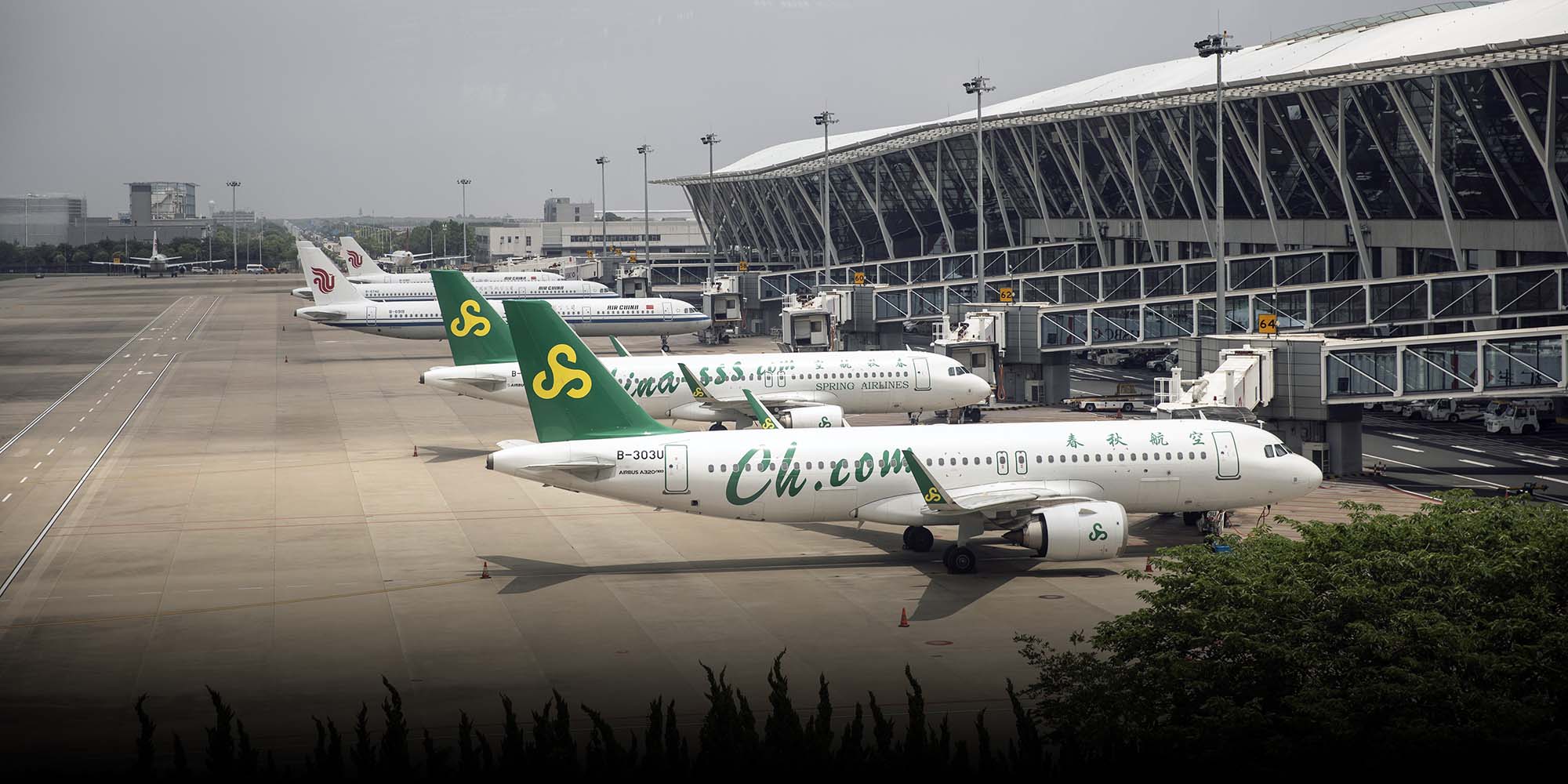 NEWS
Chinese Airline Denies Boarding to Depressed Passenger
Some online say Spring Airlines discriminated against the woman because of her mental condition, while others argue the crew acted prudently to keep everyone safe in light of a recent suicide.
Weeks after a passenger's suicide on an Air China flight, another Chinese airline has expressed "regret" over denying boarding to a woman with depression.
In a statement Wednesday to Sixth Tone's sister publication The Paper, Shanghai-based Spring Airlines said it had made a "regretful decision" in telling a passenger she could not board a flight the previous day because of her psychological condition.
The airline said it had refunded the ticket costs for the passenger and her boyfriend, who was accompanying her on the Nanjing-bound flight from Weihai, in the eastern Shandong province. The airline described the passenger as "emotionally unstable," her health status "unclear."
Before the response, the passenger's boyfriend, surnamed Yu, had accused Spring Airlines of "discriminating against patients with depression." According to Yu's account on microblogging platform Weibo, his girlfriend's hands had been shaking — a side effect of the lithium carbonate sustained-release tablets she takes for her medical condition.
An airline staff member "interrogated me and my girlfriend about her condition at the gate in front of other passengers," Yu wrote, adding that his girlfriend was showing no other abnormal signs and had provided relevant medical documents. "I'm not sure it's reasonable to ask passengers about their private medical conditions in public."
Yu told The Paper that his girlfriend had a Wednesday appointment with a specialist at Nanjing Brain Hospital. In the end, the couple had to take the train in order to make the appointment, which had been difficult and time-consuming to schedule due to limited openings.
"My girlfriend was basically cured — but after all the (trouble with the airline), she cried all the way (to Nanjing), and even had some bad thoughts," Yu wrote, adding that she had never had a problem boarding flights because of her depression before. "I hope Spring Airlines will provide a reasonable explanation."
When The Paper's reporter called Spring Airlines customer service posing as a client, an employee said the company does not recommend that people with depression travel by air.
On Chinese social media, there has been heated discussion over the case, with a related Weibo hashtag viewed over 270 million times. Some netizens slammed Spring Airlines for being "arrogant" and discriminatory, while others sympathized with the airline for making what it had apparently determined to be the safe call.
Presuming the details as reported are true, all the airline did "was take responsibility for the other passengers' safety, as well as that of the patient herself," read one Weibo post. "After all, it was less than a month ago that a passenger committed suicide on an Air China flight, causing great loss for the company."
On Sept. 23, a passenger locked himself in a lavatory and tried to kill himself during an Air China flight, prompting the crew to make an emergency landing. He later died at a hospital.
Chen Jun, chief physician at Shanghai Mental Health Center, described the passenger's suicide as an extreme case that not be used by airlines as an excuse to reject customers with mental conditions, as this may potentially violate China's Mental Health Law.
"Depression is a paroxysmal disease: Most of the time, patients are normal, their symptoms mild even during sudden attacks," Chen told Sixth Tone. "What Spring Airlines did was absolutely wrong."
In China, the Beijing Suicide Research and Prevention Center can be reached for free at 800-810-1117 or 010-82951332. In the United States, the National Suicide Prevention Lifeline can be reached for free at 1-800-273-8255. A fuller list of prevention services by country can be found here.
Editor: David Paulk.
(Header image: Spring Airlines and Air China aircraft on the tarmac at Shanghai Pudong International Airport, June 8, 2020. Shen Qilai/Bloomberg via Getty Images/People Visual)