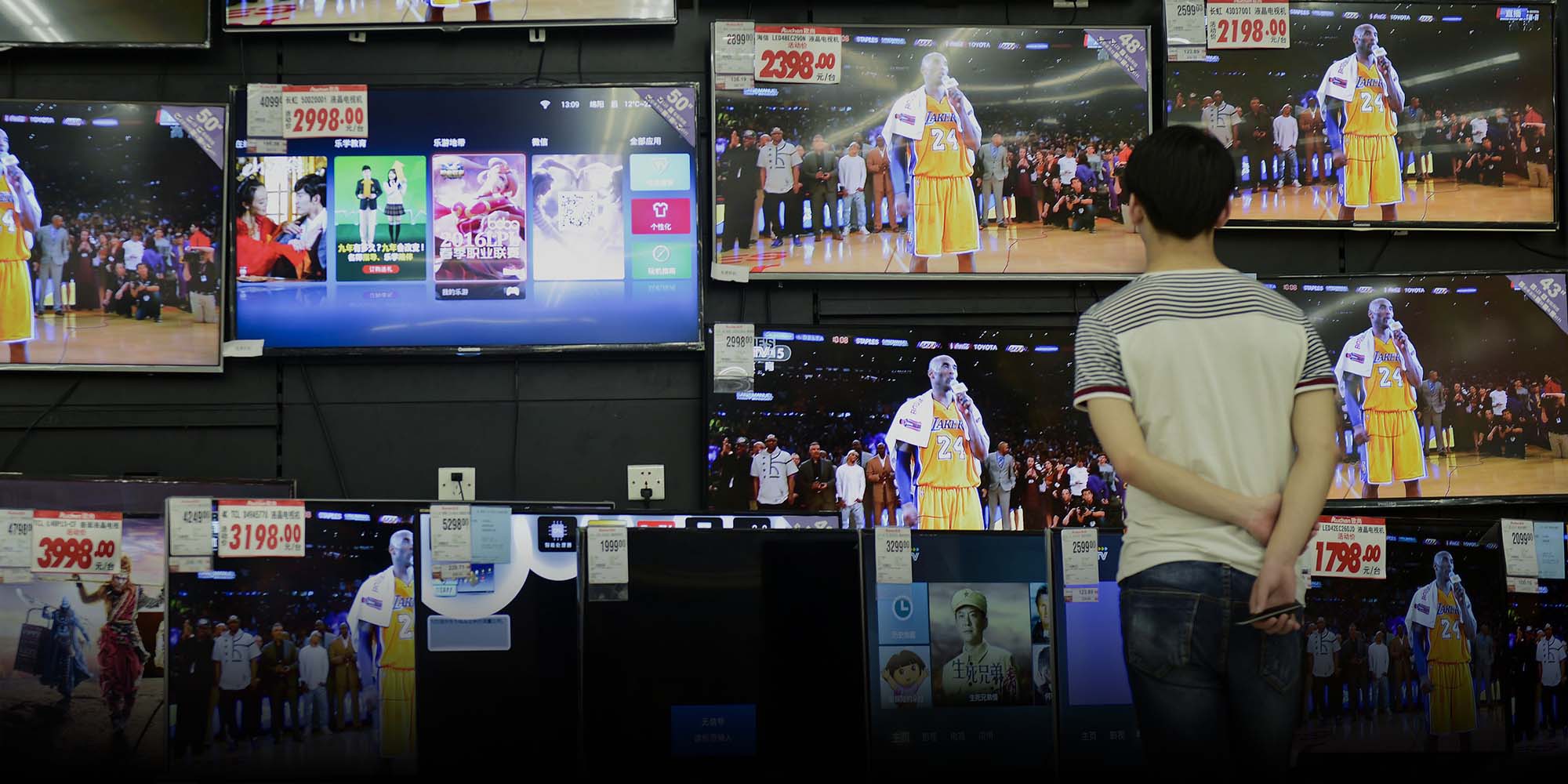 NEWS
China's State Broadcaster to Resume Airing NBA Games
CCTV explains the sudden détente as a result of the American basketball league's good behavior.
A year after it stopped airing NBA games over a team executive's politically sensitive tweet, China's state-run television network said Friday that it will resume regular broadcasts, with potentially just one game left in the season.
China Central Television, or CCTV, said on its website that the network will resume broadcasting NBA games from Oct. 10, citing the popularity of basketball in China and high viewing demand among the sport's domestic fans.
A CCTV spokesperson noted the NBA had sent Chinese fans festive well-wishes for the just-concluded Mid-Autumn Festival and National Day holidays. The spokesperson also highlighted, without providing examples, the NBA's "great efforts assisting the Chinese people in fighting the COVID-19 pandemic."
The network suspended league broadcasts after Houston Rockets General Manager Daryl Morey tweeted in support of protests in Hong Kong in October 2019.
Amid backlash the tweet generated in China, NBA Commissioner Adam Silver defended Morey's right to express his opinions. The next day, CCTV announced that it would no longer broadcast NBA games, marking the start of a protracted stalemate between the network and the league.
China's basketball fans could still watch games online through internet giant Tencent, which, after a short pause, resumed broadcasts of all NBA games except those involving the Rockets. The team's many fans in China — Chinese basketball legend Yao Ming spent his entire NBA career in Houston — could no longer watch their team.
At the same time, many Chinese companies paused or pulled out of sponsorship deals. Silver told ESPN in February that the league would lose "probably less than $400 million" due to a dip in revenue from China. In the same interview, he also said he expected "a return to normalcy fairly soon."
After the coronavirus reached the U.S., the NBA was the first major sports league in the country to suspend the remainder of its season in March. Months later, the NBA in May tapped Michael Ma, the son of one of CCTV's founders, to become head of the league's embattled China operations. The move sparked rumors of thawing relations between the league and the network, though CCTV swiftly denied them.
In July, the NBA resumed its season inside a semi-isolated "bubble" at the Walt Disney World Resort in Orlando, Florida.
Now, the NBA season is nearly over. The Los Angeles Lakers lead the Miami Heat three games to one in the best-of-seven finals series, meaning the two teams will face off at most three more times. One more Lakers win on Friday evening local time would clinch the championship.
It might be the only NBA game broadcast by CCTV for a while. With the COVID-19 pandemic still raging in the U.S., it reportedly remains unclear when the next season will start.
Editor: Kevin Schoenmakers.
(Header image: A man watches the late NBA legend Kobe Bryant speak on television display units at an electronics store in Jiaxing, Zhejiang province, April 14, 2016. People Visual)