SHANGHAI — Cai Lechen has been beating the odds since he was first diagnosed with autism spectrum disorder at 2 years old.
In China, the vast majority of children with autism never finish junior high school, let alone go on to higher education. But in 2017 Cai did exactly that, winning a spot on a new government-sponsored training program for students with special needs, which admitted just 15 people that year.
Cai enrolled in hotel management at a Shanghai vocational school, and for the next three years diligently mastered the arts of tea ceremonies, towel origami, and tidying rooms to five-star standards. Now aged 19, he's finally about to complete his degree.
Cai Lechen, a 19-year-old with autism, shares his hopes for the future after graduating from vocational school in Shanghai. By Zhu Jiaqi
Yet as Cai's graduation day approaches, his family's mood isn't one of celebration, but of foreboding.
"With kids like ours, families look forward to the day when they grow up," Mei Li, Cai's mother, tells Sixth Tone at her home in central Shanghai. "But at the same time, we're afraid of it."
Though bursting with pride at her son's achievements, Mei knows they may count for little when Cai enters the harsh world of China's job market. Despite efforts to promote inclusivity over recent years, employers remain highly reluctant to hire people with autism — and the coronavirus-induced economic slowdown is only making things worse.
"We don't know how he'll be able to support himself when we get too old or pass away," Mei tells Sixth Tone. "Most of the autistic kids we know just return home after they finish school or are forced to leave school."
There are an estimated 14 million people with autism spectrum disorder in China, but only a fraction of this group are in paid work. A report published in 2014 suggested that fewer than 10% of Chinese with autism are employed.
This report, moreover, was based on a survey of around 3,000 families selected by schools, nonprofits, and other organizations supporting those with autism, which are more likely to be actively searching for jobs for their children. Experts tell Sixth Tone the real employment rate is likely far lower.
"There are extremely limited employment opportunities for autistic adults," says Zhou Jinlian, director of Rongaixing, a Guangzhou-based nonprofit that promotes inclusive education for children with autism.
According to Zhou, most Chinese companies are highly profit-driven and unwilling to make the extra investment necessary to train and supervise an autistic member of staff. The pandemic has only deepened this tendency.
In southern city Guangzhou, the only companies that hire employees with autism are a handful of large firms that do so as part of their corporate social responsibility strategies, Zhou says. In most cases, these "public welfare posts" don't last long. 
"For companies, eventually they need to make money," says Zhou. "Given the not-so-optimistic economic situation, they're even less willing to give autistic applicants a try."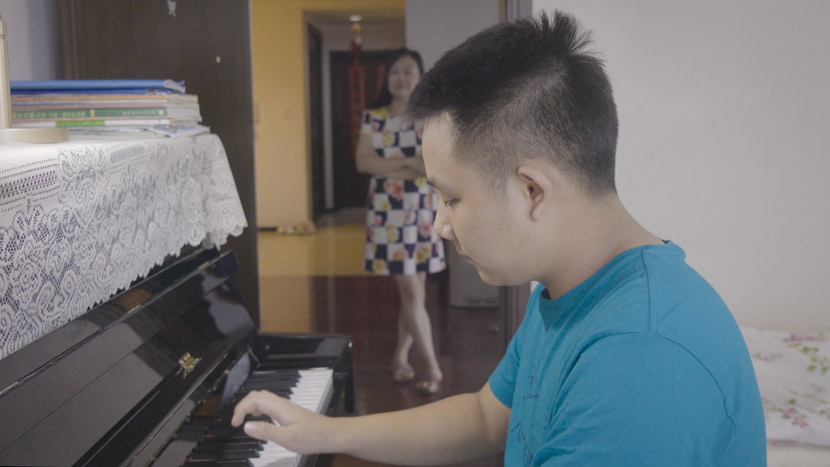 Cai Lechen plays piano at home, while his mother Mei Li watches, in Shanghai, September 2020. Zhu Jiaqi for Sixth Tone
The situation isn't any better in Shanghai. Mei can only recall one high-profile example of an autistic person getting a job in the city: in 2013, when Shanghai's public library hired a person with autism as a librarian. At the time, local media hailed the story as a watershed moment, but there have been few similar cases in the years since.
"I haven't heard about any other employment stories for autistic people," says Mei.
Most of Mei's acquaintances with autistic children gave up trying to find jobs for them long ago, and their adult children now live with them permanently. Mei, however, is desperate for Cai to have more independence.
"It will be devastating for us if there's no employer or no place for our son to go after his graduation," she says.
Chinese authorities provide meager support for people with mental disabilities, and low-income families with disabled relatives can face severe financial pressure. Though Mei is relatively well-off, she worries her son could be exploited or fall into poverty after she is gone.
For years, Mei has done everything she can to help Cai become as socially integrated as possible. Aside from his studies, Cai plays badminton every week and is about to sit his grade eight piano test. He tends to speak in short sentences, but he can communicate clearly.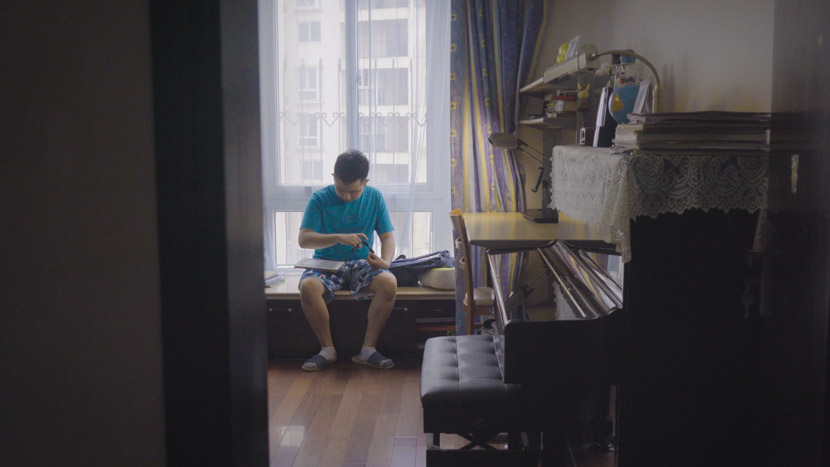 Cai Lechen plays with his iPad at home in Shanghai, September 2020. Zhu Jiaqi for Sixth Tone
When Sixth Tone asks Cai about what he wants to do after graduation, Mei whispers in his ear: "I want to become a useful person," which he dutifully repeats.
Before the pandemic, Mei's family was hopeful that Cai might one day be able to find work. Shanghai has introduced a string of policies to promote inclusivity for people with mental disorders over the past decade, and things appeared to be improving gradually. 
"My son has been very lucky," says Mei. "Although he attended a special needs kindergarten, he finished his nine-year compulsory education in an inclusive environment in public schools. We didn't dare imagine he could further his studies by attending vocational school. But it was made possible with the local government's progressive policies."
The training program, launched by the central Hongkou District in 2017, has allowed Cai and 14 other students with special needs to attend Shanghai Nanhu Vocational School, where they have been learning the skills required to work in the hospitality sector.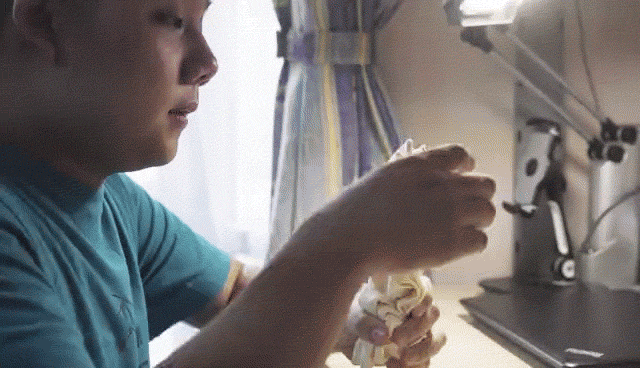 Cai Lechen demonstrates napkin folding techniques he learned as part of his hotel management program, in Shanghai, September 2020. Zhu Jiaqi for Sixth Tone
"I like folding tablecloths, doing tea ceremonies, and putting things in order the most," Cai tells Sixth Tone.
As part of the program, the students were supposed to intern at the Broadway Mansions Hotel — the iconic, five-star hotel overlooking Shanghai's Bund — this year. The school, however, cancelled all its internship plans after being forced to suspend classes in the wake of the COVID-19 outbreak.
For Mei, it's a shame Cai missed out on the opportunity. But ultimately, the internships are of little use anyway, unless they provide students with a better chance of securing permanent, paid work. At the moment, that often isn't the case, she suggests.
"Every year on April 2 (World Autism Awareness Day) … companies come to events to demonstrate their corporate social responsibility," says Mei. "But instead of such displays, we need real jobs provided for kids like my son."
Broadway Mansions Hotel has never hired a staff member with a mental disorder before, the hotel's human resources manager, surnamed Li, confirmed to Sixth Tone during a phone call.
"We're above all a hotel that requires staff to communicate with our guests. We're not a factory," says Li. "Sympathizing with the kids and their families is one thing, but offering them jobs is another."
Li added that Nanhu Vocational School had invited her to observe its classes for special needs students in the past. "There are possibilities for us to hire one or two of these graduates, but we're not obliged to do so," she says.
While Mei says she understands that companies need to make a profit, she wishes more could be done to help families like hers. Chinese authorities offer tax incentives to companies that hire people certified as disabled, but the impact of this policy has been limited.
Over 20% of families with autistic children haven't applied for a disability certificate, according to the 2014 report, as they disagree with classifying their children as "disabled" and worry the label will lead to social stigma. In practice, moreover, companies sometimes hire disabled workers on low-wage contracts simply to qualify for a tax cut, Mei says. The firms won't even allow their newly hired staff members to attend work, fearing they'll be disruptive, she adds.
"They'll still pay the staff their salaries, but that's not what my family wants," says Mei.
Liao Lina, who is also the mother of a 19-year-old son with autism, hopes her child will be able to find a different route into the jobs market, though she's also realistic about his prospects.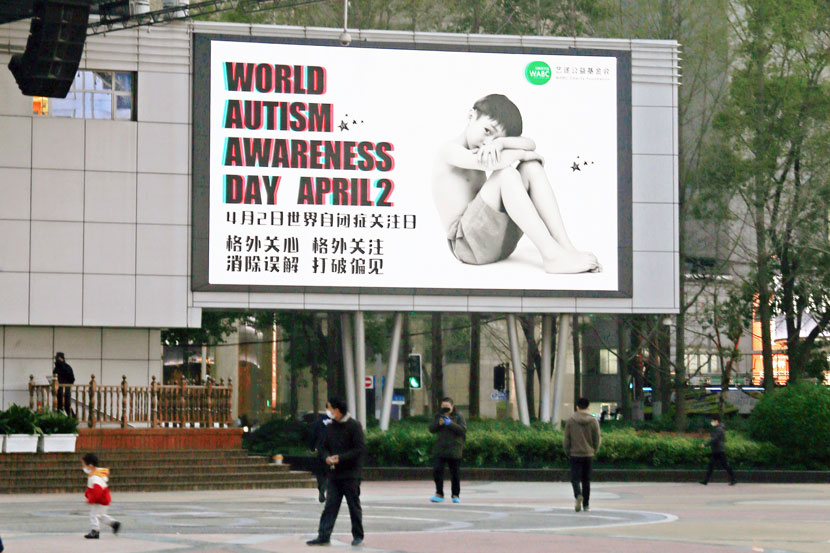 People walk past a poster promoting public awareness of autism, in Shanghai, April 1, 2020. People Visual
Last month, Liao's son became one of just six autistic students in Guangzhou to be admitted to a vocational college. Her child — who she refers to only by his first name, Dongdong, for privacy reasons — will spend the next three years studying digital media at the Guangdong Teachers College of Foreign Language and Arts. For his mother, it's an achievement to be proud of, and it also buys her some time.
"That means I'll have at least another three years to prepare him for society and a job," she tells Sixth Tone. "If possible, I'd like to keep him in a school environment even longer. For one thing, he'll get older and become more mature. Also, he can improve substantially in terms of his professional skills."
Liao dreams of finding a job in digital media for Dongdong. From a young age, her son has had a passion for advertising. As a child, he would stand on the streets for long stretches, gazing at the big screens displaying commercials. Later, he became curious about how the ads were shot and edited.
Yet the mother understands that Dongdong will face an uphill battle breaking into digital media — or any other industry. Although Guangzhou is widely considered to be a national leader in terms of how many nonprofits are working to support autistic people and their families, this hasn't appeared to translate into much better employment opportunities.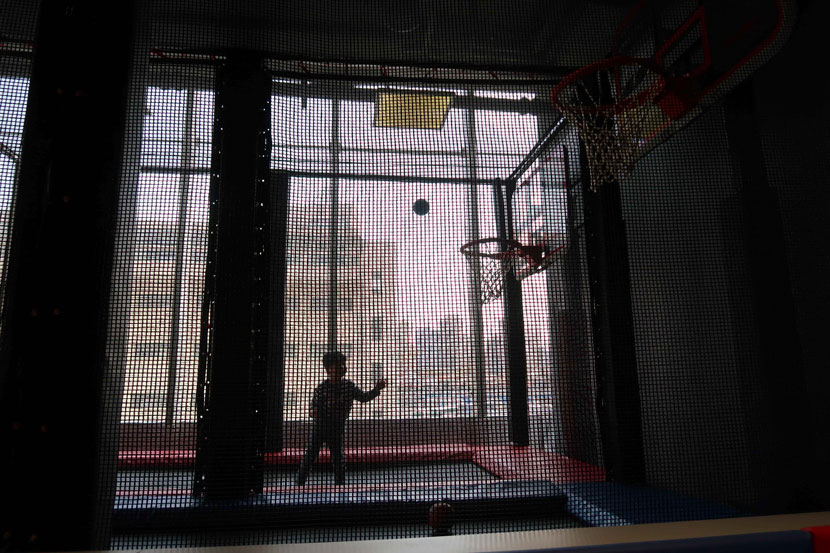 A child with autism plays basketball in Shanghai, March 31, 2019. People Visual
"Starting from his primary school years, our family realized it's more likely he'll find a job in the service industry," says Liao. "We have to keep in mind that there's a distance between ideals and reality … Autistic people like him need more time and more tolerance from employers."
Ultimately, Liao just hopes her son can secure a job of any kind, believing it will enrich his life. For years, she has been trying to help Dongdong become more independent. Since age 17, he has been living alone in a rented apartment. Liao has also secured internships for him at a cafeteria, a summer camp, a dessert shop, and several other workplaces.
"It's essential that parents step back and let their kids explore on their own," Liao says.
Back in Shanghai, Mei expresses similar sentiments. She wishes someone would be willing to give her son a chance.
"It would be a huge waste if he's simply left at home after his graduation," she says. "He keeps regular hours and is more than capable of handling simple jobs."
Beyond the issue of financial security, work would provide Cai with the regular social interaction and responsibility that he needs, Mei believes. She can't bear the idea of her son simply staying in the house all day long, as do so many others with his disorder.
"We have to keep him in a social environment to force him to open up," Mei says. "We've been making efforts on this path for over 10 years. If the eventual outcome is our son coming back home, that's unacceptable for us."
The mother even says she'd be willing to quit her own job to support Cai in the workplace full time, or allow Cai to work for free.
"Even if they don't give him a penny in income, we don't mind," says Mei. "We just want him to remain part of wider society."
Editor: Dominic Morgan.
(Header image: Cai Lechen crosses a street in Shanghai, September 2020. Zhu Jiaqi for Sixth Tone)