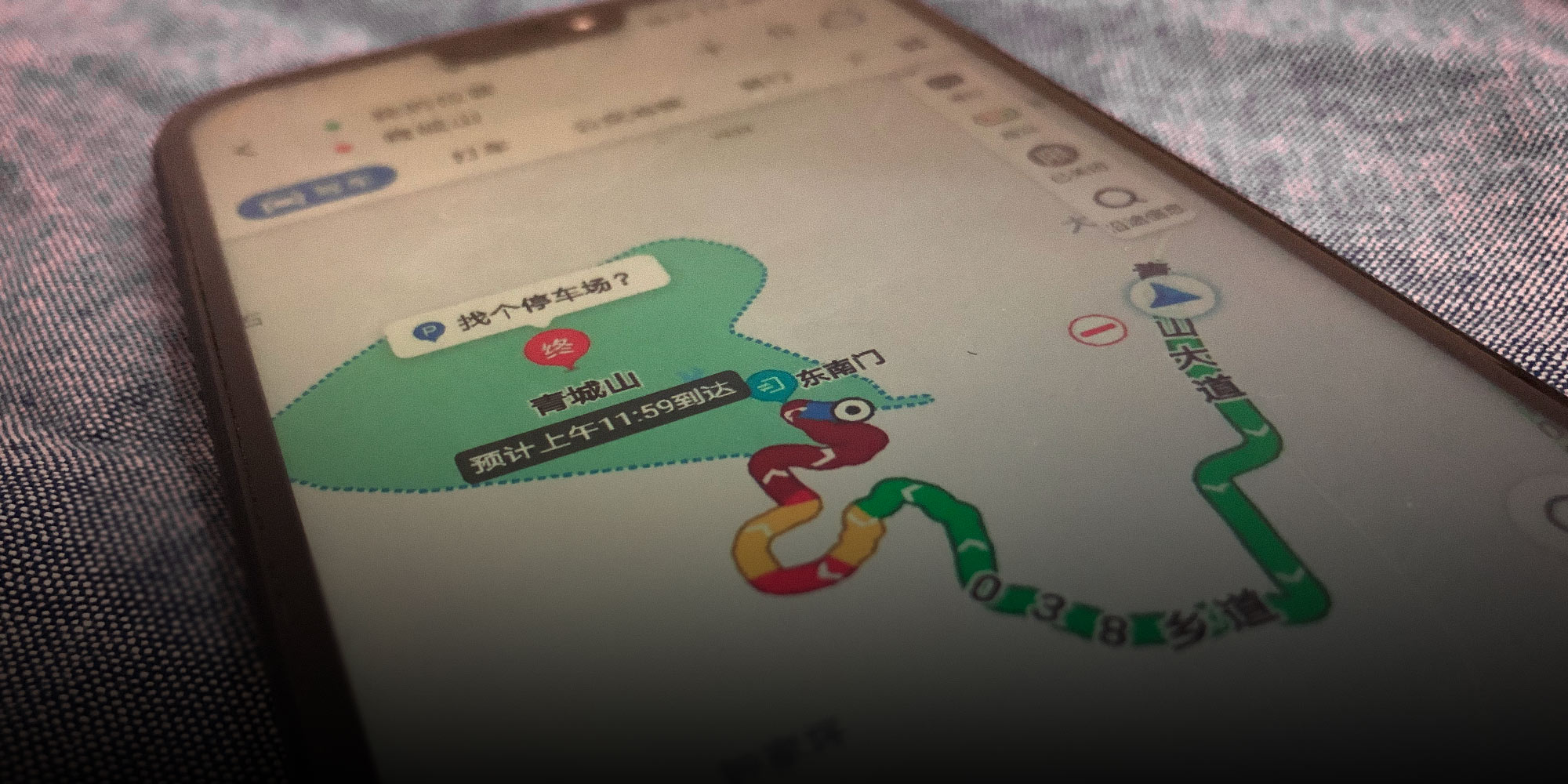 NEWS
Chinese Map App Apologizes for Causing Mountain Traffic Jam
Gaode's outdated directions add to tourists' stress during the country's busiest travel period since the pandemic.
One of China's most popular navigation apps has apologized after its wrong directions to National Day vacationers turned a mountain scenic area into a traffic nightmare.
With the entire country off work and tourism numbers rebounding to near pre-COVID heights, the so-called Golden Week following the day of the People's Republic's founding, Oct. 1, already promised trudging through crowds. For visitors to Mount Qingcheng in the southwestern Sichuan province, faulty routing meant yet another headache.
"We're truly sorry to have burdened drivers visiting Mount Qingcheng this National Day holiday," Gaode Maps said in a statement Monday to Sixth Tone's sister publication The Paper.
A day earlier, the Dujiangyan scenic area at Mount Qingcheng had posted a notice on social app WeChat recommending that visitors avoid using Gaode Maps. The navigation app had been directing drivers to an area of the mountain that had been closed for years, causing serious traffic congestion and problems for the scenic area management, the notice said.
Dujiangyan scenic area staff further said they made their recommendation after dealing with such complaints from tourists for years, and after repeatedly contacting Gaode Maps to fix its misguidance.
What the scenic area describes as a recurring problem has been magnified by a post-pandemic rebound in travelers visiting family members and tourist hot spots over the Golden Week holiday, which this year coincides with Mid-Autumn Festival to total eight days.
According to state media, 425 million trips were made during the holiday's first four days, down from 542 million trips over the same period last year. Still, the proportion of travelers this week is an improvement over the Labor Day holidays in early May, when travel fell by 41% from the previous year. China Railway Group said train travel peaked at just over 15 million passengers on Oct. 1, the highest one-day figure since the COVID-19 outbreak.
Since being acquired by e-commerce giant Alibaba in 2014, Gaode Maps — also known by its English name, AutoNavi — has been a leader in China's crowded field of map and navigation apps. As of Monday, Gaode Maps was the most-downloaded free navigation app in the Chinese iOS app store, ahead of rival map apps from tech giants Baidu and Tencent.
In its statement Monday, Gaode Maps said it had changed its arrival point for the Mount Qingcheng scenic area from the ticket office — which is only reachable by foot or shuttle bus — to a nearby parking lot.
"Rest assured that you may use Gaode Maps navigation services to travel to Mount Qingcheng," the statement said.
Editor: Kevin Schoenmakers.
(Header image: Sixth Tone)