The head of a kindergarten in China's northern Inner Mongolia region has been dismissed over allegations of child abuse, the state-run China News Service reported Wednesday.
The move comes a day after reports that eight parents had found pin-prick marks on the heads and torsos of their children, who are all in the same class at Dingqi Kindergarten in Hohhot, Inner Mongolia's capital. The allegations of abuse quickly attracted attention because of their striking similarity to a high-profile case at a Beijing kindergarten in 2017.
According to the parents, their children — all around 3 years old — had complained of teachers jabbing them with "red needles" and "toothpicks" for not waking up at the end of their afternoon naps or not following orders during restroom breaks. Photos of what appear to be medical reports indicate that the sharp instruments drew blood.
The parents said their kids were threatened with further punishment if they told anyone about the school's disciplinary methods.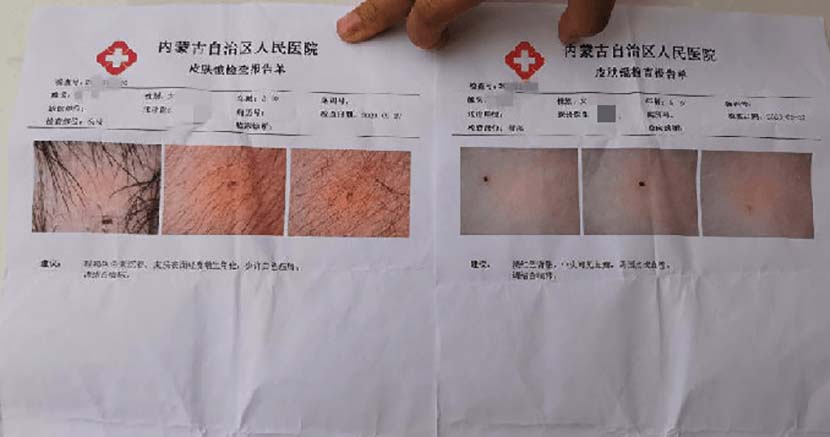 Medical reports show pin-prick marks on the kindergartners' bodies. Xinhua
Three teachers from the kindergarten have been taken into police custody pending an investigation, according to the local public security bureau.
Meanwhile, Dingqi Kindergarten has denied the allegations of child abuse.
"We have provided the police with camera footage to assist with the investigation," the kindergarten wrote Tuesday on microblogging platform Weibo. "After a thorough examination, we found no evidence proving the accusations are true."
The kindergarten added that it has a zero-tolerance policy for teachers who violate the school's code of conduct, and said it will shoulder all necessary responsibility.
In November 2017, a Beijing kindergarten affiliated with one of the country's largest private kindergarten companies, RYB Education, was at the center of a nationwide outcry over allegations that teachers had pricked children with needles — or potentially even drugged and molested them. A month after initial media reports, one teacher from the kindergarten was sentenced to 18 months in prison for child abuse.
Editor: David Paulk.
(Header image: People Viusal)