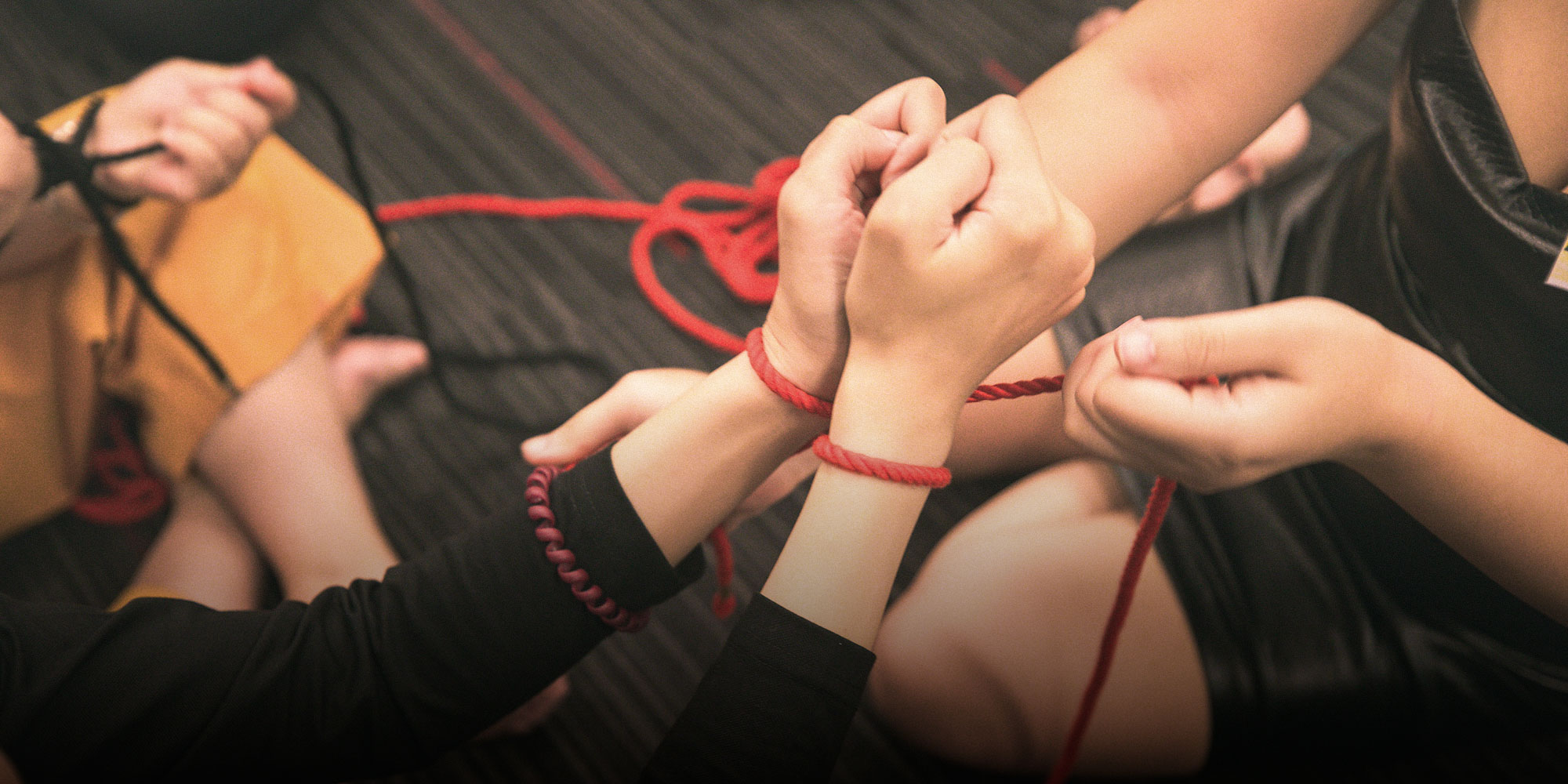 FEATURES
The Sex Therapist Busting China's Bedroom Taboos
In China, traditional attitudes toward sex remain prevalent. But foreplay guru Luo Nanxi wants to help the country's couples loosen up.
SHANGHAI — Inside a plush conference room in downtown Shanghai, around 30 men and women are kneeling in two circles on the floor, discussing their partners' most annoying bedroom habits.
"Don't ask me to call you 'Daddy,'" one woman says. "You don't please me after I serve you," another person interjects. "I hate it that you use me like a tool," says someone else, more emphatically.
The group is taking part in a workshop titled "Foreplay" — a five-hour event that gives its clients a crash course in how to spice things up between the sheets.
For just over $100, an instructor leads the attendees through a variety of drills designed to improve their sexual prowess — from becoming more aware of their bodies to skillfully handling a riding crop.
Just a few years ago, organizing such a course would have been unthinkable in China, where conservative attitudes toward sex remain prevalent and the government keeps a tight lid on sexual content in all forms of media.
But space has gradually opened up for franker discussions about sex, and this is giving rise to a booming marketplace for sex therapy.
The Shanghai workshop is the brainchild of Luo Nanxi, who also goes by Nancy Luo. A self-described "sexual skill potential development mentor," she has become one of the nascent industry's leading influencers.
After studying programs on human sexuality and sex education in the U.S., the 29-year-old founded a company called My Body Knows in the southern metropolis of Shenzhen in 2018, offering online and offline courses on subjects including "sexual confidence" and "advanced foreplay."
To her legions of fans on social media, Luo offers disarmingly direct and practical advice that can be hard to find in China. She says her mission is to help people enjoy sex — especially women, who tend to put their own needs second.
"Most Chinese women have low sexual self-esteem," Luo tells Sixth Tone. "Whatever happens, their first reaction is, 'It's my fault.'"
Many of the workshop participants have traveled from cities all over the country. It's a mixed group: just over 50% male, both young and middle-aged. The majority are middle-class or have previously lived overseas.
Kundan Qi, a 50-year-old psychological counselor, decided to attend after seeing Luo's videos on social app WeChat. Since 2001, he has attended more than 200 courses on marriage and intimacy, but nothing as "bold" as the foreplay workshop, he says.
"Nancy's biggest charm is her ability to popularize sex and foreplay, which takes a lot of courage," he says. "I was so impressed by her that I wanted to take the workshop and see her in person."
Like several attendees, Qi laments the lack of openness about intercourse in Chinese society. His marriage broke down two years ago, and he blames this partly on intimacy issues between himself and his ex-wife.
"In traditional Chinese culture, we can't talk about sex publicly, and sex education is inadequate," he says. "We're eager but afraid."
Luo begins the session by posing three questions to the group gathered around her: What is foreplay, in your opinion? What do you expect from foreplay? How long should foreplay last? Then she divides the participants and organizes several rounds of discussions.
For the sex therapist, these exchanges are key. Though much of the event focuses on teaching specific sexual techniques, the ultimate goal is to help couples "create intimacy and enhance interaction," she says.
In this, Luo differs markedly from her competitors, many of whom charge less than 100 yuan for their courses. Luo's higher prices are a deliberate tactic — a way of making sure the clients are sincere.
"We automatically filter out the people who might just want to talk dirty or flirt with you in the class," she says.
The conversations have a profound effect on Sammi Yuan, a 36-year-old from the southern Guangxi Zhuang Autonomous Region.
"I used to think sex had to end with penetration and ejaculation, but now I think good foreplay is enough to satisfy me," she tells Sixth Tone after the workshop. "The process is more important than the outcome."
Yuan decided to come to Shanghai to learn how such a workshop is organized. She works at a postpartum recovery center in Guangxi and hopes to organize similar events for her friends and patients.
According to Yuan, most women in Guangxi lack confidence in the bedroom and have never experienced an orgasm. She hopes she can help them be more open with their partners about their needs.
"They're mainly afraid of their husbands cheating on them," says Yuan, "so they want to learn and use lots of tricks to keep a man."
After the group discussions, Luo moves onto a "five senses" exercise. She divides the group into pairs and has them take turns lying down blindfolded on a yoga mat while their partner practices various techniques on them.
Over the following minutes, Luo demonstrates wax-dripping, caressing, massage, and the use of bondage and sex toys, before letting the students have a try.
The practice session is an eye-opening experience for Qi, the counselor. In the first round of discussions, he told the group he thought foreplay should be "soul-stirring, involving eye contact, language, hugging, and kissing." By the end, however, he has changed his opinion completely.
"In fact, as long as we put our hearts into it, slowly, we can achieve a deep connection," he tells Sixth Tone. "No words are needed, just a gentle touch."
Alex Qiu, a 31-year-old insurance agent from the eastern Zhejiang province, also found the experience of lying on the mat and waiting to be waxed, whipped, and tickled with feathers transformative.
"I suddenly understood that focusing on the present moment is sexy," he says. "I must pay attention to my feelings and accept my body."
Qiu went through a breakup in August, but he still doesn't know what went wrong. He came to Shanghai with the hope of learning how to improve his intimate relationships in the future.
"With all my ex-girlfriends, I had no idea how to communicate with them," he says. "They didn't serve me during foreplay, and I just let it pass."
Chinese men have gradually become more sexually aware over the past few years, according to Yuan, the postpartum recovery worker, but the change in women's attitudes has been much greater. She says the men at the workshop are more open-minded than most, as they at least seem to understand the importance of communicating with their partners.
Yuan tried to convince her partner to join her at the workshop, but he refused. "He didn't think it's something that needs to be learned," she says.
Zhao Yuting, a business owner from the eastern Jiangsu province, says he often feels surrounded by men with regressive attitudes. He says his male acquaintances don't do enough to make their relationships work. When he tried to convince his friends to join him at the workshop, they gave him short shrift.
"They were dismissive and said they had nothing to learn about sex," says Zhao. "They didn't want to discuss it with me."
In the past, Zhao assumed everyone was "good at sex." After talking with a number of women, however, he realized the vast majority had never had an orgasm.
"The reason is that many men don't care how women feel," says Zhao. "They think sex is just an act of penetration and don't know about foreplay. So it's very difficult for women to get into a state of lust."
At one point during the five senses exercise, Zhao notices a male participant pressing hard on a woman's chest with a vibrator. He intervenes and tells him to stop.
"It's supposed to be a light flicking sensation, but he's using it on her like a rolling pin," says the 30-year-old. "I can tell she doesn't like it at all … yet she didn't say anything."
The woman's passive attitude reminds Zhao of his current partner, who once dated a man who would have sex with her while watching the news on TV.
"She doesn't know much about sex. She didn't know how to make it better," says Zhao. "But she's happy I'm trying to improve it, which has brought her experiences she'd never had before."
At the end of the afternoon, Luo gathers the 30 attendees together and invites them to share what they've learned. She finishes by asking each of them to tell at least two people about the workshop, "so more people will know the world is so wonderful, and that there's so much to explore in sexual pleasure and sex education."
Qiu, the insurance agent, comes away from the workshop determined to change his life after he returns to Zhejiang. He tells Sixth Tone his main takeaway is that expressing his own needs is crucial in relationships.
"Now, I realize my feelings are also important," says Qiu. "I must love myself and tell my partner how I feel and what I need."
Speaking a few days after the workshop, Xie, a female participant who gave only her surname for privacy reasons, says she's already putting techniques from the workshop into practice — and her husband has responded positively.
"I played the music I like, and I opened up by telling him what I desired, and he interacted with me," says the 39-year-old. "I feel we're not just having sex for the sake of having sex. When it involves openness and passion, sex is different."
Some participants, however, confess they're fighting an uphill battle. Yuan says her partner hasn't been impressed by her attempts to try new things. She tried lighting a candle and dripping wax onto his body, but he didn't seem interested.
"I felt a bit upset," says Yuan. "He doesn't want to be controlled by a woman. I think we need to communicate more."
Additional reporting: Shi Yangkun; editor: Dominic Morgan.
(Header image: Luo Nanxi (right) shows attendees how to tie up their partners during the foreplay workshop in Shanghai, Sept. 12, 2020. Courtesy of Luo Nanxi)