A fine arts college in the eastern Chinese city of Hangzhou has drawn ire for publishing a "freshmen safety knowledge handbook" that attributes campus sexual violence to the "internal characteristics of women," Sixth Tone's sister publication The Paper reported Thursday.
The handbook, distributed by China Academy of Art, lists over half a dozen potential causes of sexual misconduct, according to screenshots of a chapter shared on microblogging platform Weibo. The chapter titled "Factors That Cause Sexual Assault" names "focusing too much on dressing," "indulging in consumerism," "being pretty and frivolous," and "being unable to resist temptation" as contributing toward such incidents.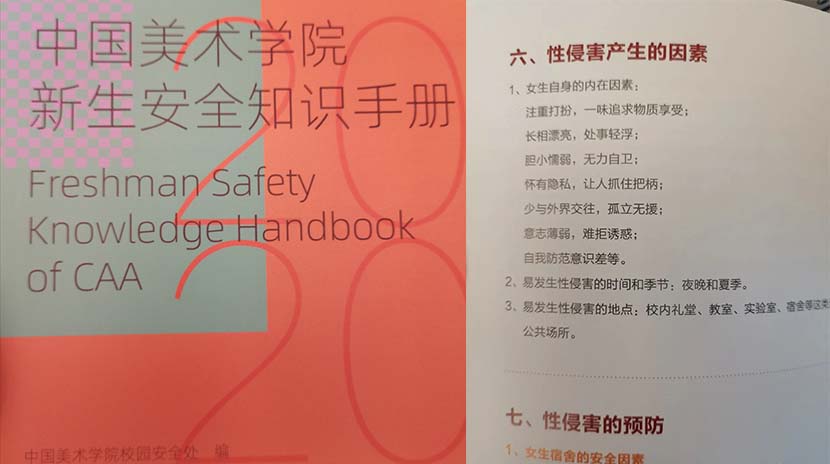 A combined photo shows the guidelines female students at China Academy of Art should follow, according to the school's "freshmen safety knowledge handbook." From Weibo
The school's handbook sparked an online uproar, with many on Chinese social media slamming it as sexist. By Friday afternoon, a related hashtag had been viewed for more than 50 million times on Weibo.
"Why don't you just write 'the biggest cause for being raped is that you're a woman,'" read one comment under the screenshots.
"Preventing sexual violence can only be achieved when each predator is morally and legally punished," wrote Liang Yu, a nonprofit worker and commentator on gender issues, wrote on Weibo. "It's astonishing that an art institute can say something like 'being pretty is a crime,'" she added, paraphrasing one of the chapter's apparent themes.
Responding to the outcry, China Academy of Art said Thursday that the handbook, written by the school's campus safety department, was derived from the firsthand experiences of sexual assault victims and does not "discriminate against women." The academy acknowledged, however, that the publication should also have included sections on the "characteristics of men or sexual predators," and said it plans to elaborate on this issue during student orientation.
"These are just well-intentioned reminders," a university official told The Paper. "Not every sexual assault case is caused by these factors, but they are indeed some common ones."
This isn't the first time that a prominent educational institution in China has been slammed for espousing questionable views on gender. Earlier this month, Guangxi University faced similar backlash for its sexist "safety handbook" that advised female students not to wear skirts, low-cut dresses, or high heels in order to "avoid temptation."
And earlier this week, a university in the eastern Jiangsu province recalled a health education handbook for discriminatory content against LGBT students. The book said gay people "violate the laws of nature," "have a deficiency in their characters," "will induce normal people (to become gay)," and "are more likely to take drugs."
Editor: Bibek Bhandari.
(Header image: The front entrance to the China Academy of Art in Hangzhou, Zhejiang province, Sept. 15, 2012. People Visual)