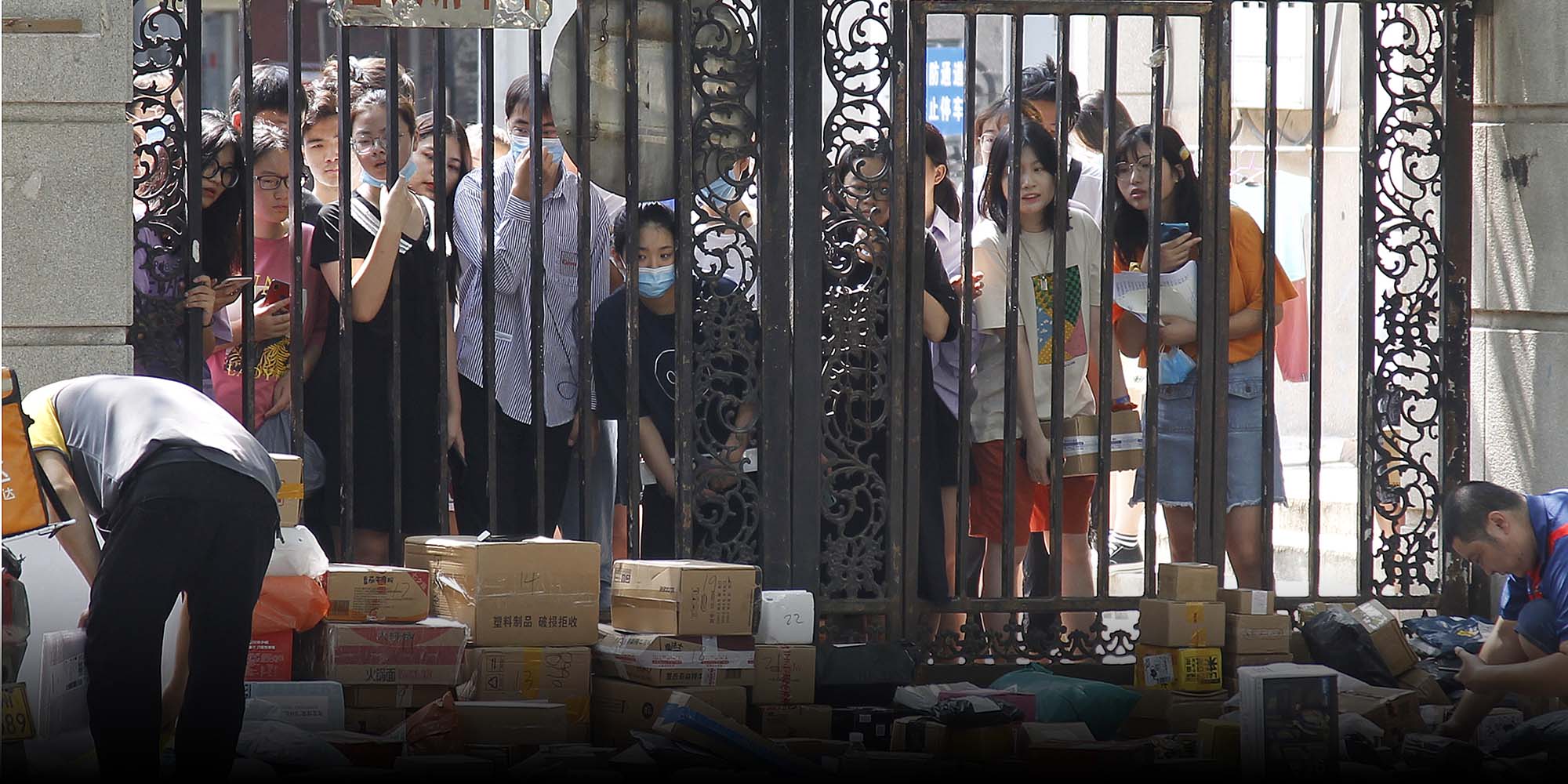 NEWS
China's Students Protest Campus Lockdowns, Reduced National Holidays
Several domestic universities are holding classes during the weeklong break, and students are complaining of excessive coronavirus control measures.
University students in China are protesting against campus lockdowns that are intended to prevent COVID-19 outbreaks but also restrict their freedom.
On Wednesday, students at Chaohu University in the eastern Anhui province chanted "Lift the lockdown!" from their dormitories, urging their school to allow them to move about freely, Sixth Tone's sister publication The Paper reported. The student body was further aggrieved after the school announced that classes would be held during the weeklong National Day holiday starting Oct. 1, leaving them with just one day off instead of six.
"We the faculty will not be taking holidays ourselves," a university employee told The Paper, adding that the school was just being cautious. "The policy was instituted based on (guidance from) the provincial education bureau."
Students said they were also angry about rising prices at campus supermarkets and dining halls during their lockdown, according to the video report.
Chaohu University isn't the only school to have sowed discontent by "shrinking" its students' holidays.
Students at Hefei University of Technology in Anhui province organized a protest Monday night after the school said it was shortening the holidays to just one day, according to a video posted on streaming platform iQiyi. In it, they can be heard chanting "We want holidays!"
A university employee defended the decision, saying other institutions have similar arrangements, and students will be compensated with an early winter break.
Universities in China reopened with precautionary measures in early September after being closed for months due to the coronavirus outbreak. The Ministry of Education has suggested that schools limit large-scale events, set up temporary quarantine rooms, and carefully manage students from other cities to minimize the risk of contagion.
While schools have heeded the calls to be extra cautious, many students believe the measures are excessive.
Students at Xi'an International Studies University in the northwestern Shaanxi province also protested last Sunday against their school's "poor management" during a so-called campus lockdown, The Paper reported.
A Xi'an International student said there have been price hikes at campus supermarkets, and a policy of delivery personnel being barred from entering campus has made online shopping less convenient. She also complained of other issues that have affected students' daily lives.
"Only one out of four female shower rooms is in use — the others are always under maintenance," the student told The Paper on condition of anonymity. "I really wish the school would think of us."
Responding to the concerns, Xi'an International has said it will investigate the price hikes, as well as add temporary shops and extra shower times for students. The university on Tuesday also said students can now move about freely, provided they carry a valid student ID and submit to temperature checks.
In August, before the schools reopened, officials at the Ministry of Education had emphasized that, while schools were encouraged to implement strict health measures, they shouldn't restrict students from moving around freely.
"We are not asking schools to be locked down and prevent students from leaving campus," Wang Dengfeng, an official with the ministry, told local media. "The epidemic control rules should apply to both students and faculty. Schools should come up with holiday arrangements specific to their situation."
Last week, several schools in the eastern Jiangxi province relaxed prohibitions on leaving campus after education authorities asked them to let students move about freely. However, some institutions still seem reluctant to lift such restrictions entirely.
"We really don't want to restrict students' movements" an employee at Nanchang University in Jiangxi, told Sixth Tone. "But for now, no school dares to lift its control measures completely."
Editor: Bibek Bhandari.
(Header image: Students wait to collect their deliveries on the other side of a closed gate at a university in Zhengzhou, Henan province, Sept. 12, 2020. People Visual)