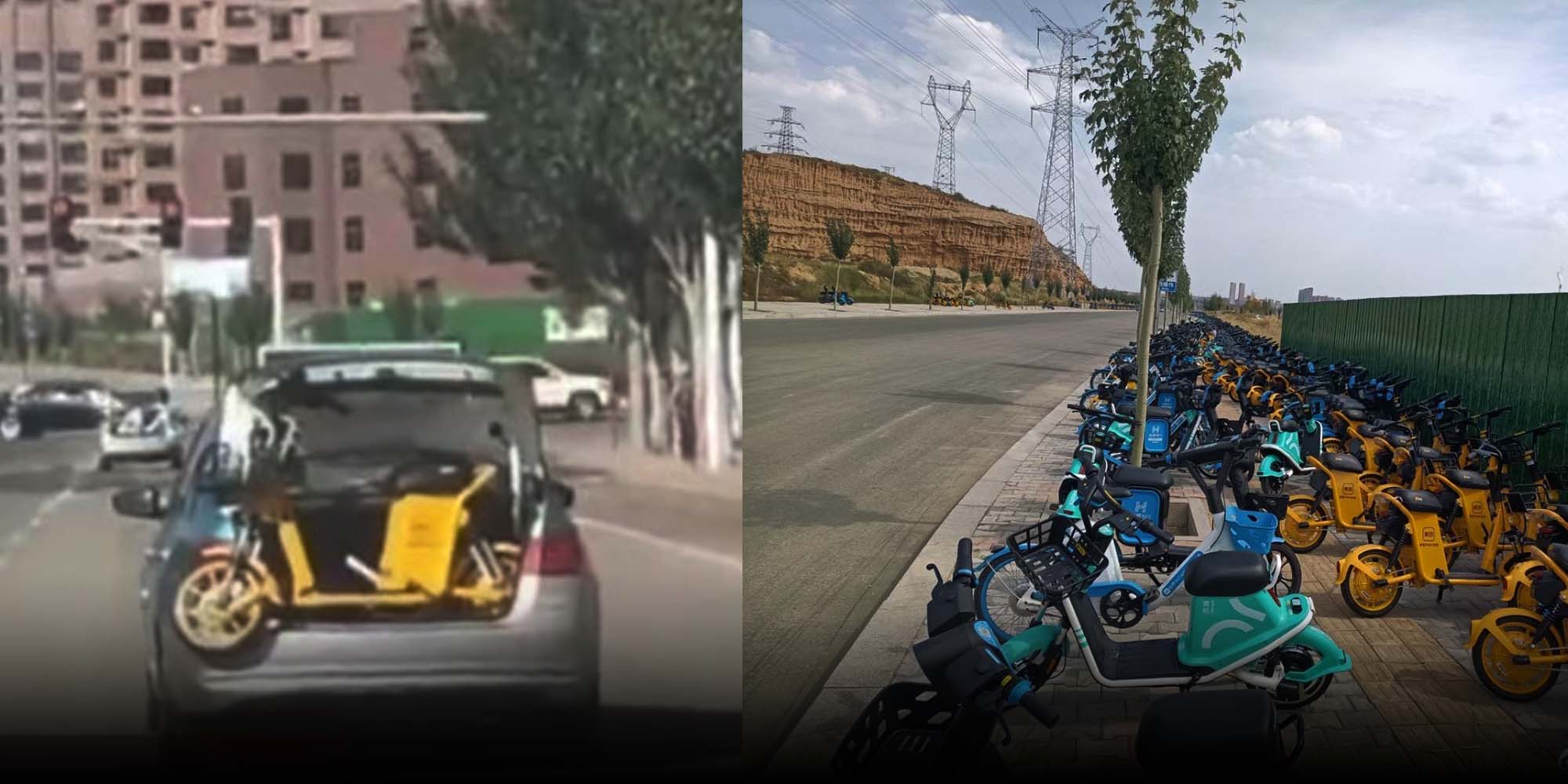 NEWS
Frustrated Ordos Taxi Drivers Haul Away Shared E-Bikes
Police have punished nine drivers for moving on-demand bikes to the outskirts of the city.
Fed up with potential customers using on-demand electric bicycles instead of calling cabs, Chinese taxi drivers this week took matters into their own hands — and trunks.
Since Saturday, video clips of taxis in Ordos, a city in northern China's Inner Mongolia, with shared e-bikes stuffed into their trunks have been circulating on social media, as have scenes of their final destination: a "graveyard" of dozens of yellow and blue-white bicycles in a grassy roadside area outside of town.
According to a report local police released Tuesday, nine taxi drivers involved have received unspecified punishments for breaking the law. Meanwhile, police asked shared-bike companies to go and retrieve their far-flung vehicles.
China's shared bikes and e-bikes, which can be picked up anywhere and ridden for low fees, exploded in popularity in late 2016 and now serve hundreds of millions of customers.
Taxi drivers have sometimes resisted the introduction of shared bikes to their urban stomping grounds. In July this year, taxi drivers in Xin'an County, in central China's Henan province, went on strike for days in protest of shared bikes coming to town. Acts of vandalism similar to those in Ordos have previously been reported in many provinces.
Ride-hailing apps like Didi Chuxing and Uber met similar resistance when they entered China's cities. In 2015, drivers in Henan, threatened by Didi's growing presence, besieged the ride-hailing company's local offices and threatened Didi drivers with violence. Didi has since upgraded its app to allow regular taxis to be called on it, too.
The Ordos taxi drivers' assault on shared bikes will likely have little impact. Locals have told media they'll continue to use the bicycles, and one 29-year-old even spent hours moving the bikes back to the city in a tug-of-war with the drivers.
"As an ordinary citizen, I definitely hope to have a variety of transport options," an Ordos resident told Sixth Tone's sister publication The Paper.
Editor: Kevin Schoenmakers.
(Header image: A video screenshot shows a taxi hauling a shared e-bike away from the city center of Ordos, Inner Mongolia; and the remote location on the outskirts of the city where taxi drivers were dumping the e-bikes. From Weibo)