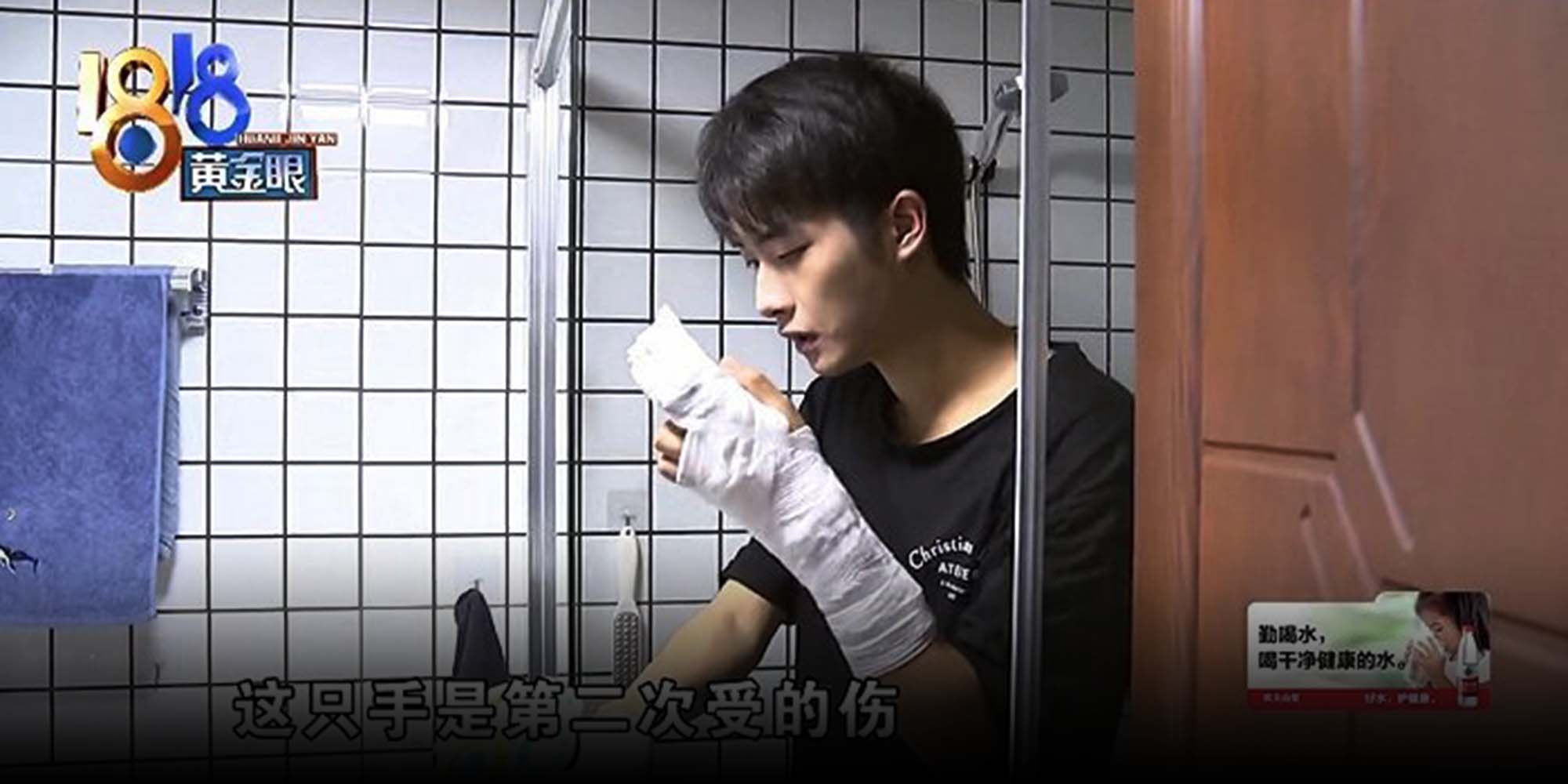 NEWS
Shower Stud's Instant Fame Raises Ethical Questions About 'News' Program
Since first airing over a decade ago, "1818 Huangjinyan" has evolved from a humble local news program into a staple of online media — but critics say it's not being honest about its true purpose.
For Mr. Zhang, the past month has had its ups and downs. On Sept. 8, his glass shower door shattered just after he had finished bathing, leaving him with two cut-up arms and 8,000 yuan ($1,200) in medical bills. Hoping to hold the property management company of his rental apartment responsible, he contacted local media.
Now more than two weeks since the incident, he's one of the most popular figures on Chinese social media, and his sudden stardom has raised questions about the authenticity of the media platform that elevated him.
In a video report Monday by the Zhejiang-based news program "1818 Huangjinyan," Mr. Zhang, a resident of the eastern Chinese city of Ningbo, can be seen with bandages on his arms as he tells the camera how he suffered bodily harm at the hands of his shower door, and how the property management company had refused to pay him the compensation he sought.
While local news segments rarely make waves nationally, the interview with Mr. Zhang has been circulating widely on China's social media. As of Thursday, a hashtag on microblogging platform Weibo translating to "Young Zhang's hands were cut by the shower door" had been viewed over 1.6 billion times.
"Young Zhang is just so handsome!" read a comment with 300,000 likes under the video news report. "It's all the property company's fault — I knew it the moment I saw Young Zhang's face in the video," read another popular comment.
Mr. Zhang became a minor celebrity virtually overnight, and his fans were quick to find out everything they could about their new idol, including his social media accounts, his job as a full-time livestreamer, his marital status, and even his sexual orientation.
This isn't the first time "1818 Huangjinyan" has propelled a Joe Schmoe to sudden stardom. In 2018, a real estate agent who was interviewed after unknowingly getting a 40,000 yuan haircut went viral because netizens were amused by his facial expressions. After gaining hundreds of thousands of new followers on social media, the young man moved into a marketing role at the housing agency and became a professional online celebrity.
Since first airing in 2004, "1818 Huangjinyan" has become one of the most popular news programs under the provincial government-run Zhejiang Radio and Television Group, one of China's largest broadcasters, covering local residents' quotidian quandaries, from extortionate hair salons to unethical matchmaking services. After joining social platforms like Weibo and video-sharing site Bilibili, "1818 Huangjinyan" became more popular among young people because of its dramatic, down-to-earth stories and intriguing interviewees.
The handsome Mr. Zhang's newfound celebrity has even prompted some online to dig through the show's archives and piece together collages — dubbed "1818 Idol Groups" — of its most attractive interviewees.

Ma Shicong, a marketing analyst from domestic consulting firm Analysys, told Sixth Tone that "1818 Huangjinyan" is successful because of its seamless transformation from a regular local news program to a more universally appealing product perfectly packaged for social media.
"The show presents the full range of interviewees' raw expressions," Ma said. "Some of them embody the qualities of internet celebrities, and it's easy for the public to discover them."
Fun and games aside, however, some critics have raised ethical concerns about "1818 Huangjinyan," alleging that the show's true purpose is to promote wannabe celebrities and help them gain followers — not produce news. According to financial outlet Jiemian, "1818 Huangjinyan" is backed by a third-party multi-channel network (MCN) company that specializes in entertainment promoting and is fully funded by Zhejiang Radio and Television Group.
Dong Chenyu, a lecturer from the School of Journalism and Communication at Renmin University of China, told Sixth Tone that Monday's broadcast of "1818 Huangjinyan" does not meet the basic ethical standards of professional journalism.
"A serious problem with its operation is that news is supposed to be the show's identity: Its purported purpose is to convey and explain information," Dong said. "However, what the show actually does is more like creating and shaping news, which is a serious departure from the ethics of journalism."
According to Dong, this inconsistency is indicative of a larger problem that tends to surface when traditional media attempt to adapt to the digital age, which can result in a blurred line between what's true and authentic, and what attracts the most eyeballs.
"The worrying part is that the show plays the media card to achieve the goals of this multi-channel network," Dong said. "Technically speaking, this is misleading the audience about the information being conveyed."
Editor: David Paulk.
(Header image: A screenshot from "1818 Huangjinyan" shows the injured Young Zhang standing in his bathroom. From Weibo)