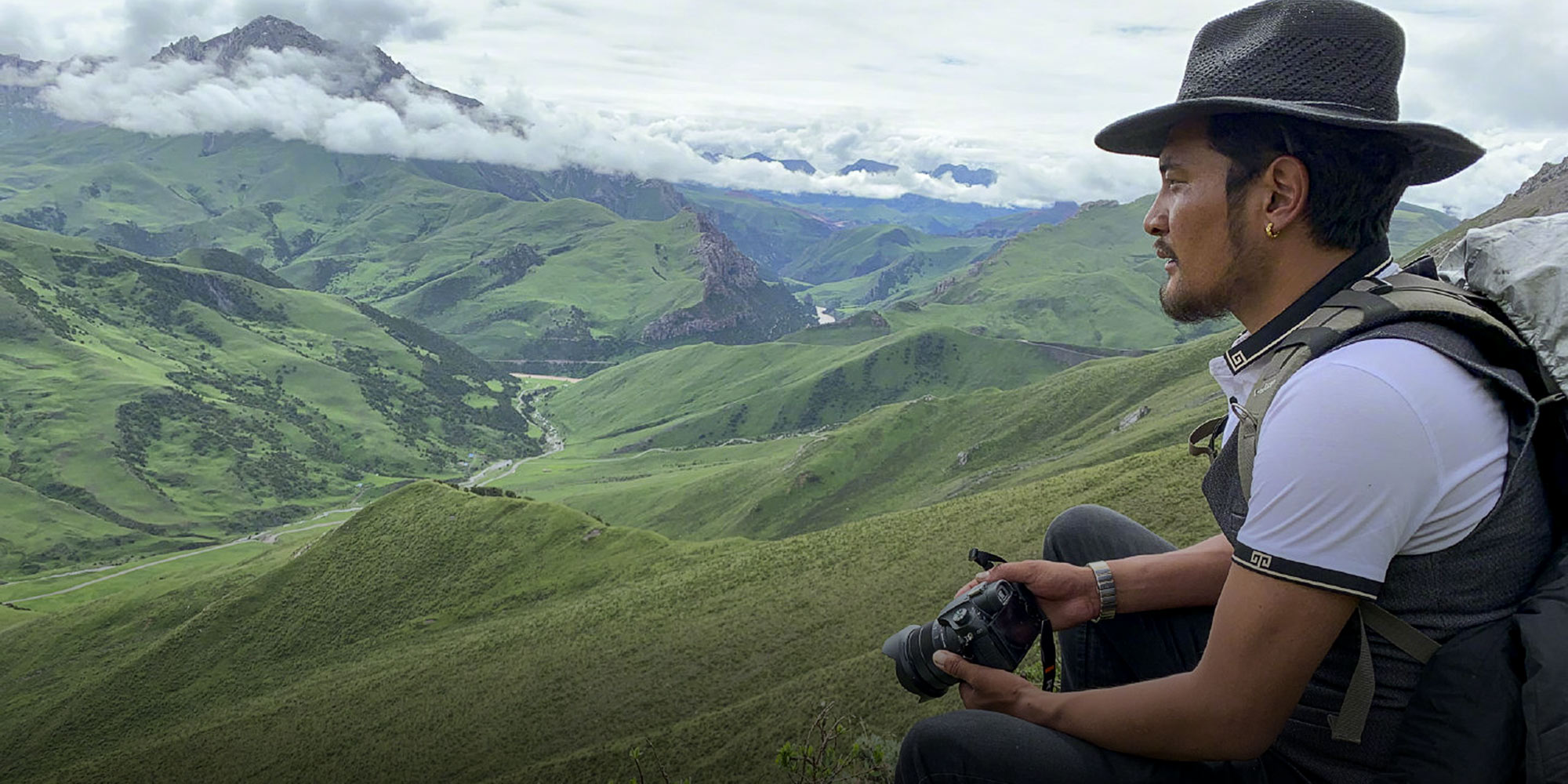 VOICES & OPINION
The Rooftop of the World, Seen Through a Herder's Lens
The Qinghai-Tibet Plateau is teeming with rarely seen flora and fauna. Who better to document it than the people who live there?
This July, I spent a week in Angsai, a township on the Qinghai-Tibet Plateau best known for containing the headwaters of the Yangtze, Yellow, and Mekong rivers. I was there at the invitation of Wild China Film (WCF), an environmental organization founded by wildlife photographer Xi Zhinong seeking to protect nature through photography. As part of its work, WCF organizes photography classes for park rangers — typically locals who are paid to look after nearby nature reserves — across China.
Xi first visited Angsai in 2015. The region is something of a nature photographer's paradise, replete with beautiful vistas and a rich variety of local flora and fauna, and Xi soon decided to return the following year.
At first, residents were nonplussed. But the sight of Xi's three local apprentices — herders Tshultan, Darje, and Konchok Chöphel — trekking through the mountains, telephoto lenses strapped to their shoulders, proved irresistible. Other herders started buying their own camera equipment, often with funds earned from harvesting caterpillar fungus, a local cash crop.
When Xi finally organized his first official training in the region this summer, over 40 locals signed up. More arrived after the camp started, hoping to join in.
Having spent their whole lives living on the plateau, locals enjoy distinct advantages when it comes to wildlife photography. They are familiar with the region, know what animals live there and where to find them, are fit and healthy, and are well-acclimated to the altitude. All they lack is technical knowledge and experience in photography.
With an eye toward filling this gap, WCF invited three Chinese wildlife photographers — Bao Yongqing, Yuan Minghui, and Peng Jiansheng — to give classes on composition. My role was to introduce the herders to social media and explain how they could share their photos online.
For most herders in the region, wildlife photography is a way to while away the hours when their animals are grazing. However, those with talent and who are willing to put in the work have made real contributions to photography.
Take Xi Zhinong's first three apprentices, for example. Tshultan has an excellent eye for lighting, and one of his photos of a baby snow leopard has already gone viral. Konchok Chöphel, meanwhile, has a particularly bold approach to his craft. After a gruesome incident last year in which someone was killed by a bear, many locals have become wary of these animals. Yet Konchok Chöphel has continued to document their lives without fear.
Another stand-out photo of his shows a rare Thorold's deer leaping over a fence. Fences are a thorny issue on the plateau: They are beneficial for farming and herding, but pose dangerous obstacles to local wildlife. If the deer hadn't been able to clear the fence, or had caught its horns and become trapped, it almost certainly would have died. Konchok Chöphel's photo is an unusually dynamic, if silent account of this issue.
As for Darje, decades ago, his grandfather Tonpa Datra became locally famous as the "leopard-killing hero" for protecting his flock of sheep against an attack by a hungry leopard. Despite being unarmed, he protected what was then commune property by battling the leopard before eventually killing it with a rock. The incident caused such a sensation that it was adapted into a children's picture book.
If something similar were to happen today, however, no local would even think about fighting. There's little need when snow leopard attacks are covered by insurance schemes meant to protect the endangered animals from retribution. Indeed, Darje's most memorable encounter with a snow leopard took place after one killed a calf belonging to a local herder. Darje and his younger brother arrived at the scene around 9 p.m., but not for revenge. Armed only with flashlights, they found the snow leopard feeding. At first, the leopard was skittish and resistant, but after a while, the animal sensed the two men had not come in anger or to take its kill. Gradually, it lowered its guard and finished its meal before falling asleep. That's how Darje captured the first ever photograph of a snow leopard taken with a camera at night.
For herders like Tshultan, Konchok Chöphel, and Darje, wildlife photography is more than just a hobby: It has given their lives new opportunities and possibilities. For example, this August, Xi Zhinong organized an exhibition of their works in Shanghai. It was the first time any of them had been to China's largest city.
For my part, I hope to see more female herders get involved in photography. Unfortunately, patriarchal norms are deeply entrenched in this part of the country, and only three attended this year's training camp. Still, even this small number offers hope for the future.
One of them was Darje's 7-year-old daughter, Khadro. The girl first began venturing into the mountains with her father to take pictures last year. While he rested, she would grab his camera and lens, which is almost as long as she is tall, and look for things to shoot. Her small size gives her an advantage over her father: Small animals such as birds, pikas, and marmots aren't scared off when they see her, allowing Khadro to photograph them up close.
At the training camp's closing ceremony, we handed out first-, second-, and third-place prizes in a variety of categories. All the while, Khadro sat eagerly, listening for her name and shifting her hands back and forth between the table and her lap with a serious look on her face. Finally, a special youth award was announced: When Khadro realized she'd won, she cried tears of joy.
Keep it up, Khadro! Who knows? One day she might become the youngest photographer to capture a photograph of a snow leopard.
Translator: David Ball; editors: Wu Haiyun and Kilian O'Donnell.
(Header image: A portrait of Darje. From @花落成蚀 on Weibo)