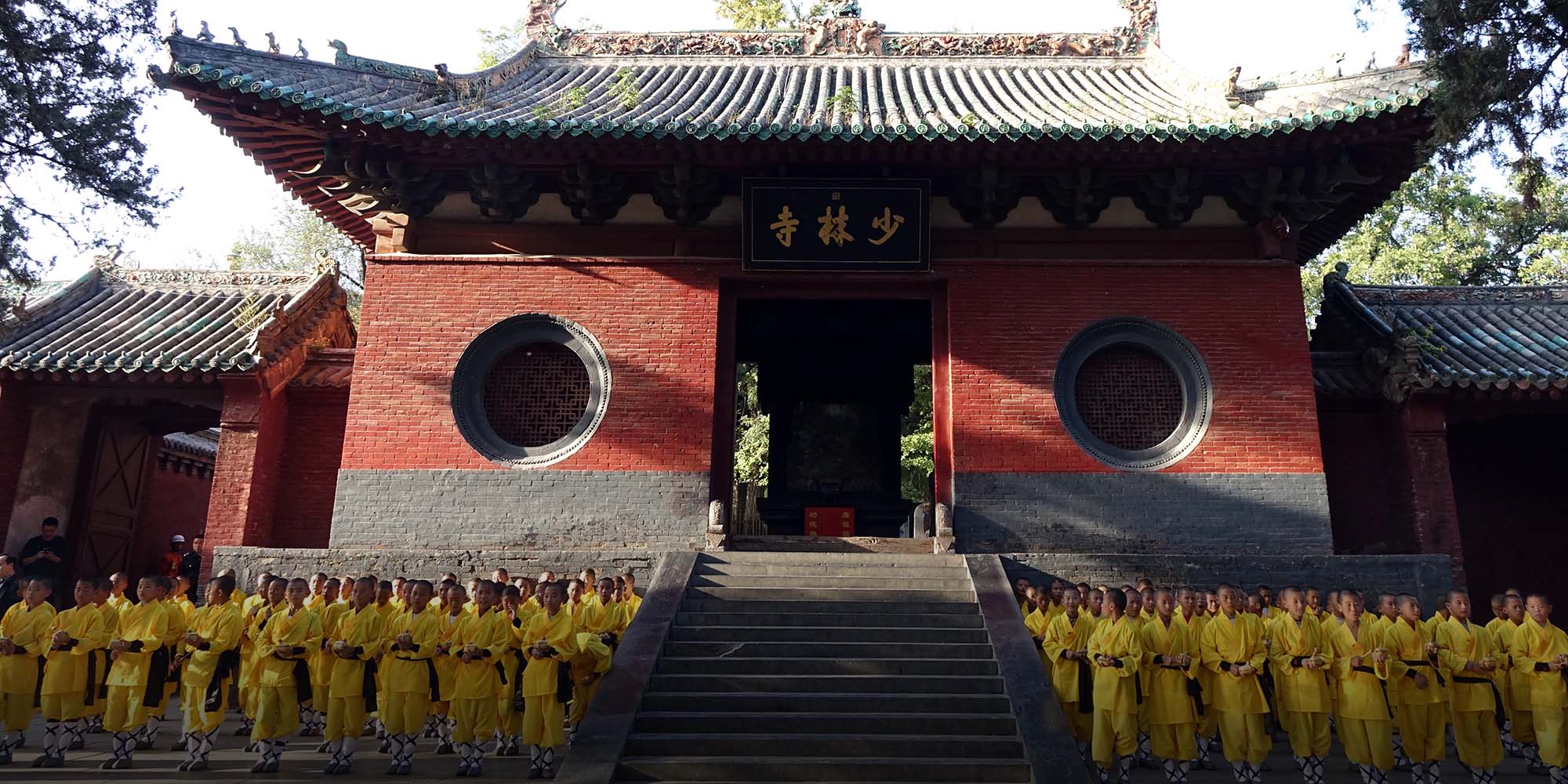 NEWS
Shaolin Temple's Trademark Spree Spurs Copyright Debate
The famed religious institution was discovered to have claimed ownership of hundreds of phrases.
Most people wouldn't think twice about complying when told by the legendary kung fu fighting monks of China's Songshan Shaolin Temple to get off their turf.
But despite warnings, domestic clothing brand Semir went ahead with a new clothing line — including hoodies emblazoned with "SHAOLIN KONG FU" — that infringed the ancient Buddhist institution's intellectual property, the temple said in a statement Sept. 1. Semir said there had been a misunderstanding, and the offending items quickly vanished from online stores.
The short spat set off a weekslong debate in China about the religious institution's use of copyright and the sorry state of the country's IP protection system, whose rules are open to abuse and have been the source of many legal quagmires.
Though many social media users supported the temple, others argued that engaging in such worldly, commercial copyright battles was unbecoming of a Buddhist organization. Still others, meanwhile, said Shaolin kung fu should be considered part of China's national heritage and the property of all Chinese people.
The issue gained further momentum Thursday after Sixth Tone's sister publication The Paper reported that the temple had registered a total of 666 trademarks under all kinds of product categories since 1997 — a large though not unheard-of amount.
The Paper's surprising discovery led to numerous commentaries about the unfortunate necessity of aggressive corporate trademarking. In China, trademark ownership is decided on a "first-to-register" basis, as opposed to a "first-to-use" basis as in the West. Moreover, foreign trademarks aren't recognized in the country. In the past, many local and international brands — including the Jordan sports label, electric car company Tesla, and footwear brand New Balance — have undergone lengthy legal battles to secure copyrights.
Brands in China must therefore trademark early and widely to protect themselves from so-called trademark squatters, who register with the malicious intent of suing original brand creators or selling successfully speculated brand names back at exorbitant prices.
Workers' Daily newspaper, owned by China's official labor union, listed many peculiar examples. Tech giant Alibaba — which in Chinese sounds a bit like "Ali-Daddy" — has trademarked a whole family of names, including "Ali-Dad," "Ali-Mom," and "Ali-Uncle."
Shaolin Temple, Workers' Daily explained, started registering trademarks in 1997 after other brands had begun trademarking its name and several "fake" Shaolin Temples were created abroad. Being a religious organization, it had to create a separate business entity to file the trademarks.
The Paper's findings suggested, however, that Songshan Shaolin Temple might have gone slightly overboard. In the 2000s, the temple, located in central China's Henan province, had registered the terms "South Shaolin," "North Shaolin," "East Shaolin," and "West Shaolin." To some legal experts, this smacked of trademark squatting, given that a real "South Shaolin Temple" exists in eastern Fujian province.
While Songshan Shaolin hasn't directly responded to the accusations, it has justified its registration of trademarks as a way of defending the Shaolin brand from misuse — giving "Shaolin Secret Medicine," an unaffiliated product, as a real example.
Asked about copyright use by The Paper, the head of Fujian's South Shaolin Temple, Shi Guangzhi, explained that his temple had similarly registered trademarks since 1996 to protect them from brands that might bring harm to their religion's image.
When questioned about Songshan Shaolin Temple claiming his temple's copyright, he said both temples had the same roots and gave a suitably Zen reply: "One should approach this with a merciful heart. Everything we do is for the Buddha and the development of Buddhism."
Editor: Kevin Schoenmakers.

(Header image: Monks perform a choreographed martial arts routine during the 10th International Shaolin Wushu Festival in Zhengzhou, Henan province, Oct. 17, 2014, People Visual)