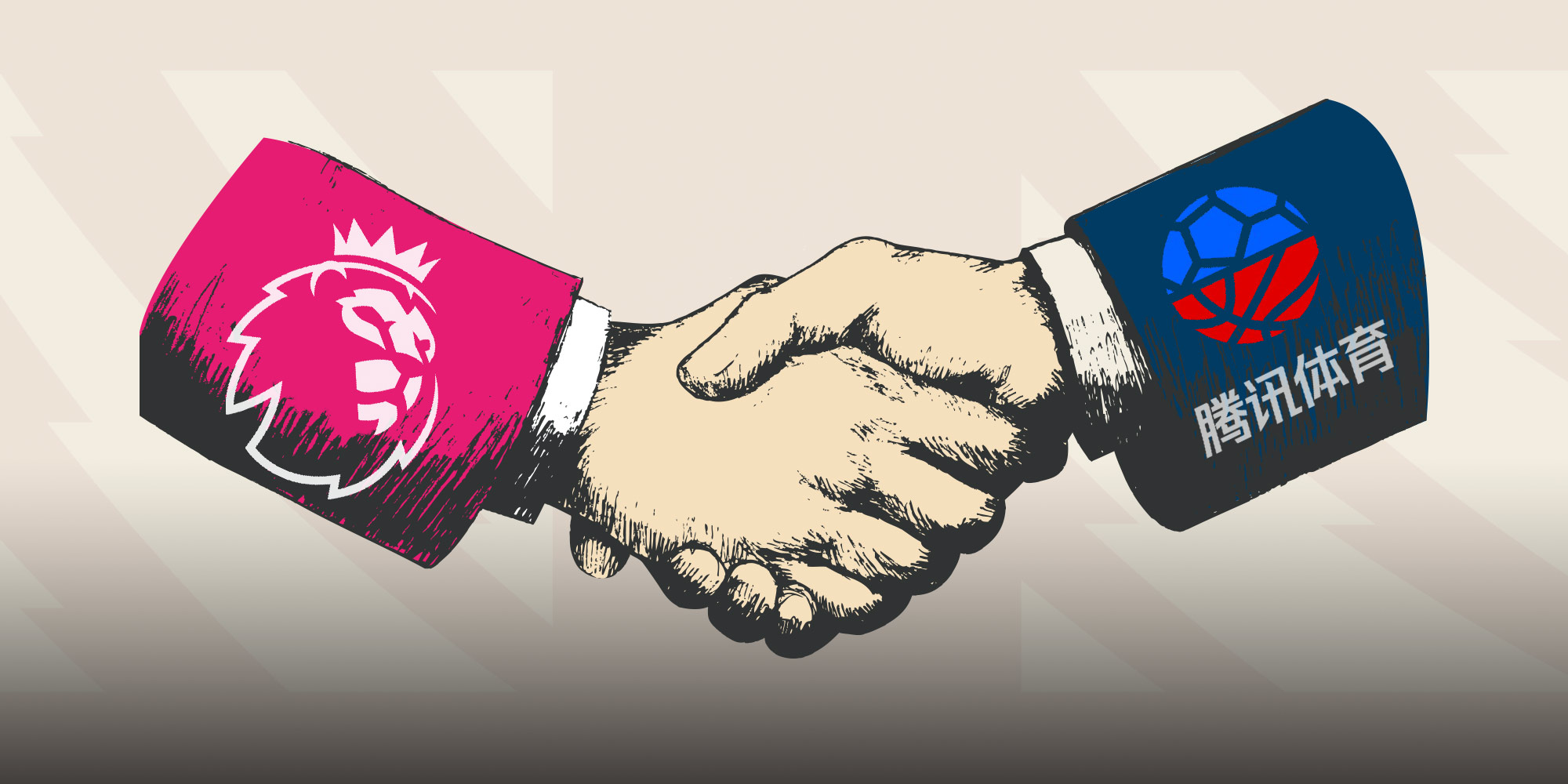 NEWS
After 6-Day Standoff, Premier League Partners With Tencent
Though the value of the new broadcasting deal has not been disclosed, the British soccer league had signed a previous agreement with Chinese streaming platform PPTV for $700 million.
The English Premier League, the world's most-watched soccer league, has agreed to a single-season broadcasting deal with Chinese tech giant Tencent.
According to the league's statement Thursday, Tencent will broadcast half of the 2020-2021 season's 372 remaining games for free, as well as push Premier League news updates and content to its many digital platforms, including messaging services WeChat and QQ.
The Premier League abruptly terminated its previous deal with Chinese sports streaming platform PPTV on Sept. 3, about a week before the start of the new season.
Last year, PPTV had signed a three-year deal with the Premier League worth a staggering $700 million, 50% of which was paid upfront. But following disruptions to the Premier League's scheduling due to the COVID-19 outbreak in the U.K., PPTV delayed paying its next installment of fees and attempted — unsuccessfully — to renegotiate the broadcasting deal.
For the first six days of the new season, soccer fans in China had no official channels through which they could watch games, so many turned to pirated broadcasts, according to Zhou Weiji, content editor for the soccer division of iQiyi Sports — another streaming platform — and a Chelsea F.C. fan since 2006.
Zhou told Sixth Tone that the deal with Tencent came as a surprise to many of China's Premier League fans, as there had been rumors in recent weeks of partnerships with Alibaba, video platform Youku, and even Douyin, as TikTok is branded in China.
The reception to the news has been positive overall, as Tencent is widely considered the top platform for sports content in China and has previously aired Premier League matches in China, Zhou said. The company currently holds broadcasting rights to the NBA — another global sports league that's hugely popular in China — under a $1.5 billion, five-year arrangement.
Citing insiders, the Financial Times said in a breaking news report Thursday that the Premier League's new deal with Tencent is worth less than PPTV's but includes a revenue-sharing agreement.
Though neither Tencent nor the Premier League has disclosed the financial terms of the deal, multiple Chinese media outlets have reported the single-season contract to be for $10 million — a bargain, if true.
However, there's likely more to the deal than is understood, Zhou said. For now, fans are having fun speculating about how Tencent — also a marketing innovator and one of the world's biggest game companies — might promote the Premier League through titles such as its battle arena hit Honor of Kings.
"They might, for example, put ads in games or use games to push sales for sports, since Chinese soccer fans aren't very willing to invest in sports viewing but are very happy to splash out on games," Zhou said. "Or maybe when you buy a character skin, they'll give you two coupons to watch soccer games. It's not unrealistic to think that they might come up with something like that."
Regardless of how the creative collaborations go, Tencent already has a solid soccer fan base to work with. The Premier League is the most popular soccer league in China, and most of its teams have established a presence on Chinese social media: On microblogging platform Weibo, Manchester United and Chelsea have 10 million and 7.7 million followers, respectively.
Several Premier League teams played exhibition matches in China to massive crowds last summer, in the pre-coronavirus, pre-social distancing era, and the Wolverhampton Wanderers — a once little-known but now ascendant squad — opened their own megastore with team merchandise in Shanghai.
"We and our clubs have an extremely passionate fanbase in China," the Premier League's chief executive, Richard Masters, said in Thursday's statement. "(We) are looking forward to working with the team at Tencent to engage with fans in new ways over the coming season."
Editor: David Paulk.
(Header image: Visual elements from iStock/People Visual, re-edited by Sixth Tone)