A case involving a woman in the southwestern Chinese city of Chongqing injuring a city management official, or chengguan, during a physical altercation has been deemed justifiable self-defense, according to local police.
In a statement Sunday, the Nan'an District public security bureau said the city management official had been given administrative detention for using violence, while the fruit vendor, surnamed Yang, had been given a warning for obstructing official duties.
The confrontation occurred Sept. 7, when Yang got into an argument with a city management official who had ordered her to move some of her products, according to the statement.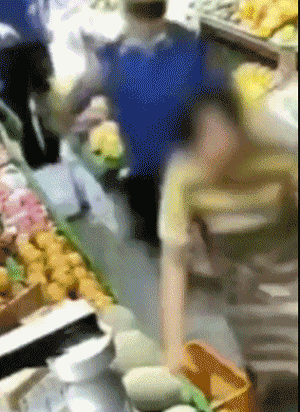 A GIF shows the altercation between a female vendor and a city management official in Chongqing, Sept. 7, 2020. From Weibo
Security footage circulating online shows an officer chasing Yang, his colleagues in pursuit. As he begins hitting Yang from behind, she reaches for a cleaver and waves it wildly at the officer.
Yang was hospitalized with a mild brain injury from the altercation, while the officer had cuts and a tendon injury on his left hand.
City management officials tasked with supervising street vendors often find themselves in violent situations. In 2016, a chengguan in central China's Henan province was fatally stabbed following a confrontation with a watermelon vendor.
Earlier this month, China issued a guideline on justifiable self-defense, outlining conditions under which retaliatory actions should go unpunished. According to the guideline, if one party strikes first and continues to harass the other party as he or she tries to avoid conflict, the retaliatory action can generally be considered justifiable self-defense.
Editor: Bibek Bhandari.
(Header image: A city management official dons a cap before starting his shift in the streets of Shanghai, May 13, 2013. Liu Xingzhe for Sixth Tone)