A Chinese poet and former farmer is back in the spotlight after giving a raw and revealing interview to domestic media Friday. She also hit back at critics who have long accused her of being too "vulgar" for the public eye.
The 27-minute interview with The Beijing News begins with Yu Xiuhua recounting how a bottle of alcohol makes greeting each new day easier. The poet, who has cerebral palsy, goes on to reflect on being in love while disabled, trading barbs with online trolls, and coming to terms with her suicidal ideations.
Yu — who is known for writing about the intersection of disability and desire with refreshing candor, as in her famous poem "Crossing Half of China to Sleep With You" — explained during the interview that her life had reached its nadir after her declaration of love for another was rejected, leaving her heart-broken.
"She has a magical sense of youth within her," wrote one netizen who shared the interview on microblogging platform Weibo. "Her eyes sparkle even though she's in pain."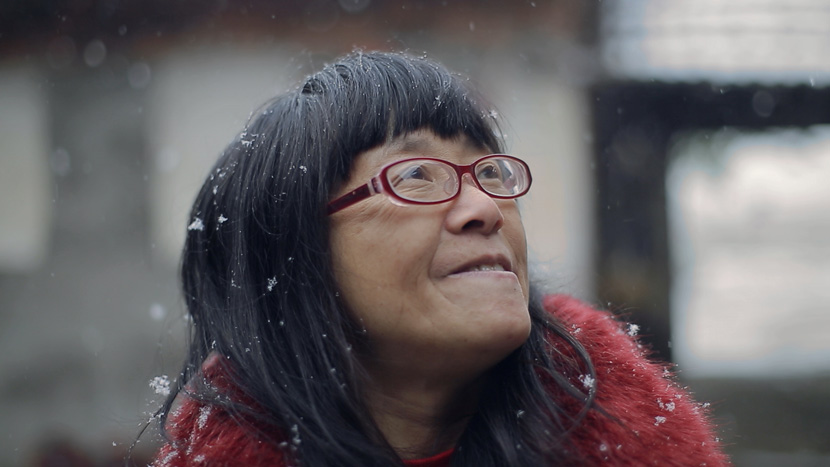 A still frame from the 2016 documentary "Still Tomorrow" about Yu Xiuhua, a Chinese poet with cerebral palsy. From Douban
Yu's openness has discomfited conservative critics, who often take to social media to air their grievances. During the interview, Yu addressed a heated and very public argument she had on Weibo after she expressed affection for Li Jian, a 45-year-old Chinese folk singer, in mid-August.
Some users responded by accusing Yu of meddling in the personal life of Li, who is married. In response, Yu unleashed a caustic counter-attack that would've made a sailor blush, earning herself the epithet "antidote for keyboard warriors" in the process. Though many praised Yu's smart and sharp rebuttal, some were offended by what they considered excessive profanity.
A few days later, Yu sparked another online storm by posting a sexually explicit poem titled "Maybe It's Not About Love."
"Come, crown me a slut," reads one verse. "Come, let's f*** on a mountain, and make the spring flowers wilt with embarrassment."
After Yu posted the poem, critics were quick to try and shame her for expressing her sexuality so publicly.
As of Monday evening, a Weibo hashtag related to Yu's interview has been viewed more than 13 million times.
"Yu is certainly talented, but all of these overt expressions of sexuality are just lowbrow," read a typical comment. "Why can't I show affection?" Yu retorted in a stand-alone post. "Dopamine makes life worth living."
Peng Yujiao, a social worker at Beijing Enable Sister Center, a nonprofit that helps women with disabilities, said Yu defies the common perception in China that people like her — who might look or live differently than others — don't think about or aren't interested in sex.
"Women are often expected to be more reserved and euphemistic when talking about sex," Peng, who also has cerebral palsy, told Sixth Tone. "But the sexual undertones in Yu's poetry are very raw and visceral, even primordial. It's rare to see a woman speak so frankly about her desire in a public forum."
Yu Jin, a sexual health consultant at the Hubei Association of Marriage and Family Studies, a nonprofit research institute, told Sixth Tone that many women with disabilities experience confusion about their sexuality and gender expression because such issues are often glossed-over during childhood and adolescence.
"I feel like the label 'girl' was never applied to me when I was little," said Yu Jin, who has brittle bone disease, a genetic disorder. "While other girls learned to show off their beauty growing up, my parents always dressed me in baggy clothes to hide my deformity, and this left me unaware that my body could be attractive. Now, when I find myself in intimate relationships with others, I sometimes feel confused and wonder: Is this guy being nice to me because I'm a woman, or because I'm disabled?"
Referring to Yu Xiuhua's popularity, Yu Jin said that although the poet might not intend to represent the disabled community, it's encouraging to see someone shedding light on such widely ignored issues.
"Many of us appreciate Yu Xiuhua for speaking up," Yu Jin said. "Sexuality is a very natural part of being human. Everyone has the right to pursue pleasure and sexual autonomy."
Editor: David Paulk.
(Header image: Yu Xiuhua during an interview in Shenyang, Liaoning province, July 24, 2016. People Visual)