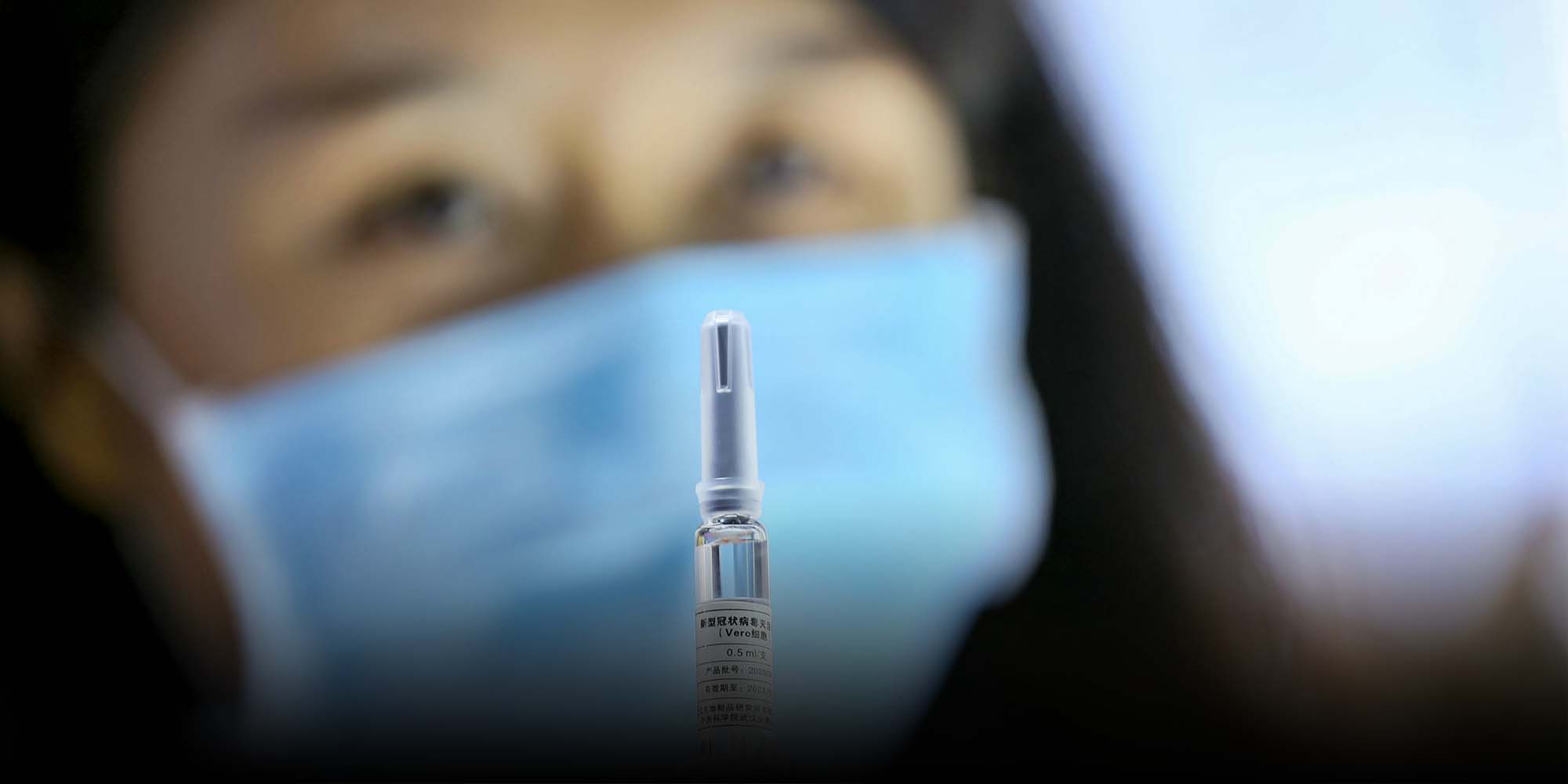 NEWS
Low Tech, High Speed: Inside China's Race to a COVID-19 Vaccine
Over half of all coronavirus vaccine candidates to reach late-stage human trials are Chinese-developed. But are they the world's best shot at beating COVID-19?
GUANGDONG, South China — Winter is coming. People will soon be spending more time indoors. The COVID-19 pandemic may get worse, and a vaccine isn't ready.
The world is nine months into an all-out war against the novel coronavirus, and hope for a safe and effective vaccine that would help restore some semblance of normality is still just a glimmer on the horizon.
But vaccine makers are working around the clock at a blistering pace. As of Sept. 9, the World Health Organization had recorded 180 vaccine candidates to combat the COVID-19 virus. Thirty-two of them have begun human trials.
China, where the novel coronavirus was first detected, is among the front-runners: Of the nine COVID-19 vaccine candidates that have been approved for large-scale human trials, five are developed by Chinese institutes or companies.
In July, the country's central government approved three experimental vaccines for "emergency use." The program was intended to protect people at high risk of contracting the virus, such as medical staff. But thousands of employees at state-owned firms have also received inoculations since June, according to domestic outlet Caixin.
All three products are inactivated vaccines. This design helps build antiviral immunity by injecting the body with a "dead" form of the pathogen to train the immune system how to respond to an actual infection.
China National Biotec Group (CNBG), the pharmaceutical company behind two of the experimental vaccines, has already administered its products to over 100,000 people, senior staff told domestic media. Zhou Song, the company's chief legal consultant, said there were "no obvious adverse reactions" and "no one became infected."
Currently, CNBG's vaccine candidates are undergoing phase 3 clinical trials — the last stage before approval — in the United Arab Emirates, Peru, and Morocco, with thousands of subjects participating. While test results are pending, an executive at the company said the vaccines will likely be approved by the end of the yearand follow a two-dose schedule. China's medical products regulator has not responded to this projected timeline.
Meanwhile, China's early front-runner vaccine candidate is falling behind. Ad5-nCoV, a so-called vector vaccine developed by domestic firm CanSino Biologics and the government-backed Academy of Military Medical Sciences, was the world's first COVID-19 vaccine to be injected into humans back in March. However, a plan to undergo phase 2 trials in Canada was put on hold after Chinese customs indefinitely delayed the vaccine product shipment for reasons that have not been made clear, according to Canada's National Research Council.
CanSino said in August that while the partnership with Canada has not been terminated, the company is now working to establish large-scale trials in other countries including Russia, Pakistan, and Saudi Arabia. However, none of the trials has begun recruiting volunteers, according to their official registrations.
Despite massive investment in vaccine development globally, not all of the candidates will prove successful and be approved for the market — and in any event, dozens of different vaccines protecting against the same disease would be unnecessary. But for Dong Chen, dean of Tsinghua University's School of Medicine, the high cost is worth it. At this stage, no one knows which candidate will work best, he told Sixth Tone at a vaccine summit in the southern city of Shenzhen on Saturday.
"We didn't complete the journey last time, so we don't know what to do when coronaviruses emerge," Dong said, referring to a previous push in 2003 to develop a vaccine against the SARS coronavirus. Because that coronavirus epidemic subsided before a vaccine was ready, the in-progress projects were terminated.
"So this time, it's a boot camp for our country. You can see the front-runners are still conventional vaccines, which suggests that we don't yet have enough training in (applying) new technologies," Dong said, referring to the gene-based vaccines widely used by U.S. biotech companies. "For us, this is an opportunity."
While China's pharmaceutical companies have been heavily focused on traditional design approaches, such as inactivated and vector-based vaccines, international competitors have been exploring novel mechanisms such as gene-based vaccines. According to the WHO, 10 out of the 35 candidates that have reached human trials are DNA or RNA vaccines.
The first U.S. vaccine candidate to undergo human trials is an RNA vaccine from Massachusetts-based biotech company Moderna, developed nearly simultaneously with CanSino's vaccine in March.
Although no gene-based vaccine has been approved yet in any country, this model can reduce production time tremendously by "outsourcing" some of the time-consuming steps required under traditional methods to the human recipient's body.
Developing a successful vaccine has historically been a long and arduous process, taking several years to a decade or more. But in confronting the coronavirus crisis, the world's scientists have been working at warp speed.
Experts are cautioning, however, of the risk of a dangerous phenomenon called antibody-dependent enhancement (ADE) that has been observed in some types of coronaviruses. While the precise mechanism is unclear, ADE occurs when antibodies — the virus-fighting immune response induced by the vaccine — betray their mission and aid the virus instead. In such cases, the vaccine actually exacerbates the infection.
Doctors have observed ADE in SARS vaccine trials in monkeys, as well as in vaccines against a coronavirus found in cats. Despite these viruses being closely related to the COVID-19 virus, no cases of ADE have been reported from any of the ongoing vaccine trials.
"We've never had a vaccine for a human coronavirus before, so we can't tell whether the (COVID-19) vaccines will lead to ADE," Gao Fu, head of the Chinese Center for Disease Control and Prevention, said in a group interview at the Shenzhen summit. He added that inactivated vaccines — including those China is developing to stop the novel coronavirus — carry a higher risk of ADE compared with gene-based ones. Inactivated vaccines comprise more complex ingredients that can potentially induce a wide range of antibodies. And because scientists don't know which antibodies cause ADE, there's a higher chance of hitting the bull's-eye with an inactivated vaccine.
"When you don't have a choice, you get the inactivated vaccine. When better vaccines are ready in a few years, you'll get the better ones," Gao said, stressing the need for accelerated biomedical innovation.
Though Gao himself was inoculated with an unspecified experimental vaccine back in July, when he thought he "might need to go to the front lines," he recommends that healthy, not-at-risk people wait until a vaccine candidate is demonstrated to be safe and effective during phase 3 trials.
"It's a balance between benefit and risk that we're measuring," he said. "Emergency use should be applied to the people who need it the most."
Editor: David Paulk.
(Header image: A woman holds a sample of the China National Biotec Group-developed COVID-19 vaccine candidate at an expo in Beijing, Sept. 7, 2020. People Visual)