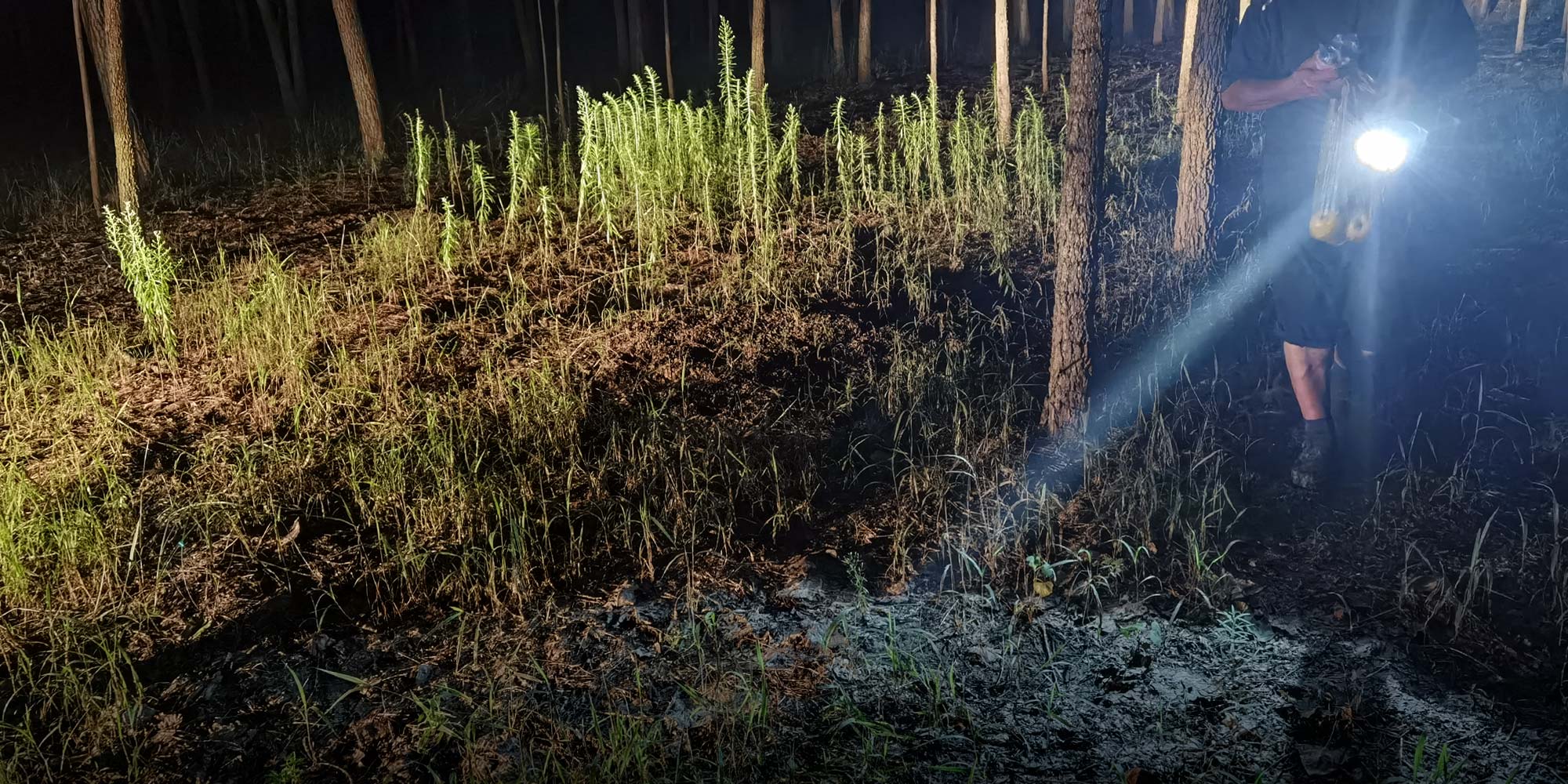 FEATURES
Empty Graves, Fake Records, Graft: The Dead Tell Tales in Rural China
Police are probing a racket in Shandong in which local officials dug up bodies and burned them to obtain cremation certificates for families who'd buried their loved ones in secret.
This story is part of a weekend column featuring translations from respected Chinese media outlets, as selected and edited by Sixth Tone. All are reproduced with the outlets' permission. A version of this article was first published in China Business Journal.
SHANDONG, East China — When three sons secretly buried their father in the woods straddling the border between the southern Shandong and Henan provinces, they chose to abide by local customs and dodge law-mandated cremation. A hundred days after he died, they returned to his grave to sweep his tomb — an act of filial piety.
They instead found a grave empty, a coffin torn open, and their father's body missing.
That was April 2019. Last month, more than a year later, local authorities confirmed their father's remains were exhumed without consent and cremated in place of a dead woman who was also buried in secret. The reason: to obtain a forged cremation certificate for the woman's family.  
The sons weren't the only ones caught in the web. The disappearance of their father's corpse is part of a series of "body theft and cremation" cases in the region, with two other families also under the jurisdiction of Shandong's Wulou Town reporting their family members' bodies being stolen between February and April of last year.
So far, officials have taken measures against three suspects — including two village party secretaries, who knew where the bodies were buried and could obtain the illicit certificates — and the driver of the local crematorium's van, who ferried corpses from gravesites to the incinerator.
The three sons approached the police earlier this year after they'd unearthed an operation led by a village party secretary to exhume bodies in order to fabricate certificates. Incidentally, the sons themselves had paid the local village chief, also their relative, 13,000 yuan (then $1,900) for a forged cremation certificate and assurance their father would remain buried.
Locals believe the racket spawned from a recent push in the region to increase cremation rates as part of long-standing funeral reforms. The campaign, which intensified in 2019, pressured officials to meet their cremation quotas. And it saw results: The overall cremation rate in Shandong's Heze City, which administers Wulou Town where the three brothers hail from, even exceeded 100% — reaching 130.7% in December 2018 and 127.9% in January 2019 — as authorities began exhuming more corpses for cremation as related to the reforms.
And while this saw an uptick in cremation rates, some local officials spied a profit: For the right price, they offered cremation certificates to families who'd secretly buried loved ones by offering to exhume corpses stolen from the many graves dotting the region.  
Cremation Certificates for Cash
In villages around Wulou Town, locals often conceal the deaths of the elderly. Holding fast to tradition, many instead bury the dead to avoid pressure from local officials to cremate the body.
And Li Chengbin's sons — now-retired village chief Li Zhende and out-of-town businessmen Li Qinghua and Li Zhenhai — were no different.
The trio's house in District 2 of Lizhuang Village is near the Yellow River Ancient Road Forest Park, along the border of Shandong and Henan provinces. To the north is Wulou Town, part of Cao County in Shandong's city of Heze; to the south is Cuilou Village, situated in Liangyuan District of Henan's Shangqiu City.
After Zhende's father, hereafter referred to as Li Sr., died at the age of 86 on Dec. 25, 2018, the eldest son drove through the forest park to meet Liu Jinhua. Well-connected in the area since his stint as village secretary, Zhende knew how to stay discreet.
A slender man in his early 30s from Cuilou, Liu specialized in burials. Before Li Sr. died, the brothers had sought him out to ask for an inconspicuous gravesite.
They paid him 480 yuan for burial clothes, 3,000 yuan for a coffin, and 600 yuan in burial fees. On the night Li Sr. died, the brothers secretly buried him under Liu's supervision.
But in February 2019, that secret got out.
Their cousin, Li Liang — also the current party secretary for their village — told them someone had reported the covert burial, and the corpse would have to be exhumed and cremated. Zhende recalled discussing cremation with his brothers, saying: "If it had to be cremation, then so be it. We'd just have to dig him up."
Then Liang quickly offered them an alternative: Li Sr. could remain buried, and the brothers could obtain a cremation certificate. But it'd cost them 30,000 yuan. The brothers balked at the sum and decided they'd officially cremate him instead. Liang then brought the price down to 13,000 yuan.
The brothers agreed. "Each of us put in a few thousand yuan and gave him the money," said Zhende, the oldest of the three brothers.
A month later, Liang handed over the cremation certificate, which recorded their father's name, sex, age, hometown, and time of cremation. The written date of cremation was March 22, 2019.
But unlike other cremation certificates, this document included a couple of extra words: "exhumed body."
With the document, Zhende believed he was "insured," but things went awry when the brothers reached the grave to sweep the tomb on April 4, 2019. The youngest of the brothers, Zhenhai, first noticed something didn't look quite right. "The soil had been turned over," he said. 
Looking closer, he saw the traditional protective decorations buried with the coffin lying on the ground. Upon scraping away a thin layer of soil, he noticed the coffin's nails had been pried open and the red cover had disappeared.
Outraged, Zhende immediately turned to Liang, who was at the gravesite with them, saying: "You made me spend so much money. You're the village party secretary — I want answers."
But according to Zhende, Liang offered little by way of explanation.
Zhende persisted: "Who was given a cremation certificate after us?"
"Maybe go ask Wang Hongzhan about his mother," came the response.
To this, Zhende offered a terse reply: "My father's body has been stolen. It wouldn't be right for me to speak to him — you go."
Swapped Corpses, Forged Documents
Wang Hongzhan, the man in question, lived in District 3 of Wulou's Lizhuang Village. Just outside District 3 Party Secretary Wang Ling's jurisdiction was the spot where Li Sr. had been buried.
Liang, Li Sr.'s nephew, first learned the location of his uncle's grave when he travelled there with his cousins in April 2019. When contacted on Aug. 5, 2020, he said Wang Ling had discovered the new grave a few weeks before the tomb-sweeping festival, even specifically asking Liang about it.
"I really didn't know who the grave belonged to. If I'd told Wang Ling it was for my uncle, nothing more would've been said about it," Liang said. "And then Wang Ling wouldn't have done anything."
But Wang Ling did.
According to Liang, Li Sr.'s body was dug up a few days before he visited it, and soon after, Wang Ling obtained a cremation certificate for Wang Hongzhan's mother.
On Aug. 6, 2020, when asked about the incident, Wang Ling was tight-lipped. "Go speak to those higher up," was all he said.
Meanwhile, Wang Hongzhan underscored he was but a dutiful son, saying he knew nothing about his mother's cremation certificate. He said she'd died in 2017 and he'd personally found a spot to secretly bury her. "I've never seen any cremation certificate. If there is one, it would be with my son. I don't have any money," he said.
Liang said Li Sr. was cremated on March 30, 2019, in place of Wang Hongzhan's mother. And Wang Ling got a cremation certificate for her for the price of 12,000 yuan.
As village party secretary, Wang Ling would've been familiar with the region, including where Li Sr. was buried, and could've easily noticed a fresh grave. Liang's suspicions about his colleague were confirmed when he quizzed him about the cremation certificate given to Wang Hongzhan.
Wang Ling initially denied any knowledge about it. Then Liang asked if the person who'd exhumed bodies in the area wore gloves: Wang Ling said yes. With this, Liang concluded it hadn't been a local team that had dug up the bodies in the area, saying "only people from Henan province wear gloves."
Liang then worked out that the person who'd dug up his uncle's grave was from Henan. Only one person fit the bill: Liu Jinhua. The same man who'd helped the Li brothers secretly bury their father in the first place. The three brothers and Liang decided to pay him a visit.
Unravelling a Racket
On May 5, 2019, the Lis drove to Henan's Shangqiu City where they found and stopped the undertaker Liu Jinhua in a street market. Around noon, they took him to a China Telecom office and had him download software onto his phone to check his call records.
The records showed that between 11 p.m. on March 29, 2019, and 1 a.m. the following day, Liu Jinhua interacted with the same number five times — calling it four times, and being called back once.
That telephone number was familiar to most in Wulou Town — it's printed on the sign for a funeral parlor. It belonged to Liu Chun, the crematorium van driver who is no relation to Liu Jinhua.
It left the Li brothers with one conclusion: Over the telephone, Liu Jinhua had discussed the exhuming of a body, most likely that of their father.
Liu Jinhua confirmed it. He said that a day before Li Sr. was cremated, Liu Chun called asking him to exhume a body for the price of 1,200 yuan. Early the next morning, Liu Jinhua, accompanied by his brother-in-law, a good friend, and Liu Chun, drove to the gravesite.
"When we got there, it looked familiar. I realized it was a body that I'd helped bury," he said. "I told Liu Chun I wouldn't do it. I had buried this person." 
Liu Jinhua was also worried. "What should I do if something happens?"
Liu Chun replied: "It's fine. It's all been agreed upon."
According to Liu Jinhua, there were no family members or police present at the grave, but party secretary of Lizhuang Village's District 3 Wang Ling was there. According to custom, a family member begins the digging before a body is exhumed. "I didn't dare start without the family," said Liu Jinhua.
So Wang Ling started the disinterment of Li Sr. instead.
Li Sr. had died in the winter, and his body was exhumed on March 30, 2019, before the ground thawed. Liu Jinhua recalled that when the coffin was opened, the body looked "unchanged." The men took out the corpse, wrapped it tightly in plastic bags, carried it to Liu Chun's van, and drove away.
"My brother-in-law told me that Wang Ling had asked him: 'Is it a man or a woman?'" said Liu Jinhua, adding that Wang Ling seemed to have more than one ID card in his hands. "Otherwise, there's no reason he'd ask. He'd made another (cremation certificate)."
Unlike Liu Jinhua, Liu Chun remained tight-lipped about digging up Li Sr.'s body. "It was all the village party secretary," he stressed. "He arranged for us to bring the van. I did the work. I just did the moving. I'm not interested in this stuff ... The party secretary followed my van."
According to Liu Jinhua's brother-in-law, Wang Ling used the identity cards of another dead person and signed documents for the bereaved family. After the incineration, Wang Ling allegedly then took the ashes away.
Liu Chun said the ashes were in his van for a short time. He said: "When I came back (to the crematorium), the party secretary took them. They weren't given to the family — the party secretary took them."
Liang said Li Sr.'s ashes were eventually recovered with his coordination. He recalled advising the three brothers to bury the ashes, but this only irked Zhende, the eldest son, who replied: "How can you be sure the ashes are my father's?"
There is still no conclusive proof. The middle brother, Qinghua, even called the largest testing center in Shandong province for advice but was told it isn't possible to test ashes for DNA.
On July 26, 2019, a few weeks after the Li brothers' confrontation with Liu Jinhua, the mayor of Wulou Town attempted a negotiation involving the brothers, Liang, and himself. Wang Ling was absent.
Zhende said: "I also signed a guarantee saying that I'd let the matter rest. If I sued again, I'd have to pay three times the amount in fines." But still unable to identify the ashes, the Li brothers were set on discovering the truth behind their father's empty grave. 
Zhende said: "Even if I'd have to pay back 240,000 yuan, I'd still continue. He was our father!"
The Police Investigation
The Li brothers eventually took the undertaker Liu Jinhua to Cao County's public security bureau (PSB) — the government department responsible for preventing, stopping, and investigating illegal and criminal activities — to report the incident. 
According to Zhende, after just 10 minutes at the county PSB, Liu Jinhua confessed. And police told him that Liu Jinhua later spilled the beans on Liu Chun too, who in turn gave the PSB the name Wang Ling. 
On April 29, 2020, the PSB launched an investigation into the theft of Li Sr.'s corpse. Li Fuxue, the police officer handling the case in the county PSB who has no relation to the much-aggrieved Li family, told the sons that Li Liang, Wang Ling, and Liu Chun were suspects. 
Li Sr.'s remains then became part of a series of "body theft and cremation" cases, according to Li Fuxue, who said: "Measures have been taken against both village party secretaries."
On Aug. 19, Li Fuxue confirmed over telephone that measures had indeed been taken against three suspects. He said that when they unravelled the theft of Li Sr.'s body, the person suspected of organizing his cremation certificate was found at the same time, namely Liang. "You could say the two were discovered together."
Wang Ling is a suspect in the theft of Li Sr.'s remains, while Liang is suspected of stealing another body — which was cremated in place of Li Sr. "Stealing a corpse constitutes a crime. It's classified as theft," said Li Fuxue.
The Campaign for Cremation
Amid the national push for funeral reforms, provinces like Anhui, Shandong, and Shanxi have drawn criticism for their harsh campaigns. And in 2017, Shandong was among the first provinces selected by the central government to be a pilot site for funeral reform.
Within a year, cities in the province raced to increase their cremation rates. Following a meeting in May 2018 in Heze City on comprehensive funeral reforms, Qilu Evening News reported on Aug. 1 of last year, that the city's overall cremation rate increased by 21.5 percentage points to 84.7% in 2018, and in the first half of 2019, the rate touched 100%.
Some towns were even labelled stragglers. On March 27, 2019, Cao County TV Station reported that Pulianji Town, Qingheze Subdistrict, Taoyuanji Town, Caocheng Subdistrict, and Hanji Town were found "lagging behind" on funeral reform work between March 1-21, 2019.
The intensity of the campaign was such that the first exhumation and cremation in Wulou Town was accompanied with a public rally. And according to Liu Jinhua, the undertaker and person who organized the process, the Wulou Town officials attended, as did PSB officers and the bereaved.
According to Liang, the suspected cousin, pressure had intensified for Wulou Town too, which administers Lizhuang Village. He said that after 2019's Lunar New Year, the town's government handed down the task of meeting the required cremation quota.
"It was as if March 30 or April 1 had become fixed in the countryside at that time. By that date, you must have your work done," he said. Incidentally, it was during this period that Li Sr.'s corpse was exhumed and cremated.
Liang also said that more than 20 bodies were exhumed and cremated in Wulou Town between the start of 2019's Lunar New Year and Tomb-Sweeping Day. He underscored that if someone had died and was buried in secret, a cremation certificate had to be obtained, saying: "If you weren't able to show a cremation certificate, you'd be held responsible."
An official at the Wulou Town government surnamed Zhang said that in early 2019, a new policy was introduced to change traditional social customs. He said an inspection had been made into burials conducted in secret to avoid cremation, but he was unaware of bodies being stolen and then cremated. "The town isn't very clear about what goes on in the villages," he said.
A villager, who did not wish to be identified, said one family whose loved one was publicly exhumed was "unjustly treated," which in the local dialect meant "powerless." The family reportedly had two daughters, both married and away from home, leaving it to an elderly farmer and his wife to deal with matters.
"A family like that can't afford to buy a cremation certificate — so that's who they pick on (to boost the cremation rate numbers). If they go after a family with influence, the family will pay up, so the grave is left alone," said the villager.
According to Cao County crematorium staff, bodies sent to them have usually gone through verification before cremation. But Liu Chun, among the suspects in the cremation racket case, simply said: "This is just a formality."
Liu Chun, Wang Ling, and Li Liang are pseudonyms to protect their identities since they are still under criminal investigation.
Translator: David Ball, editor: Yang Xiaozhou.
(Header image: A view of the forest where Li Chengbin was buried in Lizhuang Village, Shandong province, Aug. 5, 2020. Yuan Suwen for Sixth Tone)