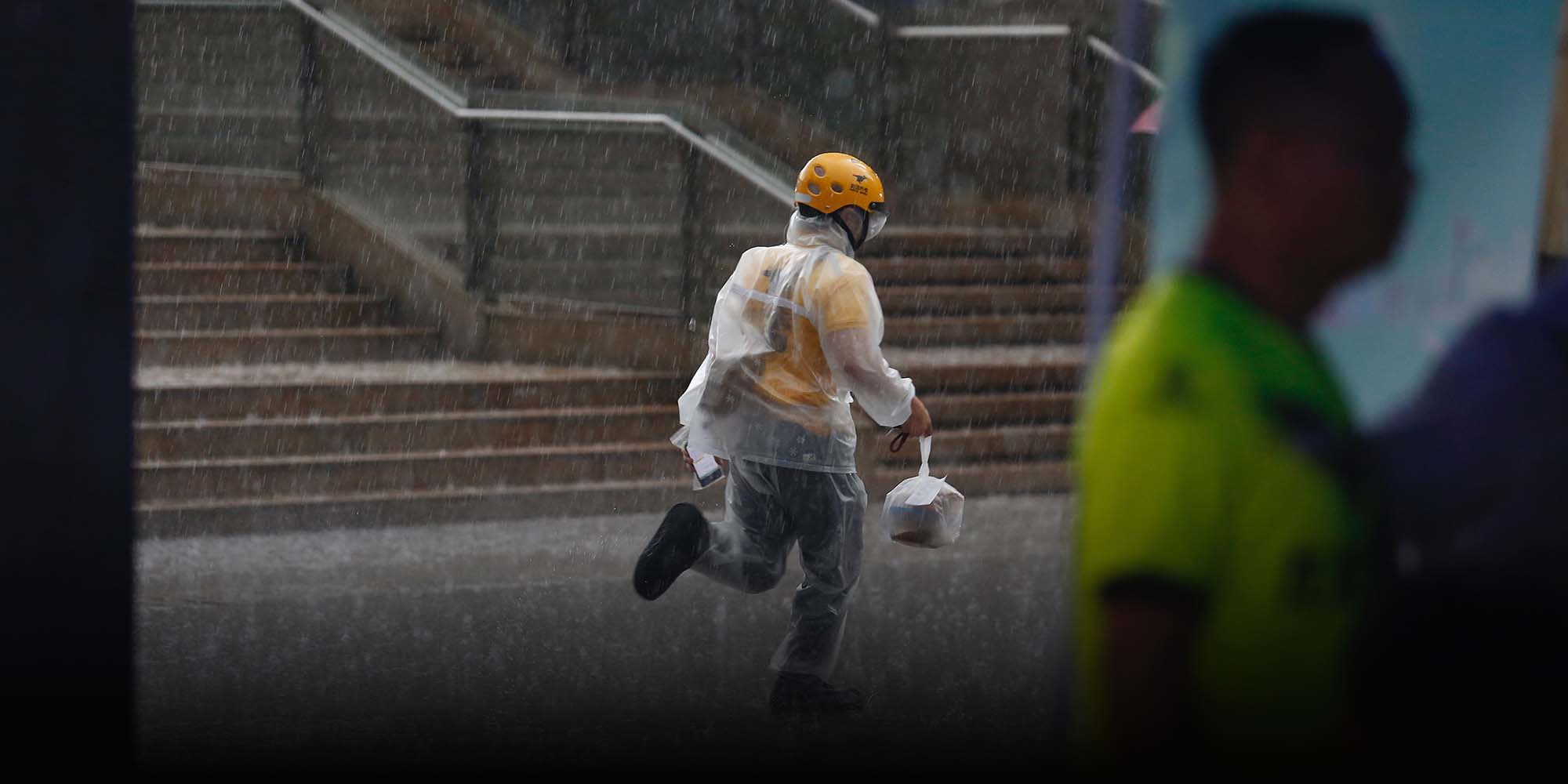 NEWS
After Viral Exposé, China's Takeout Platforms Vow to 'Do Better'
Flawed algorithms and demands for drivers to deliver on time to avoid punishment have created a dangerous work environment for the millions of people in China's booming food-delivery industry.
Two of China's leading food-delivery platforms have vowed to reduce penalties and extend delivery times for their employees after an investigative report exposed systemic exploitation of workers through built-in algorithms, triggering widespread online outrage.
On Wednesday, Alibaba-backed food-delivery company Ele.me announced it will add a feature to its mobile app allowing customers to grant five or 10 additional minutes for delivery workers. It will also exempt couriers with good records from being punished for late deliveries.
"The system is dead, but human beings are living," Ele.me said in its statement. "We want to do better (to protect our workers) in addition to ensuring that the deliveries are on time. … Every hardworking individual deserves to be respected."
Hours later, Meituan, another key player in the food-delivery industry, also vowed to optimize its algorithms to ensure the safety of its delivery workers. The company said it will add an eight-minute "buffer" so delivery workers can slow down in traffic, as well as develop technologies such as Bluetooth-linked helmets for hands-free communication while driving.
The pledges from two of China's most prominent food-delivery platforms came a day after an explosive report in Renwu magazine exposed how companies push their drivers to meet tight deadlines: In 2019, the average delivery time was 10 minutes shorter than in 2017. To be on time and avoid penalties, many delivery workers flout traffic rules — a tendency that has made their job one of the most dangerous in China, the report said.
According to the article, food-delivery platforms have an intricate system for boosting efficiency. For example, algorithms automatically set a route for the delivery workers, regulating and monitoring the amount of time they spend on each ride.
However, such GPS tracking is often inaccurate, and the algorithm-generated route tends to not take into account roadblocks, construction, and last-minute address changes by the customer — all factors that can cause delays, the media report said. In such situations, delivery workers may be left with no choice but to cut corners as they race against time.
China's 300 billion yuan ($44 billion) food-delivery industry employs more than 6 million couriers, mostly young male migrants from rural China. These individuals were hailed as heroes during the COVID-19 outbreak for their continuous work despite the health risks.
In 2017, a report on the food-delivery industry found that in Shanghai, a serious injury or death involving a delivery driver occurs every 2.5 days. And in September 2018, over half of the 2,000 traffic violations in the southern city of Guangzhou were committed by delivery drivers from Meituan and Ele.me.
A former delivery worker from Meituan, surnamed Huang, said it is often impossible to complete orders on time without running traffic lights. He said he has witnessed several road accidents and injuries.
"Delivery workers are very vulnerable when faced with the demands of customers and the company," Huang, who left Meituan last month due to mounting work pressure, told Sixth Tone. "You can never depend on your own strength to combat the system. It can be both physically and emotionally draining."
Huang said he hopes the new measures will favor the workers and not negatively impact his former colleagues' incomes.
Many online who use food-delivery services are divided over the promised changes. While some welcome the platforms' moves to provide more flexibility for workers, others question whether they will lead to fundamental changes in the evaluation and rewards systems.
"If the riders get an additional five or eight minutes, they will likely spend the time taking more orders instead of driving slowly or taking a rest," read one comment under a related post on microblogging platform Weibo.
Zheng Yingqin, a senior lecturer at the University of London, told Sixth Tone that in addition to time management, myriad other biases against delivery workers are still embedded in the platforms' algorithms. For example, customers can rate couriers but not vice versa, which can leave drivers helpless in the face of unreasonable customer demands if they hope to keep their approval ratings up.
A built-in ranking system that incentivizes delivery workers to take more orders can also be problematic, said Zheng, who researches China's gig economy. Workers strive to achieve higher rankings that reward them with bonuses, as well as priority when choosing orders, and this creates a vicious cycle of competition and stress.
"The danger is that algorithms are opaque to the public, who only experience the social consequences of technology's 'black box,'" Zheng said. "It is therefore important to question what is in the black box, considering whose interests are represented by the algorithms and what power relations are built into the technology."
Editor: Bibek Bhandari.
(Header image: A food-delivery worker runs in the rain while completing an order in Guangzhou, Guangdong province, April 27, 2019. People Visual)