Darry Ring, a Chinese jewelry company endorsed by numerous high-profile celebrities, has distinguished itself among wedding and engagement brands by its unique slogan: "A man can only buy one wedding ring per lifetime, for his true love."
This week, the company's strict adherence to its idealistic rule of thumb landed it in hot water.
In a post Monday on microblogging platform Weibo, a popular gender commentator with 210,000 followers posted a chat screenshot of a conversation purportedly between a woman and a customer service representative for Darry Ring.
After the customer asked if she could purchase the ring by herself, for herself, the staff member said "a man should take more responsibility" in a romantic relationship, and the company would rather the would-be customer "encourage the male partner to propose."
"A Darry Ring is a symbol of a man's desire to marry a woman and the ultimate commitment to being her partner for life," the Darry Ring employee said in a chat conversation on Taobao, an online marketplace under Alibaba. "Women can't just purchase a ring for themselves," she added.
Since this exchange was posted, Weibo users have slammed the jewelry brand for discriminating against single women, with many sharing similar experiences.
"I took a single female friend to Darry Ring, hoping to cheer her up as her good friend with some window-shopping on Chinese Valentine's Day," a female Weibo user wrote. "They told us we couldn't buy a ring: They'd need to see a man's ID card for that."
According to a customer service staff member on Darry Ring's official website, the company does require a man's government ID card to confirm that he hasn't already purchased a Darry Ring. Once this hurdle is cleared and the purchase is completed, the company gives the couple a "Darry Ring true love certification."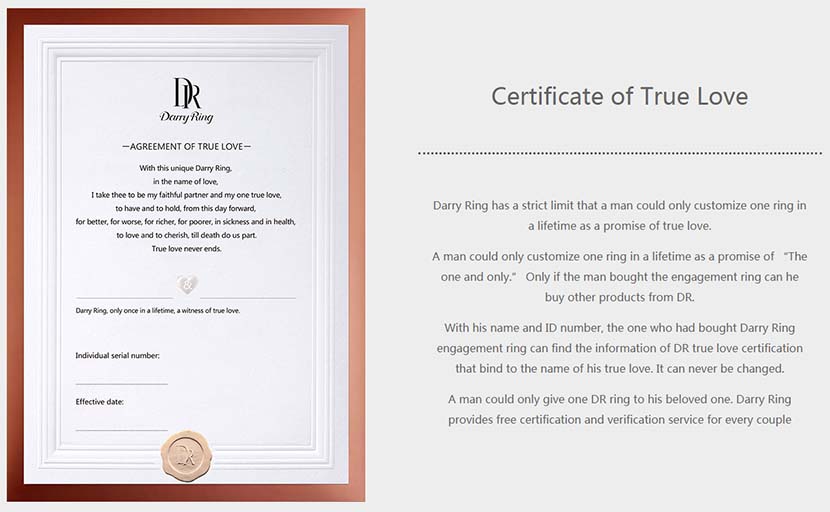 A "certificate of true love" presented to couples who purchase Darry Ring wedding bands. From the company's website
When asked about the company's rules for same-sex couples, the staff member said a woman can buy a ring for her female partner, or a man for his male partner. "Love has no gender … but a woman can't buy a ring for herself," the staff member said.
Despite the recent controversy, Darry Ring's "one wedding band per lifetime" campaign has been largely successful, the company's rings becoming synonymous with symbols of enduring love.
"A man gave me a Darry Ring when he was 21," read one Weibo post. "How could I not cherish it?"
Women aren't the only ones subject to Darry Ring's rules. According to company policy, a man who buys a Darry Ring for his first wife, gets divorced, and then tries to buy another for his next wife will also be shut down. However, as an alternative, upon purchasing their one and only Darry Ring, customers unlock access to the brand's other jewelry products, including pendants, bracelets, and earrings.
"It's ridiculous for a jewelry brand to bind their products to the idea of true love," read a comment under Monday's Weibo post. "It's like paying a 'stupid tax' twice."
Editor: David Paulk.
(Header image: EyeEm/People Visual)