China has opened its first state-sanctioned school outside the country.
The Chinese School Dubai began its inaugural semester on Sept. 1, part of President Xi Jinping's vision to expand academic cooperation internationally and purportedly "make education more open." The school is run by the education bureau of the eastern Chinese city of Hangzhou and overseen by the central Ministry of Education.
Yin Liping, the principal, told Sixth Tone that Chinese School Dubai serves Chinese expatriates hoping for their children to get an education not too far off from what they might receive at home. A major Middle Eastern hub, Dubai in the United Arab Emirates is home to more than 3,000 Chinese-invested enterprises as well as 300,000 Chinese nationals. The latter made the city an appealing site to host China's first international school, according to Yin.
"Previously, Chinese students could either remain in China while their parents worked in Dubai or attend local schools, particularly those offering a Western education," he said.
The new campus is the first in the Ministry of Education's pilot program for establishing overseas schools, according to Yin, who was unable to provide further details. Chinese School Dubai currently has over 200 students enrolled in grades 1 to 5, and it's planning to expand into a middle school. Enrollment fees range from 25,500 to 28,500 dirham ($6,940-$7,760) per year, cheaper than average school tuition fees in Dubai.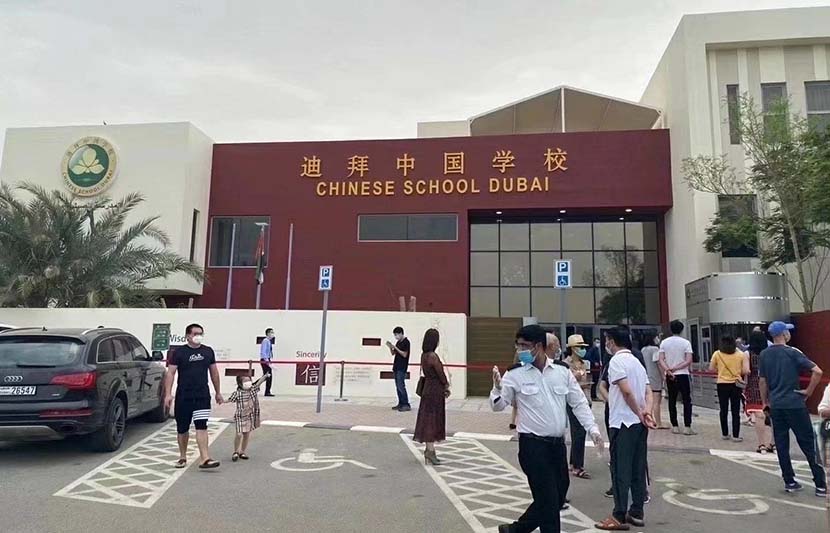 An exterior view of the Chinese School Dubai, United Arab Emirates, 2020. From @首席移民服务官 on Weibo
Wang Huiyao, founder and president of the Beijing-based think tank Center for China and Globalization, said that with the help of international schools, the country's vision for "outward education" will help millions of Chinese living abroad — an estimated 60 million — to not only access the curriculum taught in China, but also learn the country's culture and language.
"The Belt and Road Initiative was introduced several years ago, but schools have yet to become a part of it," Wang told Sixth Tone, referring to China's massive, transcontinental trade and infrastructure initiative. "We should be more open and use marketization to open more schools abroad."
China's first international school comes at a time when many countries including the United States have imposed restrictions on Confucius Institutes, Chinese state-funded centers that operate globally to promote Chinese language and culture. Meanwhile, schools in several countries — in Indonesia, Nepal, and South Africa, among others — are adding Mandarin classes as China's global influence expands.
International schools like the Chinese School Dubai are intrinsically different from Confucius Institutes, Wang said. While the former provide a complete education, the latter is more supplementary, serving the interests of individuals wanting to learn more about China.
Opening a Chinese school abroad has proved to be more challenging than simply opening another Confucius Institute. The Dubai school's principal said the curriculum, saturated with "political ideology," an essential component of Chinese education, faced multiple rounds of negotiations with the local government before ultimately being approved.
"According to local regulations, we aren't allowed to sing the Chinese national anthem or fly our national flag — so eventually we printed our flag and displayed it together with the United Arab Emirates flag in the classroom," Yin said. The principal added that China's moral ideology classes — which espouse socialist values and are compulsory on the mainland — had to instead adopt the broader title "morality and law" classes.
The Chinese School Dubai aims to educate students with "a Chinese heart and an international vision," Yin said, adding that graduates will not be "banana people" — a derogatory term for those who appear Chinese but have adopted Western values.
According to Yin, in addition to the Chinese national curriculum, Chinese School Dubai offers classes in Arabic language and Islamic studies.
Zhou, a Chinese national who transferred her fifth-grade son from a British school to Chinese School Dubai, told Sixth Tone that over half of her son's Chinese classmates at the former school had made the change, too.
"China's education style is relatively more rigorous," said Zhou. "The Chinese families living in Dubai care about their children's Chinese education. I believe this school does a good job of combining Chinese education with international elements."
In recent years, China has partnered with several international schools and universities to open campuses in the country and thus make highly prized foreign diplomas more accessible at home. New York University, Duke University, and the University of Nottingham all have campuses in China, while Xiamen University became the first domestic college to open an international branch in Malaysia in 2016.
Additional reporting: Chen Qi'an; editor: Bibek Bhandari.
(Header image: The prime minister of the United Arab Emirates, Sheikh Mansour bin Mohammed bin Rashid Al Maktoum, visits students at the Chinese School Dubai in the United Arab Emirates, Sept. 1, 2020. Xinhua)