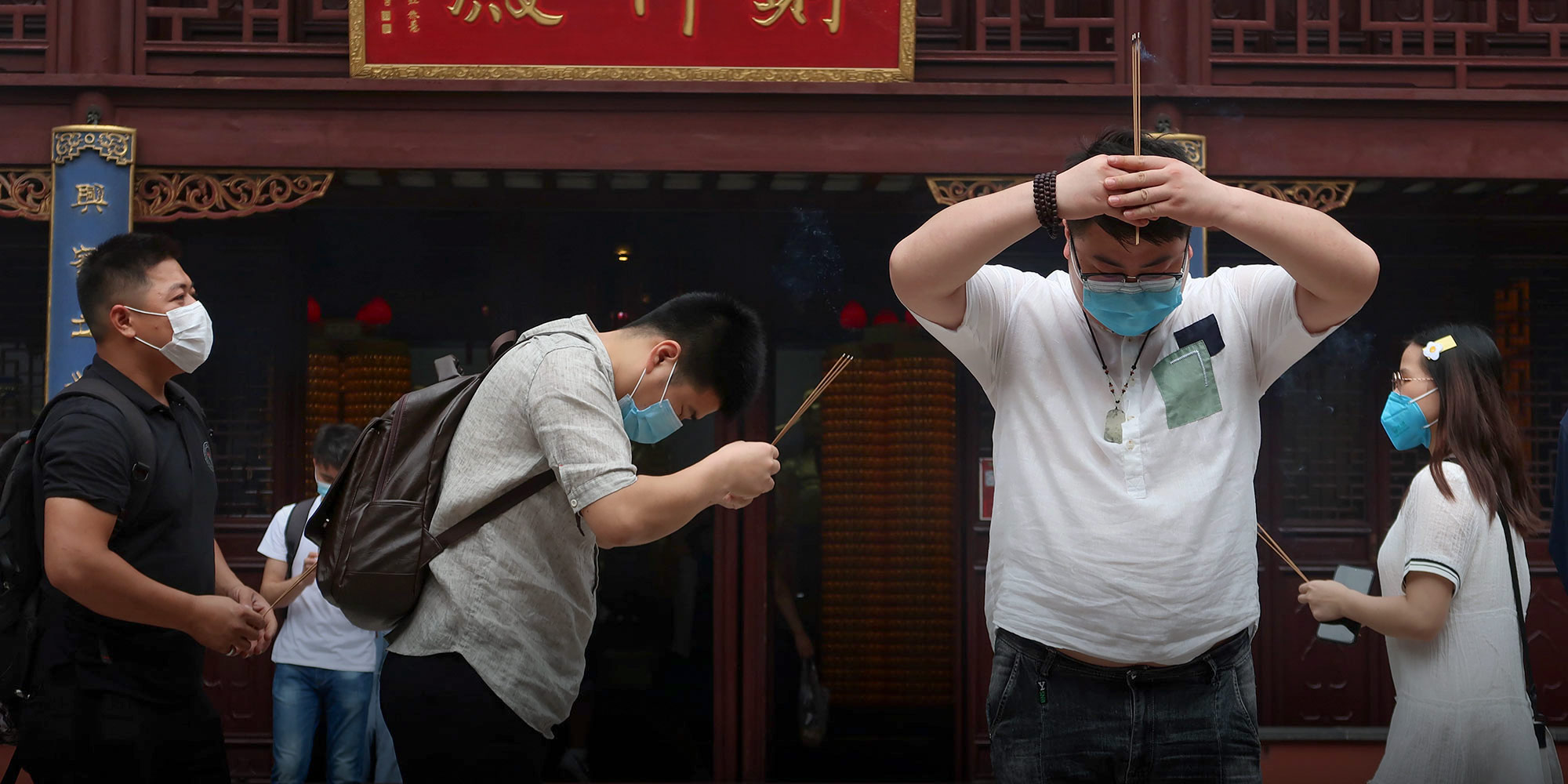 VOICES & OPINION
How Old Beliefs Are Adapting to China's 'New Normal'
After months of being closed, Shanghai's places of worship are cautiously reopening to the public.
This July 21 marked the first day of the sixth month of the Chinese lunar calendar, a date when religiously observant Chinese typically flock to temples around the country to light incense in honor of the new month. Normally this would be an unremarkable occasion: Similar "incense-burning periods" take place on the first and 15th of every lunar month. But this isn't a normal time, and July 21 was the first incense-burning period for which Shanghai's City God Temple was open to worshippers since Jan. 24.
As a temple volunteer, it was my job to guide the faithful through our new entry procedures. Everyone needed four things to gain admittance: a green health code; a face mask; a registration code obtained through the temple's social media platform; and a 10 yuan ($1.50) incense-flower coupon — a more polite way of saying a ticket. When booking, prospective visitors had to provide their real names, ID card numbers, and contact information. Finally, all templegoers needed to pass a temperature check.
In fact, the City God Temple has long wanted to introduce an online booking system, which among other things finally allows young, digitally savvy visitors to pay for their tickets online, rather than in cash. Yet for one reason or another, it kept getting put off, until a pandemic forced matters to a head.
The system's rollout did not go off without a hitch. On July 21, over a week after the temple first opened, I found myself almost surrounded by templegoers: Some hadn't brought their ID card or couldn't remember their ID number, others didn't own a smartphone or didn't bring it, a few had their phone but didn't have money in their digital wallet, and still more had bad eyesight and struggled to read text on their phone clearly.
Some regular visitors to the City God Temple had heard on the news that the temple was finally reopening, but not that they would need a phone to enter. They were left to worship the City God from outside the newly erected fence, quietly chanting: "We came to see you, City God, but we couldn't get in. Know our intentions were good."
Those that did make it inside all received a spray of sanitizer on their hands without so much as a by your leave. For many Chinese, visiting a holy site is as much a tactile experience as a spiritual one, meaning they are accustomed to touching parts or statues inside — especially shrines — for good luck. Although it is not clear how long the coronavirus can survive outside the human body, one can never be too careful.
Public health-related restrictions on visitor numbers, plus templegoers' own caution, meant that the City God Temple is no longer the crowded and noisy place it once was. Inside the temple's main hall, the kneeling cushions have been removed to prevent potential cross-infections by worshippers kowtowing. The temple published an article on its social media feed calling on worshippers to instead bow when paying their respects. Some regular worshippers, on seeing the article, instead opted to bring their own prayer cushions.
Shanghai's Xujiahui Catholic Church, for example, reopened on July 10, though only to registered members of the church. It remains closed to visitors, and each mass is limited to 300 people. Church members are encouraged to reserve a spot in advance.
I attended a mass at the church on Aug. 15, also the Solemnity of the Assumption of the Blessed Virgin Mary. Since I didn't make an appointment in advance, I was required to fill out a form at the entrance providing information about my health and travel.
Inside the church there were signs placed on the seats. Whereas each pew could previously seat six people, only three are now allowed. During mass, volunteers reminded parishioners to keep their masks on and to maintain their distance between one another. To reduce the risk of cross-infection, the church's Bibles had all been put away, with members either bringing their own or reading from the text and lyrics displayed on screens. When it was time to receive communion, volunteers held up signs and guided the congregation to where they should line up. The priest then placed the wafer in the hands of the attendees, rather than in their mouths.
One churchgoer told me that apart from this, the service was just like normal.
During the COVID-19 pandemic, religious congregations around the world have tried to set up remote services. And as in the case of Shanghai's City God Temple, the events of the past nine months have pushed many hidebound institutions to familiarize themselves with how new technologies can be used to consolidate, strengthen, and exchange beliefs. Still, if my experiences are anything to go by, these new advances will never truly be able to replace in-person religious activities.
But with COVID-19 continuing to spread, no one can say for sure whether this tentative reopening is the "new normal" or just temporary. As one Taoist priest I spoke with, Xia Dachi, told me: "Although the temple has reopened, if there's another outbreak, we should be prepared to close at any time."
Translator: David Ball; editors: Wu Haiyun and Kilian O'Donnell.
(Header image: Visitors pray at the City God Temple in Shanghai, July 10, 2020. Wang Rongjiang/People Visual)