A new public school in the northwestern Shaanxi province has drawn so much public attention for its over-the-top design that it's now partially demolishing some of its noneducational facilities, according to a video report Wednesday by Sixth Tone's sister publication The Paper.
The high school in Zhen'an County cost 710 million yuan ($103 million) to build — an astonishing amount for a place that was only removed from a list of poverty-stricken counties in May of last year. When the school was completed, the local government promoted it in July as "a major strategic decision" that would "truly solve the challenge of improving education accessibility and quality for children in a mountainous region."
However, Zhen'an School's lavish facilities — spread out over 272 mu (44.8 acres), with two-dozen buildings, a koi pond, a pavilion, and a rock garden — have put a dent in the local government's coffers. According to the state-run Xinhua News Agency, the big-budget construction project has landed the county, which generated 178 million yuan in revenue last year, over 600 million yuan in debt, to be paid off in 12 years.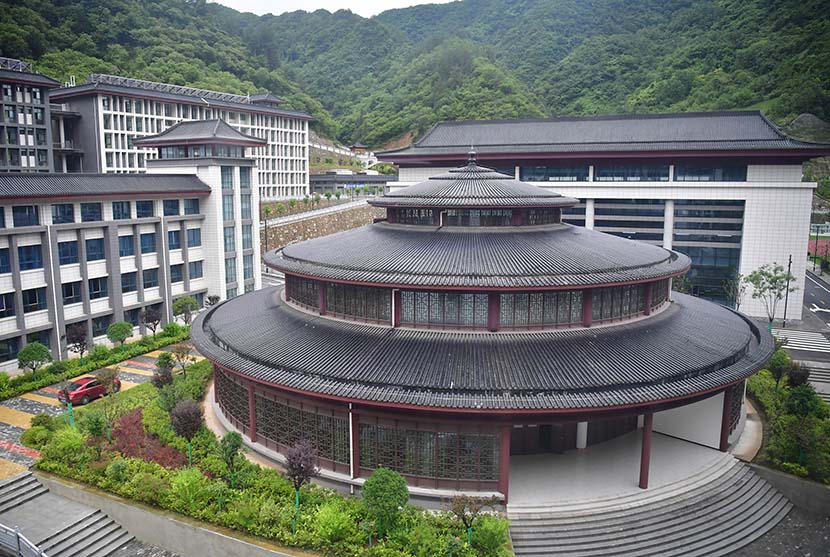 A view of the fancy school in Zhen'an County, Shaanxi province, Aug. 13, 2020. Shao Rui/Xinhua
The school was further criticized after students complained to media about high meal prices and inconvenient commutes, as many of them live far away. Some teachers, meanwhile, say the school has spent exorbitantly on infrastructure while focusing only limited attention on improving teaching resources, according to the Xinhua report.
Following the criticism, China's top anti-corruption body launched an investigation into the school, which has become the latest addition to a growing list of vanity projects saddling local governments with debt.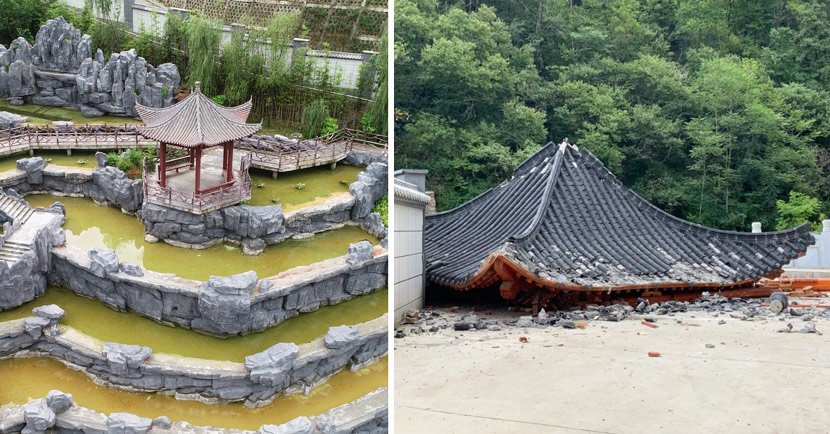 Before and after shots of the pavilion at the fancy school in Zhen'an County, Shaanxi province, August 2020. From Xinhua & China Newsweek
A Zhen'an restaurant owner surnamed Wang told Sixth Tone that the school is now the only high school in town after a recent merger of the county's two high schools. Zhen'an School had planned to enroll some 6,000 students from the county.
Wang said he heard the school had removed the koi pond, and that many parents were unhappy with the demolitions.
"After all, having a nice school is a good thing," said Wang, who has a 10-year-old child. "It's a pity to take them (some of the facilities) down. It would only be further waste."
Zhen'an's education bureau declined Sixth Tone's interview request, and the school did not answer numerous phone calls.
Editor: Bibek Bhandari.
(Header image: A view of the fancy school in Zhen'an County, Shaanxi province, Aug. 13, 2020. Shao Rui/Xinhua)