"How come no one's coming in to chat?"
The lower-left of three video windows shows a woman slumped across a table, her face partially obscured. An overlay below her reads: "32 years old, Shanghai."
To her left, another video window is vacant, waiting to be occupied by a prospective suitor willing to pay the 2 yuan (29 cent) fee required to enter the chat room.
Above the woman's feed is a matchmaker — in this case, a plump woman with dyed pink hair who's also busy preparing a steaming dinner. A somewhat excessive beautifying filter has drawn her chin to a point, reddened her lips, and softened her skin to blurry perfection.
"Just wait," the matchmaker says with a hearty laugh. "Someone will come."
Every night, millions of Chinese singles enter so-called cloud matchmaking apps to search for suitable marriage partners. The fast-growing market received public attention following a Tuesday report from business news outlet 36Kr that coincided with Qixi Festival, or China's Valentine's Day.
The livestreaming platform — an app called Yi Dui, which sounds like the Chinese term for "a pair" — has over 40 million users and was one of the cloud matchmaking market's earliest entrants, launching in 2018. Today, livestreamed matchmaking has been adopted in various forms by nearly all of China's tech firms, from goliaths like Tencent and Alibaba to smaller livestreaming apps like Kuaishou and Yingke.
For a miniscule fee, male suitors can browse Yi Dui's livestreams and attempt to woo lonely damsels. They can also be invited in directly by the matchmaker — especially if they demonstrate their interest through virtual gifts such as pink tiaras, shiny orange Porsches, cute cartoon beaus, or red roses. The most expensive such token, an ancient couple in red robes, costs a hefty 2,888 yuan.
For the two livestreamers to hit it off, a bit of coaxing — sometimes gentle, but more often firm — is required from the all-seeing matchmaker. Eventually, the pair might agree to add each other's contacts on the platform, chat further privately, and perhaps even meet for an offline date to see where things go. For each successfully yoked pair, the matchmaker's "coupling tally" on her Yi Dui profile increases by one.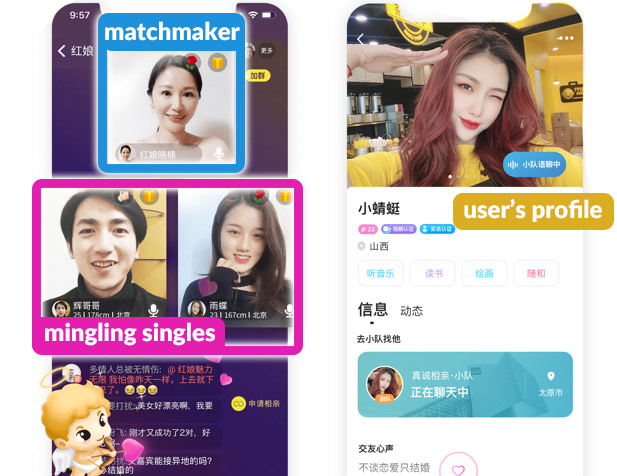 The user interface for livestream matchmaking app Yi Dui. From a Chinese app store
While dating and hookup apps such as Momo and Tantan are geared toward young professionals in big cities, cloud matchmaking apps generally target singles from China's vast — and until recently, vastly underserved — population in lower-tier cities, towns, and the countryside.
This 953 million-strong group contains a disproportionate number of singles looking to mingle — and build stable families. Of the 240 million single adults living in China in 2018, 80% were in small cities or the countryside, an industry analyst told 36Kr.
According to a report Wednesday on small-town singles published by Yi Dui and authored by a Beijing marriage and family-focused research group, over half of some 8,000 respondents said "marriage" was their No. 1 source of stress, above finances, career prospects, and work pressure.
Users can scroll through Yi Dui chat rooms by swiping up on their phones, similar to TikTok. With one flick, the view switches to another livestream where a handsome, tanned man in a striped soccer jersey has just entered the bottom-left window to chat with a 32-year-old woman in newspaper-print pajamas. The matchmaker looks on quietly from her perch in a chat window above them.
"When I heard you were in (Shanghai's) Baoshan District, I came right in," he says, flashing a confident smile. "Well, you could be in Beijing or even next door — but if we don't have chemistry, it won't work, will it?" the woman smirks.
All Yi Dui chats follow the same format: The matchmaker and the single woman remain in the chat room together making small talk while the men come and go. The singles — mostly migrant workers eking out a living far from their hometowns — are cooking, lying in bed, or even zipping through crowded streets on scooters, completing food-delivery orders while they gab.
The matchmakers aren't employed by Yi Dui. Instead, they're regular users — many of them singles themselves — who, after applying to become a matchmaker through the platform, can pocket a proportion of the money male users spend on virtual gifts for them or potential partners. Skillful matchmakers have large teams of "apprentices." Eventually, if they attain Yi Dui's top ranking of "king-grade master," they can earn extra money from their disciples' incomes, too.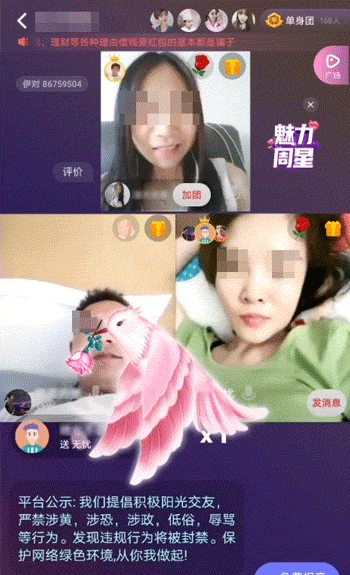 A GIF showing a pink dove with a rose in its beak — one of many virtual gifts users of livestream matchmaking app Yi Dui can purchase to impress would-be partners. Sixth Tone
An Yi Dui matchmaker identified as Yu Bao'er told 36Kr that she streams 10 hours a day and has to constantly be available to help out her "clients." A former livestreaming singer on Kuaishou, Yu said she now earns 50,000 yuan a month through the app.
"The chatting is very down-to-earth. Most of the time it's the guests who do all the talking," she said. "It's not as tiring (as singing on Kuaishou)."
So far, Yu has accumulated over 10,000 apprentices aged 20 to 62. The eldest of the budding matchmakers earns a respectable 10,000 yuan a month through the platform.
On Kuaishou, livestreaming matchmakers — or hongniang, as they're called — chat with singles who call in via audio. They jot down their personal details and requirements in a partner — such as height, weight, age, salary, and property — then try to help them find a match.
During one Kuaishou livestream Sixth Tone spectated Wednesday night, the matchmaker, after interrogating a caller for more than five minutes, summarized their conversation: "Farmer, rural Ningxia Hui Autonomous Region, age 40, three kids, divorced. No height requirement for the man, who can be divorced and have kids."
Some livestreams take place in outdoor settings like plazas. 36Kr spectated a Kuaishou livestream in a small city in the northeastern Liaoning province where the suitors lined up in public to introduce themselves.
"I was born in '86. I'm 163 centimeters tall, 54.5 kilograms, and don't have kids. I opened my own clothes store, which I manage myself," the woman says. "I don't like having fun outside. The best (match) would be a stay-in kind of guy. And he must be faithful."
Minutes later, a male user comments in the chat room to say he's driving around nearby and will pop over to introduce himself.
A livestreamed matchmaking event in Zhoushan, Zhejiang province, May 9, 2020. Chen Yongjian/People Visual
Matchmaking has a long and storied history in China. With marriages being a family matter rather than an affair of the heart, professional matchmakers had to skillfully negotiate between two families deemed to have roughly equal social standing. After the Communists came to power in 1949, matchmaking fell into the hands of the state, with danwei, or work units, helping to arrange marriages and allocate housing to newlywed couples.
Since China entered the internet age, the ancient art has transformed into a lucrative business. Dating websites such as the Nasdaq-listed Jiayuan.com developed huge networks of brick-and-mortar stores in high-end malls across China, and would pair up lovebirds for breathtakingly high fees.
However, these mighty matchmaking empires have fallen, owing to their high operating costs and overly traditional methods. During the coronavirus pandemic, a bevvy of matchmaking companies' offline outlets had to close down, according to 36Kr.
Although rural singles present an exciting, largely untapped market for cloud matchmaking apps, they're not without their pitfalls. Industry executives say dating as a means of extortion is all too common on such sites, and some people have been known to use matchmaking platforms as outlets for direct marketing. Worst of all, the users who fall for these scams tend to get duped again and again.
"They're like locusts crawling into every nook and cranny, preying on people's good instincts," the founder of another cloud matchmaking app, Xiang Xiang, told 36Kr, referring to these nefarious users. To date, Xiang Xiang says it has uncovered 55,000 fake or fraudulent accounts.
Despite the challenges, matchmaking services — whether traditional or cloud-based — aren't going away anytime soon. A longtime user of matchmaking services who asked to be identified by his surname, Tang, told Sixth Tone that such products are useful tools for people who genuinely hope to settle down but might be too busy to seek out potential partners through the more traditional means. Matchmaking agencies have the additional advantage of being able to vet their users — to make sure they're not already married, for example.
"If the person is someone you meet in your everyday life or someone introduced by a friend, they might not be in a hurry to get married," said Tang. "But if you go to these marriage companies … the people you meet are all extremely eager to marry, so it's very efficient."
Editor: David Paulk.
(Header image: Sorbetto/Getty Creative/People Visual, re-edited by Ding Yining/Sixth Tone)