An adult card game is being lambasted for giving one of its scantily clad characters the same name as a teenage rape victim from a popular novel.
According to Orange Umbrella, a nonprofit against gender violence, visitors at last weekend's China Adult-Care Expo in Shanghai were shocked to realize that a character from an erotic card game promoted at one of the boots was named Fang Siqi — also the titular heroine of the novel "First Love Paradise of Fang Siqi." In the book, 13-year-old Siqi is raped by her cram school teacher. Unable to cope with the shame and horror of what was done to her, the girl later kills herself.
"It's not a name taken from a random, cute cartoon," read a message from the anonymous expo visitor who alerted Orange Umbrella about the incident. "Behind her name is the serious social issue of underaged rape victims — and the real pain and suffering many women have experienced."
Shenyang Bolun Science and Technology Ltd., the sex toy company that manufactures the card game, told domestic media on Tuesday that the game designers had not read the novel in question, and had chosen the name "by coincidence."
"We're not afraid (of the backlash)," said the company's representative, surnamed Chen. "There are no ownership rights affiliated with (made-up) names."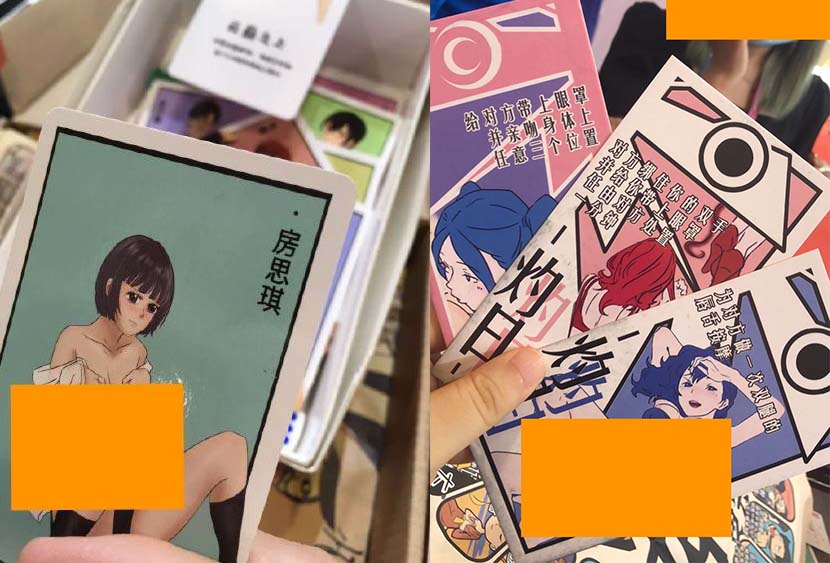 Cards featuring scantily clad female cartoon characters are seen during the China Adult-Care Expo in Shanghai, Aug. 23, 2020. From @橙雨伞微博 on Weibo
On the same day, the China Adult-Care Expo apologized for not carefully reviewing all of the products being promoted, and said the company behind the card game would be banned from attending future events.
"First Love Paradise of Fang Siqi" is a fictionalized account of real childhood trauma experienced by Taiwanese author Lin Yi-han, who said she was raped multiple times by her literature teacher in an after-school program. Lin killed herself two months after her book was published in 2017.
The critically acclaimed book — one of 2017's biggest hits — has been praised for shedding light on sexual assault in academia and encouraging victims to speak up. Alyosha, the pseudonym for a student who in 2017 accused a professor at the Beijing Film Academy of raping her, said at the time that public sympathy for Lin, the author, had inspired her to come forward.
Online, many were outraged by the sex toy company's perfunctory response, and a related hashtag has been viewed over 3 million times on microblogging platform Weibo.
"Fang Siqi is not a subject for sexual fantasy," read one post. "She's a symbol for thousands of women who suffered (similar violence). Disband your business if you don't have basic empathy."
"Even if it (the name) was a coincidence, you should be responsible for handling the aftermath," another said.
Chen Yaya, a researcher at the Shanghai Academy of Social Sciences who also comments on gender issues, said consumers sometimes have a morbid fascination with violence, even if they would never personally condone violent behavior.
"To many readers in China, Fang Siqi represents the image of an innocent teenager being brutally abused and insulted," Chen told Sixth Tone. "It crosses a moral bottom line for her story to be consumed as entertainment."
This is not the first time gender-based violence has been packaged for popular consumption in China. In July, thousands of disturbing memes about a murder case in the eastern city of Hangzhou — involving a man who killed his wife, dismembered her body, and discraded her remains in a septic tank — were shared on short-video app Douyin. They were eventually deleted for violating the platform's standards.
Editor: David Paulk.
(Header image: The character in the erotic card game who shares the same name as a teenage rape victim from a popular novel, seen at the China Adult-Care Expo in Shanghai, Aug. 23, 2020. From @橙雨伞微博 on Weibo)