Since arriving in Beixiazhu Village, in the eastern e-commerce hub of Yiwu, I've had more than half a month to get to know Shi Yong and his livestreaming team. Now in his 30s, Shi came to Yiwu as a migrant worker from the impoverished southwestern province of Guizhou six years ago, only to realize there was far more money to be made hawking health and skin care products online. Over the years, he's gradually assembled a livestreaming team composed of family and friends: his brother-in-law, the business-savvy "Brother Song"; his wife, a former laborer who goes by "Ling'er"; and his brother, the 19-year-old Shi Yan.
They are just a few of the many out-of-towners who've come to Beixiazhu Village in recent years looking to make a living selling goods on livestreaming apps such as Kuaishou. Thanks to sophisticated supply chains and an expansive logistics network, China's livestreaming e-commerce industry has exploded since 2017, reaching an estimated 433.8 billion yuan ($62.8 billion) of value in 2019. Looking to capitalize on this growth, local officials around Yiwu have encouraged the new industry with discounted rents, fast internet, and subsidized shipping rates.
Indeed, visitors to Beixiazhu, which today looks more like an industrial park than a traditional village, are greeted by a sign proclaiming it "The Village of Livestream Influencers." That sign may suggest a slight misunderstanding as to what a livestream influencer is, however. The past two years have seen the rise of true livestreaming stars like "lipstick prince" Li Jiaqi and Wei Ya, with tens of millions of followers each. In Beixiazhu, on the other hand, the vast majority of livestreamers I met were more like Shi Yong: small-scale retailers with limited resources struggling to carve out a niche for themselves amid China's livestreaming e-commerce boom.
In stark contrast to big-time influencers, with their coteries of assistants, Shi Yong handles everything from procurement to sales himself. Early each morning, he arrives at his team's shared rental space, which acts as both warehouse and recording studio. He starts the day by printing orders, responding to buyer queries, and contacting manufacturers. The space is littered with skin care products. Five or six mobile phones flicker from time to time; props from the previous night's streams are strewn all over the place.
Shi Yong largely buys and sells popular skin care products and nutritional supplements such as aojiru, a Japanese vegetable drink; meal substitutes; and Thanmelin, a beauty cream brand. His team can pick and choose what they want to sell that day from this selection — choices driven in part by the personas they've cultivated for themselves.
For example, Brother Song, who has over 140,000 followers on Kuaishou, has been particularly fond of aojiru of late. "Among my fans are a lot of middle-aged men from rural areas who work part-time jobs in the city," he says. "Most of them watch my livestream because we're about the same age and they feel a certain affinity with me. They don't have a clue about skin care products, but they get what a juice-cleanse or vitamin supplement is, and figure it'd make a good present for their wife or mom."
Shi Yong's own wife, who has nearly 300,000 followers, is focusing her efforts on products that promise a smooth, porcelain-like complexion. "It's much easier for women to sell skin care products," she says. "A lot of people want to be beautiful, but have no idea how to use these products. I can give them a demonstration, tell them which should be used together, and what things they should pay attention to."
The target customer of Shi Yong's team belongs to China's lower or lower middle classes, and has what French sociologist Pierre Bourdieu would term limited social capital: They lack both specialized knowledge and the resources and time to gain it. They therefore need careful instruction in what a product does and how it's used. While star influencers have the capital necessary to go after a higher class of consumers, Shi and his comrades focus on a limited subsection of people whose socioeconomic status is similar to their own.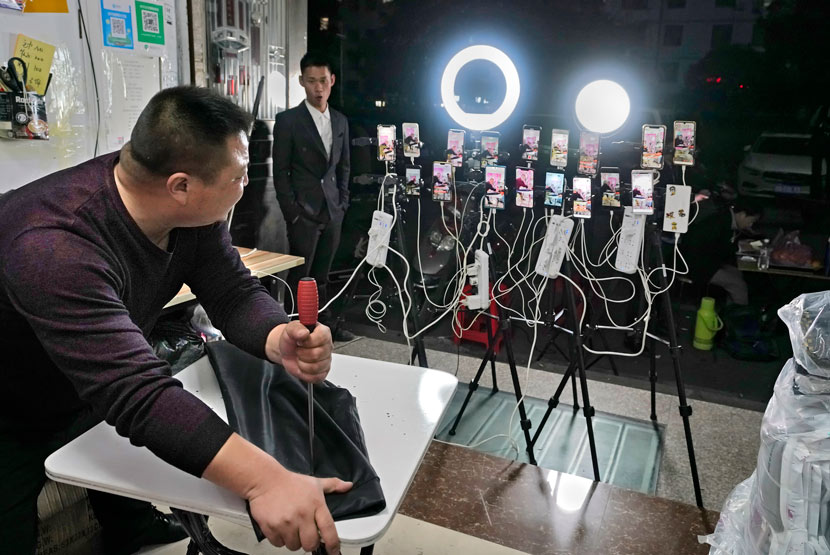 A shop owner demonstrates the quality of a pair of leather pants during a livestream in Beixiazhu Village, Zhejiang province, Nov. 9, 2019. Tian Ming/People Visual
The difference between grassroots online retailers and famous influencers is also evident in their production values. Before their daily broadcast, team members prime their accounts by uploading short videos of products to attract attention. If a video is popular enough to get picked up by the platform's recommendation algorithm, it will naturally draw more viewers to that day's livestreams.
But team members' opinions differ as to whether there's a reliable formula for going viral. "Your video has to be interesting and impactful," Brother Song says. "Last year, when I was selling (packaged) face masks, I suddenly had the impulse to slice open a whole stack of them at once with a knife. The video suddenly went viral, with more than 5 million views the day it was uploaded. That day, our livestream made over 30,000 yuan ($4,300)."
Shi Yan, Shi Yong's younger brother, disagrees. The teenager recalls how a random video of his once got over 2 million views, but he's been unable to replicate his success. "It's a very mysterious thing, going viral," he says.
Team members may be divided on what to do, but they are unanimous as to what not to do. I once asked them, "Why don't you try more professional shooting equipment, or find a beautiful model to boost views?" They immediately shot me down.
In their view, because they have less traffic, they need more "high-quality" fans. That is, fans who are "more willing to spend money." In the low- to mid-end market, they have to distinguish themselves from slick, big-budget infomercials on the one hand; and on the other, from so-called WeMerchants: online hawkers who rely on information bombing to increase clicks, mostly via social networking platform WeChat.
They thus have no interest in attracting followers by playing with people's feelings or trying to make them laugh. In their experience, attempts at viral humor don't tend to go down well with their target demographic. "We are small-scale livestreamers," Shi Yong stresses. "To develop a bond with our audience, we have to let the products be the star — we mustn't try to steal the spotlight from what we're selling."
The idea of "authenticity" comes up a lot of in conversations with Shi Yong's team. Putting ordinary-looking livestreamers in front of shabby backgrounds and avoiding gimmicks might seem at odds with the strategies famous influencers use to stay ahead of the pack, but small- and medium-sized livestreamers like Shi Yong believe it's their best bet. They want audiences to see them as authentic and worthy of trust.
Contradicting his billboard, the head of Beixiazhu Village once told a fellow member of my research team, "We only have livestreamers here, not influencers." That seems a more apt description. A small number of stars might have ridden the livestreaming e-commerce boom to fame, but we shouldn't forget ordinary people like Shi Yong and his team. To them, e-commerce may not be a path to dazzling sales figures, glamorous lives, or big business dreams, but it's a living.
The fieldwork for this article was conducted as part of a research project on e-commerce led by Professor Qian Linliang of Southeast University.
Translator: Lewis Wright; editors: Cai Yineng and Kilian O'Donnell; portrait artist: Zhang Zeqin.
(Header image: A shop owner showcases a new style of leather pants during a live-streaming in Beixiazhu Village, Zhejiang province, Nov. 10, 2019. Tian Ming/People Visual)