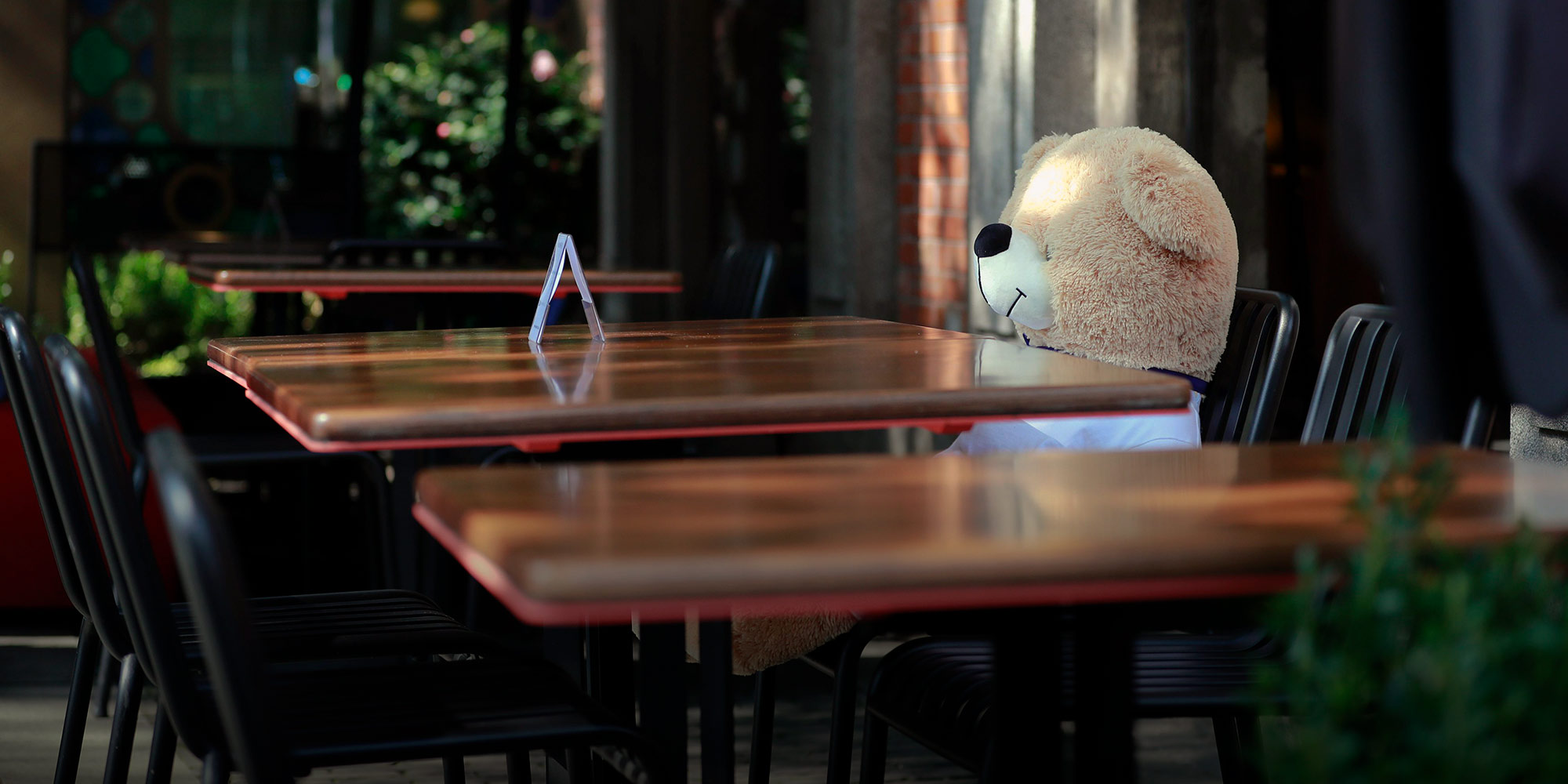 FEATURES
Single and Proud: China's Millennials Embrace a Solo Lifestyle
For young Chinese, being single was once a source of shame. Now, it's becoming a badge of freedom — and businesses are scrambling to cash in.
At Beijing's trendiest new noodle joint, human interaction is off the menu.
Inside the restaurant's minimalist interior, diners are seated along long, gunmetal tables, each enclosed in an individual cubicle. The staff avoid contact with the customers as much as they can, sliding steaming bowls across the tables using a retractable silver board.
The silent eatery looks like it was designed for the post-coronavirus era, but it's actually tapping into an entirely different form of social distancing: the growing number of affluent young Chinese who are dining solo.
Dining out alone used to be rare in China, where food is traditionally shared by large groups gathered around a circular table. But these attitudes are softening as millennials embrace the single lifestyle.
Previously, many Chinese graduates would settle down soon after college, living in the family home until they got married. Now, they're increasingly putting off marriage until their 30s and building their own lives in major cities, where they often work intense jobs that leave little time for socializing.
The number of singles in China has now surpassed 200 million, according to government data released last year. The total number of single people living alone, meanwhile, is expected to reach 90 million by 2021.
The Beijing noodle bar, 23 Seats, is one of many businesses catering to this new breed of "single dogs" — as China's singletons self-mockingly call themselves.
Sun Yun, 23 Seats' 33-year-old co-owner, says its deliberately antisocial décor is designed to attract people who simply want to enjoy a good meal without feeling anxious about their lack of company.
"We could have designed the layout to provide seats for more customers, but in the end we decided against this," Sun tells Sixth Tone. "We wanted to create a space where solo diners wouldn't feel uncomfortable when they walk in."
It's a concept that's catching on. Haidilao, a leading hot pot chain, has started putting giant teddy bears in empty chairs, to keep lonely diners company. Other restaurants have created special single-friendly meal deals with reduced portion sizes.
Since opening last year in the fashionable downtown neighborhood of Sanlitun, 23 Seats has thrived. It's now one of the Chinese capital's highest-rated restaurants on Dianping, China's Yelp-like listings app.
"At the moment, half of our diners come here alone, while … many of the group customers will revisit later by themselves," says Sun. "It'll take time for most Chinese to accept the idea of eating alone."
The solo dining revolution is spreading online, too. Du Yusang is one of a growing number of social media stars sharing videos of herself eating alone on the popular streaming platform Bilibili.
Each weekend, the 23-year-old cooks lavish meals for herself and posts the results for her 68,000 followers. For her, the vlogs are a way to help her fans understand it's possible to live well while living alone.
"I stumbled across some 'solo-dining' videos when I was going through a really bad time during my last year at university, and these videos healed me: Even when you live alone, you can still have a great life by making decent meals," says Du. "Now, I want to deliver the same message."
Besides filming herself rustling up tasty portions of Japanese ramen or Korean bibimbap, Du also shares videos of herself painting, reading, and binge-watching TV by herself. Since January 2019, she's produced about 50 vlogs, with the most popular attracting over 120,000 views and comments.
The content is mainly targeted at young people who either live alone or are about to move into their own apartment. According to Du, half of her fans are aged between 17 and 25, and they regularly message her asking for her advice on solo living.
"Some students say they're looking forward to having a peaceful solo life after graduation," says Du. "Others will ask me for links to buy single-friendly kitchenware."
Du's kitchen is fully stocked with equipment designed to make single portions, including a reduced-size pan, steamer, oven, rice cooker, soybean milk maker, and even a small hot pot set. According to the vlogger, many companies are launching new collections of single-friendly appliances.
Little Bears Electric Appliances, a Chinese appliance maker, is one of the brands exploring this new market. According to Deng Caike, director of Little Bears' research and development center, half of the company's 40 product categories now include single-friendly options.
"The 'family' is not the smallest unit we design products for," says Deng. "Instead, our key research is based on the needs of individuals."
Deng's team found more conventional rice cookers, which often hold up to 5 liters, were far beyond young customers' needs. They have since launched a new cooker with half the capacity and cute new branding designed to appeal to target consumers, he says.
"It will look more delicate for a smaller kitchen, and it won't be awkward for single diners to make one-person portions of rice," says Deng. "We hope our mini appliances can accompany our users as silent friends."
Demand for solo-dining products appears to be growing rapidly in China. According to data released by e-commerce giant Alibaba, consumers bought 2.3 million "mini electric appliances" during last year's Singles' Day shopping festival. Sales of small 200-milliliter wine bottles and half-kilo bags of rice are up 30% year-over-year in 2020 on Alibaba's platforms.
Yuan Yibo, an analyst at investment company Mude Capital, says many other industries are also benefitting from the rising number of young people choosing to stay single. Food delivery, for-rent real estate, pets, and gaming are among the biggest winners, though it's a trend that's difficult to quantify, he adds.
Over recent years, there has been growing concern in China about the economic implications of millennials' reluctance to marry. Some argue the country's declining birth rate will undermine the country's long-term growth, while others believe single people on low incomes focus on saving money, which acts as a drag on consumption. Chinese authorities have launched a swath of pro-marriage policies, including the introduction of mandatory "cool-off periods" for couples seeking a divorce.
Yet Yuan argues young singles could actually be providing the economy with a much-needed boost. Unlike married couples, who often save to provide for their family and their children's education, single people tend to be free-spending.
"They dare to spend their money, no matter whether it's planned or not," says Yuan. "Their expenditure rises in line with their incomes. And when they expect they'll receive a bonus, they're not afraid to spend excessively."
Some young people who choose to go solo certainly feel like they're contributing to the economy. Yitian, a 30-year-old Shanghai resident, has been living on her own since July. She estimates her new lifestyle is costing her over 6,000 yuan ($870) per month in added expenses.
"The only defect of living alone is the extra expenditure on rent and daily necessities," says Yitian, who declined to give her full name for privacy reasons. "But it's worth it."
Yitian, who is single, previously lived with her parents, but she decided to move out after falling out with them repeatedly over her lifestyle choices. While she enjoys sleeping in and having late-night drinking sessions with friends, her parents are keen for her to settle down and tie the knot.
"I'm totally tired of my parents' whining," says Yitian. "Now, nobody will shout at me about why I come home after midnight anymore."
According to Yitian, her parents used to be opposed to her living alone, believing it was too dangerous. But after weeks of COVID-19 lockdown earlier this year, during which the family bickered almost constantly, they had a change of heart.
"They agree I'm not a child anymore and I can be responsible for making my own decisions, including about staying single and living alone," says Yitian.
After moving into her new apartment, Yitian officially declared her independence with a post on social media. "Invite me for drinks — I'm always free now!" she wrote.
The reaction of her friends indicates how much social attitudes in China have changed. According to Yitian, most of her friends congratulated her on her decision to live freely. There was only one negative comment, from someone she barely knew.
"Drinking late and living alone? That sounds like what bad girls do," the offending reply read. Yitian immediately deleted it and unfriended the contact.
"It's 2020: It's time to stop these malicious stereotypes toward single people," she says.
Additional reporting: Liu Siqi; editor: Dominic Morgan.
(Header image: A teddy bear sits alone at a restaurant table in Shanghai, Feb. 24, 2020. Tang Yanjun/CNS/People Visual)