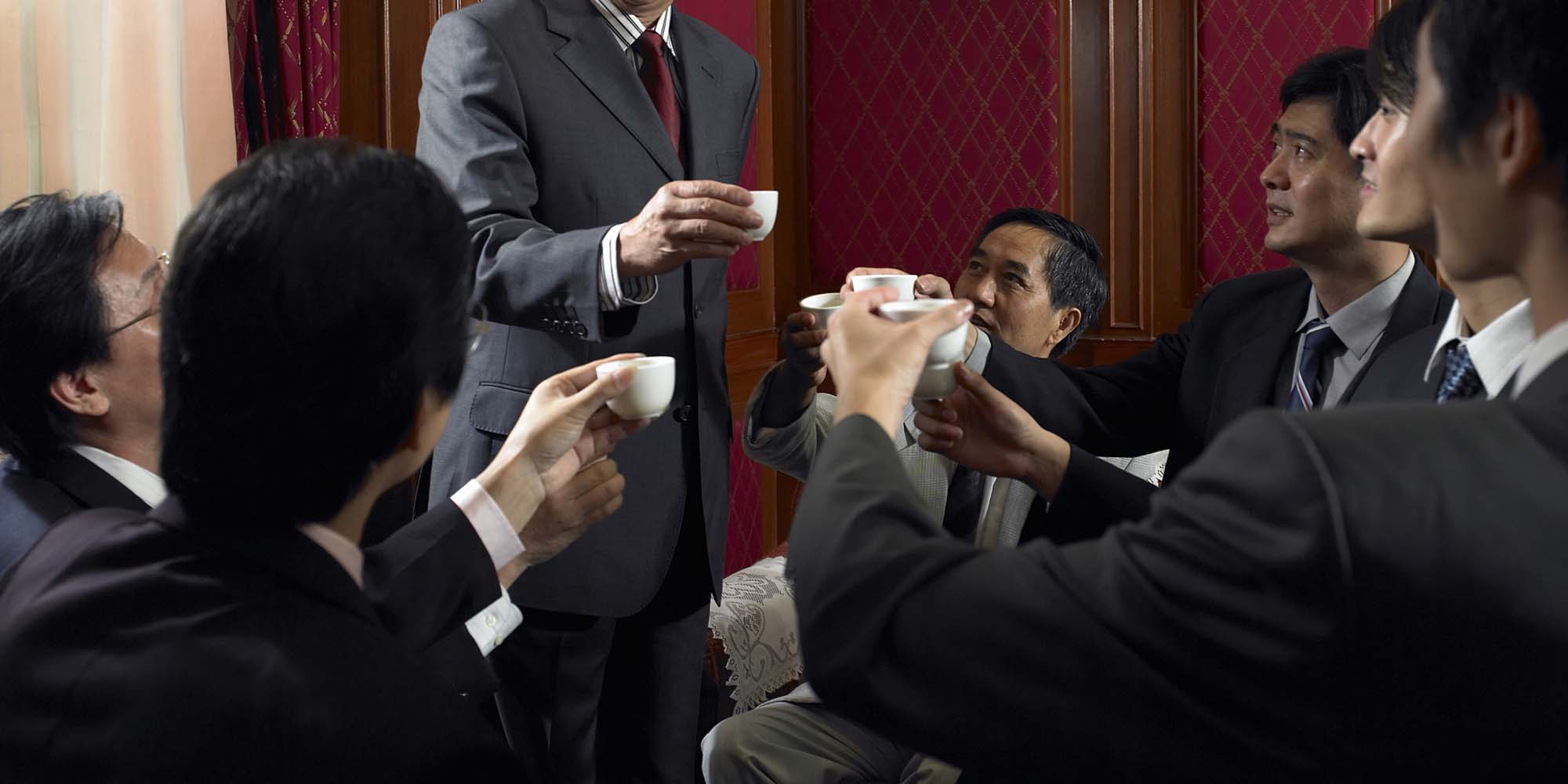 NEWS
Bank Worker Slapped, Insulted for Not Drinking With Colleagues
The employee's experience highlights the toxic drinking culture that's still common at many Chinese workplaces.
A bank in Beijing has been chastised for its "revolting" workplace drinking culture after a new clerk was insulted and slapped for not drinking alcohol during an informal banquet.
In a statement Monday, the Beijing branch of Xiamen International Bank confirmed that some employees had "behaved inappropriately" and "caused harm" to the new hire, surnamed Yang. Two employees involved in the incident received warnings and were deprived of their one-time quarterly and monthly bonuses, respectively.
Yang, who says he doesn't consume alcohol for personal reasons, had turned down a toast when a senior staff member insisted he drink, according to a screenshot of a chat message shared on microblogging platform Weibo. After several rounds of drinking, another employee accused Yang of being disrespectful, slapping him in the face and cursing him.
Yang took his leave from the dining table, but a flock of co-workers followed him to the elevator and continued to verbally insult him, according to the screenshot. His description of the scene included the phrases "floors covered with blood," "new co-workers puking outside," and "tipsy officials being touchy with female co-workers."
"I was shocked and disappointed," Yang wrote in a group chat with fresh graduates seeking employment. "As someone who just entered the workplace, the incident destroyed all my illusions about the industry. I want to ask HR: Does my inability to drink fall short of the company's job requirement?"
Drinking is a pervasive social ritual and a common obligation during business events in China. To show respect for and humility toward higher officials, young employees are expected to make toasts and express gratitude at the dining table. Senior managers have even been known to enlist younger staff members as proxy drinkers when they cannot hold their drink, or prefer not to be put to the test.
John Osburg, author of "Anxious Wealth: Money and Morality Among China's New Rich," said compelling young staff to drink is a means of "forcibly integrating them into the hierarchical social network and culture" of the workplace.
"It's a vicious cycle," Osburg, who spent four years doing fieldwork with wealthy entrepreneurs in Chengdu, told Sixth Tone. "When the current leaders were young, they were likely forced to drink with their co-workers and toast their bosses. Now that they are in leadership positions, they expect the same treatment from their subordinates, even if they themselves don't like to drink anymore."
Online, many were empathetic with Yang's experience, calling for an end to toxic drinking culture at workplaces. A related hashtag on Weibo had been viewed 640 million times as of Monday afternoon.
"Some officials are not forcing you to drink alcohol," read one comment under a related post. "They are asking you to demonstrate your obeisance to their orders, so they can be satisfied with their power. If you turn down their request, they will feel impotent and ashamed."
"Can it still be 'culture' or 'etiquette' if its price is to sacrifice one's health and even life?" read another.
This is not the first time China's toxic drinking culture has become a hotly contested topic online. In 2019, a professor at Zhejiang University said all his student mentees should be able to drink "half a catty of liquor," a comment that garnered much criticism and pushback.
Earlier this year, a security guard died after participating in a drinking competition with baijiu, a potent Chinese liquor, during an informal dinner with his superiors after work.
While traditional business drinking culture endures, Osburg said many young people are rejecting its intricate politics and etiquette. With the now-quotidian experience of drinking at bars with friends, they are hesitant to embrace "elaborate toasting and power games." For them, the purpose of consuming alcohol has shifted toward relaxing, cultivating friendships, and having fun.
"China's education system is mostly a meritocracy that tends to reward hard work and intelligence," Osburg said. "Many young people accustomed to this system are often shocked when they leave school and enter the workplace to find that drinking ability and cultivating relationships with superiors is sometimes as important, if not more important, than how well they do their jobs."
Editor: Bibek Bhandari.
(Header image: Stone/People Visual)