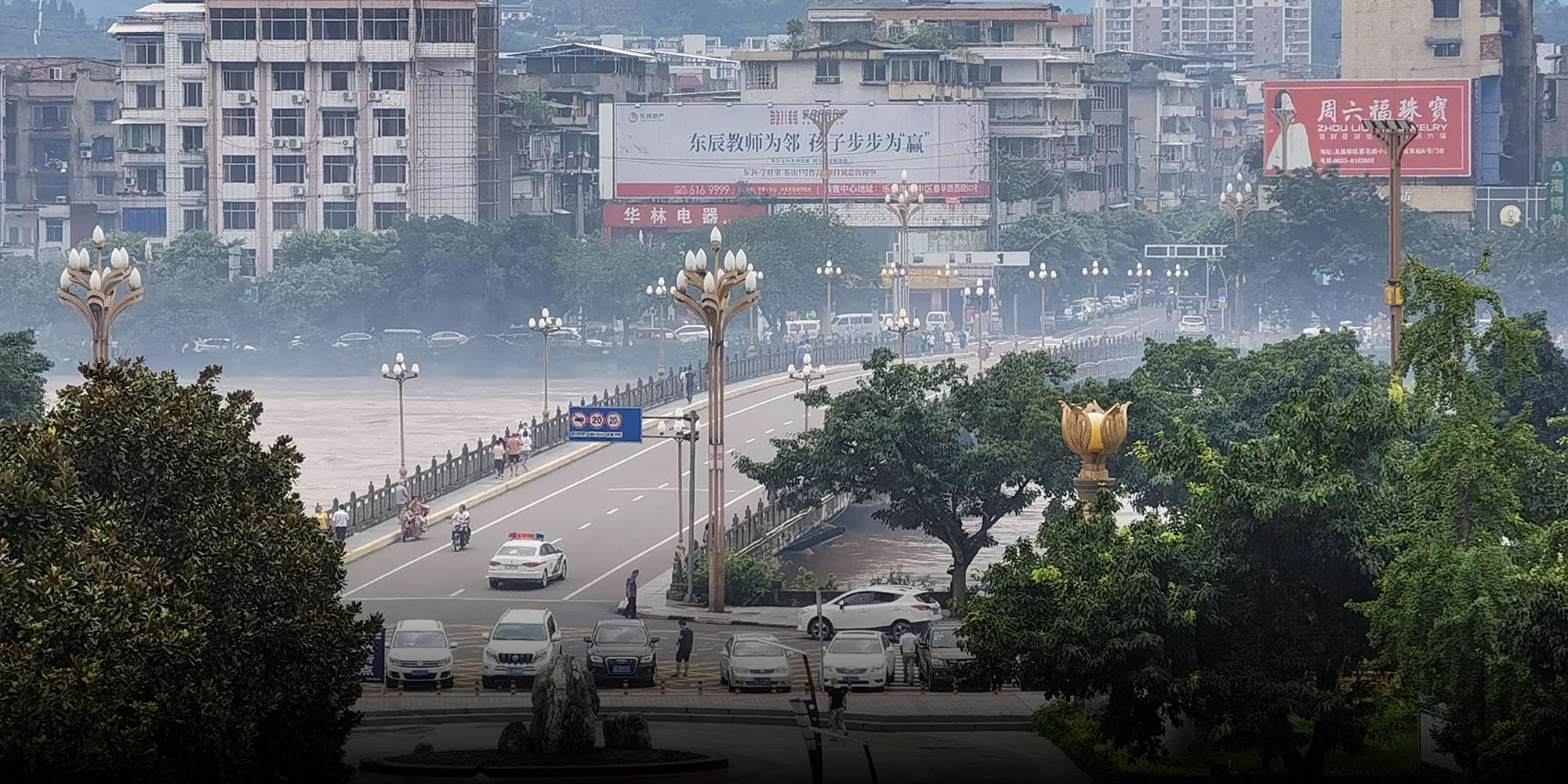 NEWS
Panicked Residents Evacuate Amid Suspected Gas Leak in Sichuan
Authorities in the city of Leshan say they're investigating the source of a pungent fog reported by residents.
Update: On Aug. 21, Leshan authorities reported that a "mist containing a small amount of irritating hydrogen chloride was released into the air" from Sichuan Yongxiang Poly-Silicon Co. Ltd., as the company's exhaust filtration system was incapacitated by a power outage caused by local flooding.
Residents of Leshan in southwestern China's Sichuan province are relocating over what they suspect is a gas leak from a chemical factory.
Several people in the city's Wutongqiao District told Sixth Tone about a "thick fog" and acrid smell they noticed Thursday morning, and which they believe is coming from a chemical factory in the area. Many claim to have seen the fog near their homes, while others say they've seen it from a distance.
"The fog turned so thick that I couldn't see anything over there," one resident told Sixth Tone. "It lasted half an hour, then dissipated." The woman declined to give her name for fear of reprisals by the authorities.
Leshan resident Shui Ailun said he didn't see any fog but smelled a "strong odor" at around 9 a.m. The 24-year-old added that he lives 1 kilometer from the chemical plants and is accustomed to such smells, though he became conscious of this one after relatives called to warn him about the suspected gas leak.
Long Zhenhai, a 33-year-old taxi driver, said he, too, saw the strange fog and smelled the unfamiliar odor in the morning. He immediately left the area with his family to avoid potential health risks.
Panicked residents leaving the district has created traffic congestion in the area, according to media reports.
Wutongqiao District is one of the most important chemical hubs in Sichuan province. It's also one of the country's 10 major production bases for raw materials.
The district government said it is investigating the cause of the fog and odor described by residents. Authorities also said there has been "no explosion at the district's chemical companies."
An official from the chemicals and emergency management department of Leshan's environment bureau told Sixth Tone that "there was no gas leak and it's all a rumor." The official, who declined to give his name, added that no "excessive" gas levels were detected during an air-quality test conducted after residents' initial complaints.
The city and district emergency management offices, as well as the district's publicity department, declined Sixth Tone's interview request, instead citing the district government's official statement.
Two chemical companies residents believe are responsible for the alleged gas leak have both denied any incidents at their plants, saying only that they've been cleaning up around their facilities due to recent floods that have affected thousands of people in the city, as well as many businesses.
Duan Yong, the director of Sichuan Yongxiang Co. Ltd., one of the chemical plants, told Sixth Tone's sister publication The Paper that he had seen a "thin fog" and smelled an odor in the air Thursday morning, though he hadn't noticed anything unusual at his plant.
Despite efforts to assuage the residents' fears, memories of another gas leak at a local chemical plant in 2015 are still fresh in many minds. That incident resulted in a thick fog and even a fire, though no casualties were reported.
With more and more chemical companies moving into Wutongqiao District, residents are worried about their health and safety. They said the district once resembled West Lake, a picturesque tourist area in the eastern city of Hangzhou, but now they think it's closer to a "smelly dump."
"The residential area is surrounded by chemical plants," said Long, the taxi driver. "Housing prices are low here. If I had any other option, I would move my family somewhere else."
Editor: Bibek Bhandari.
(Header image: A haze hangs in the air around Siwangguan Bridge in Wutongqiao District, Leshan, Sichuan province, Aug. 18, 2020. From @夕颜yuukao on Weibo)