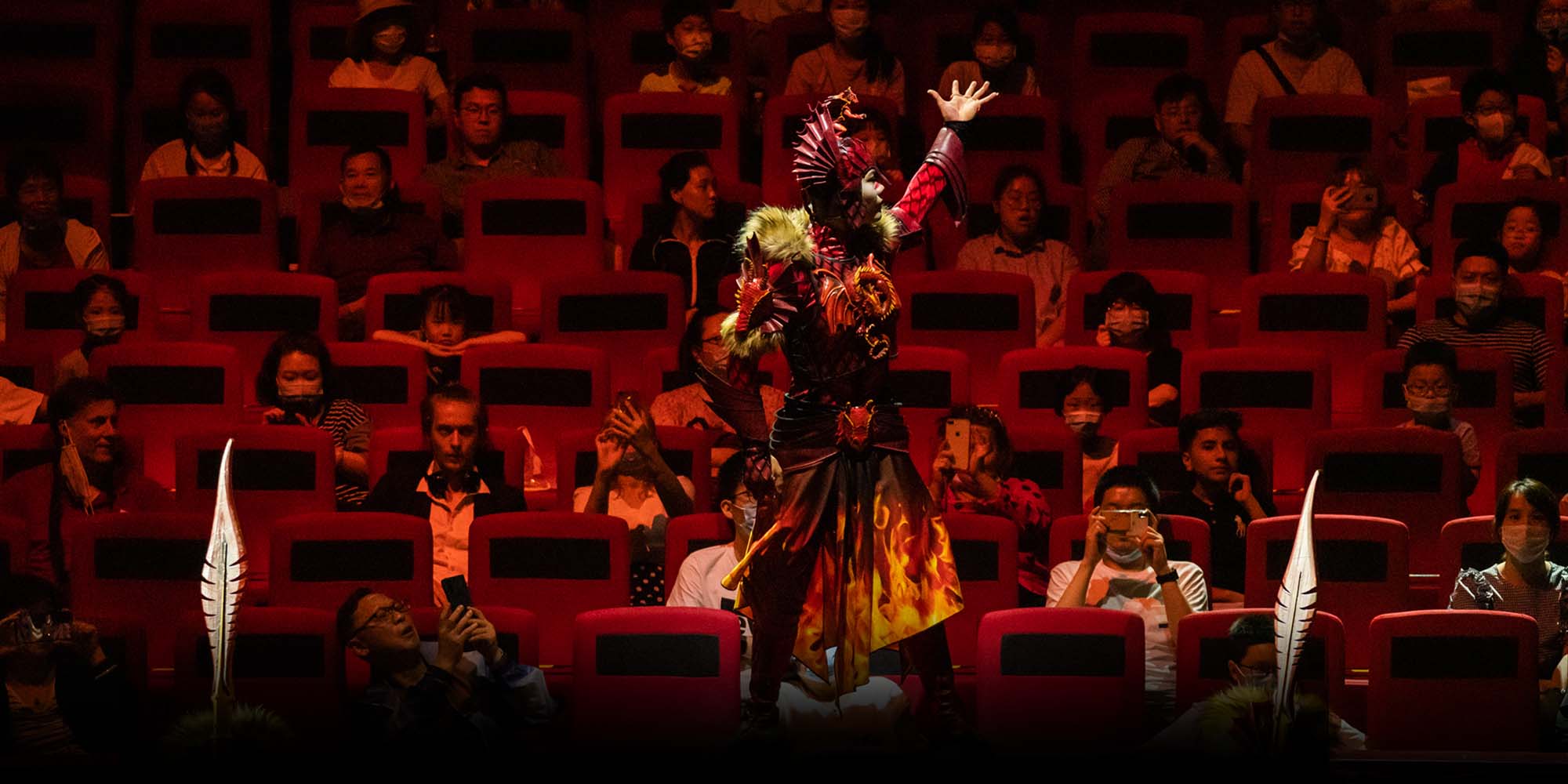 FEATURES
The Show Must Go On: How Cirque du Soleil Survived China's Lockdown
For the Canadian firm's newest troupe, keeping the show running through 2020 has been a monumental challenge — especially as several key acrobats are stuck outside China.
ZHEJIANG, East China — Even by circus standards, the past 12 months have been a wild ride for Cirque du Soleil's newest troupe.
Last August, the Canadian entertainment company launched its first resident show in Asia in years — a lavish production titled "X: The Land of Fantasy" — in the eastern Chinese city of Hangzhou.
At the time, the premiere appeared to herald the start of a new era for Cirque, whose global showbiz empire already encompassed over 40 shows. China's live events market was booming, surpassing 20 billion yuan ($2.9 billion) for the first time in 2019. Foreign franchises from "Mamma Mia!" to "Cats" were filling arenas across the country.
Then, COVID-19 happened.
The global lockdowns decimated the entertainment industries in China and across the world. By March, Cirque du Soleil had halted its entire roster of shows and laid off over 90% of its staff. Its Chinese adventure appeared to be on shaky ground.
Yet, somehow, the company's new Hangzhou-based show has survived. It's now one of only two Cirque productions operating worldwide.
The improbable feat owes much to the deep pockets of "X"'s Chinese backers, but also to the ingenuity of its cast. With key artists stranded overseas, the troupe faced a herculean task keeping the show on the road. 
Curtain Falls
Acrobat He Guowei still recalls the anxiety he felt on Jan. 23, when word began to spread through the troupe that the creative director was calling an emergency meeting after that night's show.
Up to that point, there had been no indication "X" was in trouble. Over the previous months, He had performed over 100 shows to a total of nearly 100,000 spectators. The high-tech arena specially built to host the circus act in downtown Hangzhou had attracted good crowds nearly every night.
What's more, "X" had always been designed as a long-term project. Cirque had been meticulously planning a new China base for years, opening talks with its local partner — real estate group Hangzhou Xintiandi — about a co-production as early as 2015.
The two sides had left nothing to chance. Xintiandi — which acted as the show's investor, owner, and operations manager — oversaw the creation of a giant new venue to host the performances. Converted from a machinery factory in downtown Hangzhou, the state-of-the-art auditorium features a 100-meter-long stage and two seating areas, each capable of rotating 360 degrees.
In 2018, He had been hired along with a troupe of acrobats from the northern city of Tianjin. To prepare for their new roles, Cirque flew the Chinese performers to its Montreal headquarters, where they underwent three months of training.
"We learned a lot over there, from music to performance and creativity," says He. "And our individual understanding of art really developed, too."
After their return, they joined a team of over 200 people — about one-third of whom were non-Chinese — that created the new show together over the first eight months of 2019.
"X: The Land of Fantasy" was carefully crafted to blend Chinese elements into Cirque's time-tested creative formula. The 75-minute performance followed the story of two heroes as they tried to bring about peace between their warring kingdoms, interspersed with battle scenes, operatic singing, and high-wire action.
And it seemed to work. Dressed as a "shadow warrior" — one of many dark, ninja-like henchmen who pursue the story's heroes — He recalls the elation he felt on opening night as he emerged from a pit in the stage floor before 1,500 spectators.
"In my mind's eye, I could see all those Cirque videos I'd seen before, flashing before me. But now, it was me in the frame," says the 32-year-old, who started training to be an acrobat at the age of 12. "It was really like a dream come true."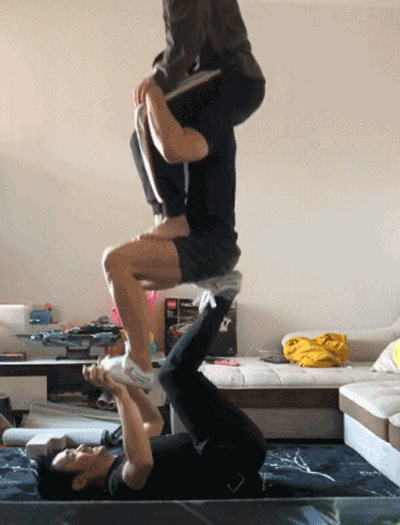 But as soon as the director started speaking after the January show, He and his colleagues realized this dream was under threat.
The director said the Chinese government had issued a total ban on live performances to curb the spread of a novel coronavirus, which had emerged in the central city of Wuhan a few weeks earlier.
Cirque's entire run of shows was called off indefinitely, with the expectation that the ban would last until at least mid-February. Across China, this ban would ultimately cause over 20,000 live shows to be delayed or cancelled during the first three months of the year.
The same day, Wuhan — a sprawling metropolis of 11 million people — was dramatically locked down, with all buses, trains, and cars prevented from entering or leaving the city.
He recalls feeling shell-shocked after the meeting. It was the day before Lunar Near Year's Eve — a major holiday in China, akin to Christmas in the West, when families traditionally gather. Yet the acrobat was stranded 1,200 kilometers from his hometown in northern China, uncertain what was about to happen.
"We were very low and fearful," He tells Sixth Tone. "We didn't have a clue what the virus was going to be like … and how long it would go on for."
For the next two months, He found himself trapped in his apartment with two other acrobats. They only went outside once a week to stock up on food.
The performers didn't know whether the show would ever resume, but they still needed to keep up an intense physical training regime. In one scene in "X," He is required to lie at the bottom of a huge human tower, holding up four men with just his legs.
"What we do isn't like other jobs, where when you're resting, you can completely relax at home and do nothing," says He. "We had to maintain our physiques at home, but we had no idea how long we'd be doing it, or what it was all for."
Unable to go outside due to Hangzhou's strict lockdown rules, the acrobats had to get creative. In the absence of weights, they lifted each other. 
In the living room, they recreated a miniature version of the human tower, with He lying at the bottom and holding up the other two with his legs. These training sessions had to be done in the morning, otherwise the neighbors would complain about the noise, He says.
Meanwhile, foreign troupe members including Mathieu Chouinard — a Canadian actor who plays a sage-like character named The Watcher in "X" — had scattered across the world. 
Initially, Chouinard says he didn't realize how serious the virus was, figuring it couldn't be much worse than a seasonal flu outbreak. But in February, he decided to hole up in Thailand, to avoid being affected by Hangzhou's tightening lockdown policies. 
It was only in March — as COVID-19 began to spread globally and live events companies including Cirque announced dramatic cutbacks — that he realized the show might be under threat.
"When it spread worldwide, it became a real question of, 'OK, are we still going to have jobs in two weeks?'" says Chouinard. "It really felt like the world was changing … Performing arts was changing."
Still unsure whether "X" would survive, but seeing that China seemed to be getting the virus under control, Chouinard flew back to Hangzhou in March. His timing was perfect: Just two weeks later, China closed its borders to foreign nationals.
Picking Up the Pieces
By April, life in Chinese cities appeared to be returning to normal — albeit with mandatory face mask-wearing. Wuhan had finally reopened, and the country's bars and nightclubs were thumping once more.
Theatrical shows like Cirque, however, were still firmly shut down.
Xia Xiaoyu, Xintiandi's general manager, spent weeks in daily contact with the district government and local tourism bureau throughout this period, trying to secure authorization for "X" to resume performances.
According to Xia, local officials were very concerned about the welfare of the show — a project they hoped would be a long-term asset for Hangzhou's already vibrant tourism sector. But a reboot required permission from China's higher authorities.
On May 12, the national government edict finally arrived, allowing shows to open across the country provided they adhere to strict virus-control measures. Xia immediately sent over an application to the authorities, and the circus got the green light to open its doors.
For the troupe, the return to work felt surreal. All employees were required to wear masks and have their temperatures checked on arrival. The whole auditorium was disinfected twice daily and its ventilation systems altered to stop air being recycled. Attendance levels were capped at 50%.
These were necessary inconveniences, but the virus would also have a major impact on the show's content.
In an opening routine, happy "villagers" — including a fisher with a giant octopus draped over one shoulder — run amok among the audience and perform magic tricks for individual spectators. But such interactions had to be scrapped for safety reasons.
Far more seriously, 22 of the show's 28 foreign performers — many of whom were experts in highly specialized skills that take years to master — were still stuck abroad due to China's border restrictions.
These travel bans have forced several touring productions to delay or cancel their runs, including a Korean-produced version of the musical "Jekyll & Hyde." But for Hangzhou Cirque, the show would go on.
The crew, however, faced a daunting task getting ready for the circus's big reopening on June 3. Around 50% of the show's content needed to be remade, according to acrobat He.
Over a manic three-week period, "X" hired over a dozen replacement actors and acrobats from troupes across China, who had to be trained and taught the show in its entirety.
Scenes containing foreign stars were replaced and re-choreographed. A duo of figure-skating Russians was swapped out for a group of Cyr wheel performers, who roll around the stage inside giant metal hoops. The high-flying bungee rope artists were substituted for a "water meteor" juggling act. Local trampoline specialists created a simplified version of the show's original "trampowall" segment, in which the experienced foreign artists would flip and spin off of a high vertical wall.
Changing or cutting acts is routine during Cirque shows, but making so many changes while remaining faithful to the "X" storyline was a huge challenge, according to Chouinard.
"The show was built with a plot and a storyline," he says. "The acts themselves have meaning in the heroes' journeys."
The hardest-working crewmembers were the technical team, who had to adjust the music, graphics, lighting, and animations to fit with the altered show. Each change, meanwhile, had to be discussed and approved by Cirque's headquarters back in Canada.
"It was almost like a new creation," says Chouinard. "It was a tremendous amount of work, but people stuck together and helped."
Finally, 130 days after it had been shut down, "X" gave its first performance to a special audience of Chinese medical workers and other staff who had served on the front lines during the COVID-19 crisis.
For He, the reopening felt nearly as emotional as the premiere, the months of effort and training in isolation finally paying off.
"I felt excited and really moved," says He. "I felt my efforts over those two months hadn't been wasted, and the anti-virus measures had succeeded."
An Uncertain Future
Since July 8, the troupe has returned to performing 21 shows per month, just as it did before the virus. Yet the show remains under huge financial pressure.
The Hangzhou show was created at enormous expense. In media interviews, Xia has claimed the production costs for "X" were 50% higher than similar shows in China, as Cirque insists on everything being of the highest quality and sourced from vendors of their choice.
Between February and June, Xintiandi continued to pay staff wages, venue bills, financial payments, and maintenance costs, without earning 1 yuan in income.
The Chinese firm, meanwhile, still has to pay Cirque an annual licensing fee for the show. When Sixth Tone spoke with Xia in July, she said the company was currently negotiating this year's payment with its Canadian partner, with a slight grimace.
The deep pockets of Xintiandi have enabled the show to absorb these losses, but the current 50% attendance limit means the show can't run profitably.
Even if the cap is lifted, it's possible "X" could be affected by the wider economic headwinds buffeting China, Xia admits. Hangzhou is one of China's top tourist destinations, but visitor numbers have plummeted this year.
Then, there's the uncertainty surrounding Cirque du Soleil itself. In late June, the company officially filed for bankruptcy protection. It has since reached an agreement with creditors providing $900 million in debt forgiveness and $375 million in new financing, and this week Canadian private equity firm Capital Catalyst Group succeeded in winning control of the company.
As it's owned by Xintiandi, "X" has been shielded from this turmoil. The show recently celebrated its one-year anniversary with an outdoor circus carnival in Hangzhou. But Xia says the company still needs to find new sources of income.
Over recent months, Xintiandi has begun renting out the "X" auditorium for events. The arena has already hosted a press event for the Chinese car brand Geely, a taping of the reality TV show "Go Fighting!" starring Angelababy, and a children's theater production.
The troupe is also exploring ways to repackage the show's content to sell to other entertainment venues, such as Xintiandi's holiday resorts.
Yet over the long term, the show's survival will likely depend on China's live events market finally recovering from its post-coronavirus depression.
Wei Jiayi, who runs a media and consulting firm focused on China's theater industry, says the 50% attendance cap is preventing most Chinese shows from reopening. High theater rental costs mean most shows need at least 60% of seats to be occupied to make a profit.
Chouinard, however, says he remains optimistic. For him, nothing can replace the magic of live performance, and so the sector is sure to bounce back eventually.
"Yes, performing arts will have to adapt, and these kinds of big shows will also have to adapt," he says. "But there's been no time in the history of mankind when there was no performance. We always find a way."
Editor: Dominic Morgan.
(Header image: Spectators watch a Cirque du Soleil show at the Xintiandi Group Sun Theater in Hangzhou, Zhejiang province, June 19, 2020. Courtesy of Cirque du Soleil)