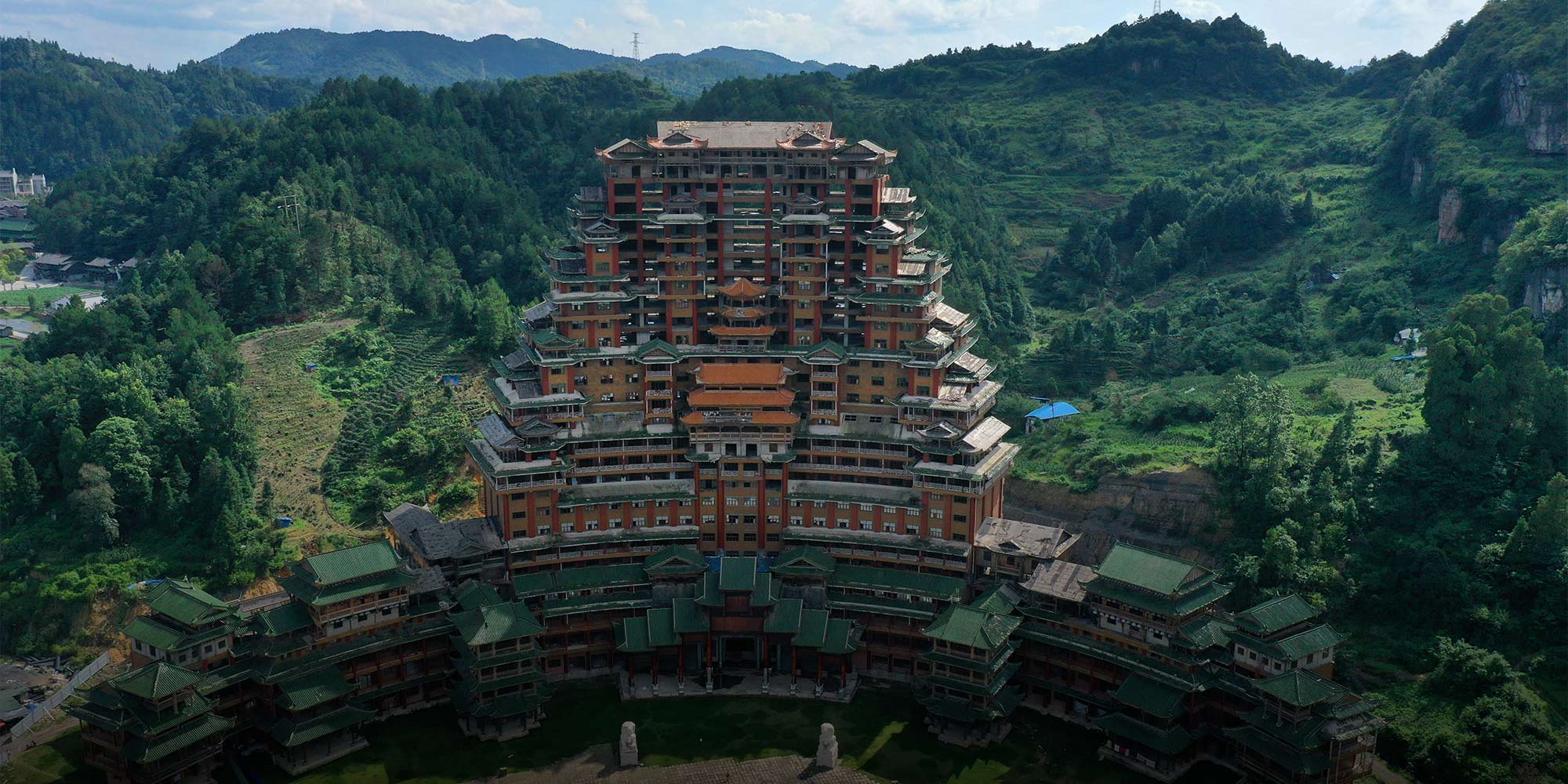 VOICES & OPINION
How Local Governments' 'Hidden Debts' Create Very Visible Losses
Many ambitious local officials treat their fiefs like businesses, with one exception: There's almost no limit on the amount of debt they can take on.
This July, an unfinished, 200 million yuan ($28.9 million) vanity project in the southwestern county of Dushan became a headache for local officials when it was featured in an online documentary on profligate state spending.
Between 2011 and 2018, under the leadership of then-county party secretary Pan Zhili, Dushan embarked on a spending spree, pouring hundreds of millions of yuan — sometimes billions — into everything from lavish human-made tourism destinations to industrial parks, many of which now sit empty or incomplete. In total, Dushan, which took in a little over 1 billion yuan in revenue in 2018 and only graduated from the national list of "impoverished counties" this March, managed to amass 40 billion yuan in debt.
Pan was indicted on corruption charges late last year. But Dushan County's woes are only the tip of the iceberg when it comes to runaway local government debts. Just last week, domestic media reported that an impoverished county in the northwestern Shaanxi province spent close to four times its annual revenue on a palatial new middle school.
Unwinding these debts won't be easy. In addition to official, Ministry of Finance-approved borrowing — which itself has been on an upward trend since 2015 — much of China's local government debt load is in the form of so-called hidden debts. These provide cash-hungry local officials access to almost unlimited funding for their pet projects, but exist in a legal gray area rife with risk.
Prior to 2009, Chinese law banned local governments from accumulating their own debt. As a result, local governments instead turned to a range of public investment and financing platforms, raising money by borrowing through locally controlled state-owned enterprises or cutout "local government financing vehicles." As these liabilities didn't appear on the government's own books, they came to be known as "hidden debts," or yinxing zhaiwu.
Worried by this mounting pile of unaccounted-for liabilities, the central government eventually sought to standardize local government borrowing. Starting in 2009, the Ministry of Finance began issuing bonds on behalf of provincial governments. From 2015, a new budgeting law allowed provincial governments to sell bonds to the public on their own.
Yet the total amount local governments can borrow remains tightly controlled by the central authorities. Consequently, many local officials still turn to shadier options to fund their ambitious development plans. No one knows for sure just how big the problem is, but in August 2018, a local government in the Xinjiang Uyghur Autonomous Region became the first in China to default on a city investment bond. Since then, an incomplete tally shows at least 23 city investment bonds went into default in 2018, followed by another 23 in the first half of 2019.
Given the risks, why are local governments still willing to borrow huge sums they have little hope of paying back?
One major motivator is the fierce competition between localities that characterizes the past 40 years of Chinese economic growth. In China's development model, local governments are primarily responsible for promoting local economic development, and local officials have strong incentives to boost growth. The more revenue in the local treasury, the higher the chances of promotion, and the more the rent-seeking opportunities.
In this environment, regional governments often operate like private companies. The county party secretary can be thought of as a kind of chairman of the board, while the county chief is the CEO. In a company, the first step to maximizing profits is to expand investment. But many local governments have limited financial resources, forcing them to turn to alternative sources of funding.
Unlike a company, however, local governments have access to a nigh-endless source of assets they can use as collateral: state-owned land. For example, a government can render a plot of originally worthless land immensely valuable by including it in a development plan. This land can then be put up as collateral on massive loans, allowing localities to borrow sums several times greater than their financial resources would otherwise allow.
The result is Dushan County, whose government was able to accumulate more than 40 billion yuan in debt despite taking in less than 1 billion yuan a year in revenues.
Yet even when an impoverished county is drowning in debt, lenders generally aren't worried about it going bankrupt, largely because there's a widespread perception the central authorities won't risk a financial crisis by letting local governments go under.
Development goals explain why local governments can and will take on huge amounts of debt, but who's actually doing the borrowing? In researching the problem, my co-authors and I found that behind almost every debt-ridden region is an ambitious "big boss," or yi ba shou, looking to build a reputation for themselves.
The former party secretary of Dushan County, Pan Zhili, is a typical example. He was transferred from China's developed coast all the way to Dushan County in the impoverished, mountainous province of Guizhou. He drastically overhauled the county's administration within his first couple of years on the job and spent heavily to improve local business conditions. In turn, this "all-out" approach cemented his status as a powerful, almost despotic authority figure in Dushan and provided a solid foundation for his subsequent promotion to vice-governor of the surrounding prefecture.
In short, large-scale hidden borrowing in the pursuit of unsustainable economic development can be an effective tool for local officials to realize their personal ambitions. Complicating the problem, at the city or county level there are hardly any institutional regulations capable of curbing wanton borrowing and spending by powerful party secretaries. Even if a large-scale project does not conform to local needs and will strain an area's financial resources, as long as top local officials' power remains completely unfettered, who'll dare raise any objections? Had Pan not been investigated and punished for taking bribes, Dushan County's towering pile of debt might now be even higher.
Any attempt to regulate local bureaucrats' borrowing behaviors and reduce debt must begin with transforming local governments from a development-oriented model to a service-oriented one. By World Bank standards, China is already an upper-middle income country, verging on high-income status. The main role of local governments should no longer be to promote economic growth. Rather, their primary responsibilities should involve providing public services and promoting social equality.
Limiting the power of domineering yi ba shou officials is also of the utmost importance. At the end of every trail of unfinished vanity projects is a corrupt leader. It would also help to pull back the veil on local debt figures. Requiring local government investment and financing platforms to publicly disclose their liabilities — and indicate which, if any, enjoy government guarantees — would help keep officials from accumulating unsustainable debts. As a secondary benefit, this would allow lending institutions to cross-check their information, preventing governments from using the same assets as collateral in multiple loan agreements.
China's mountain of hidden debt doesn't just represent wasted taxpayer money. It's an invitation to corruption with the potential to set off a financial crisis. The decline in government revenues caused by the COVID-19 pandemic is only making the problem worse. The question of how to limit new debts, gradually dissolve existing liabilities, and curb hidden borrowing has become too pressing to ignore any longer.
With contributions from Li Guangwu and Nie Huihua. A version of this article was first published on the website of Sixth Tone's sister publication, The Paper. It has been condensed and edited for clarity.
Translator: Lewis Wright; editors: Cai Yiwen and Kilian O'Donnell; portrait artist: Wang Zhenhao.
(Header image: An aerial view of an unfinished government construction project in Dushan County, Guizhou province, July 14, 2020. Qin Gang/People Visual)