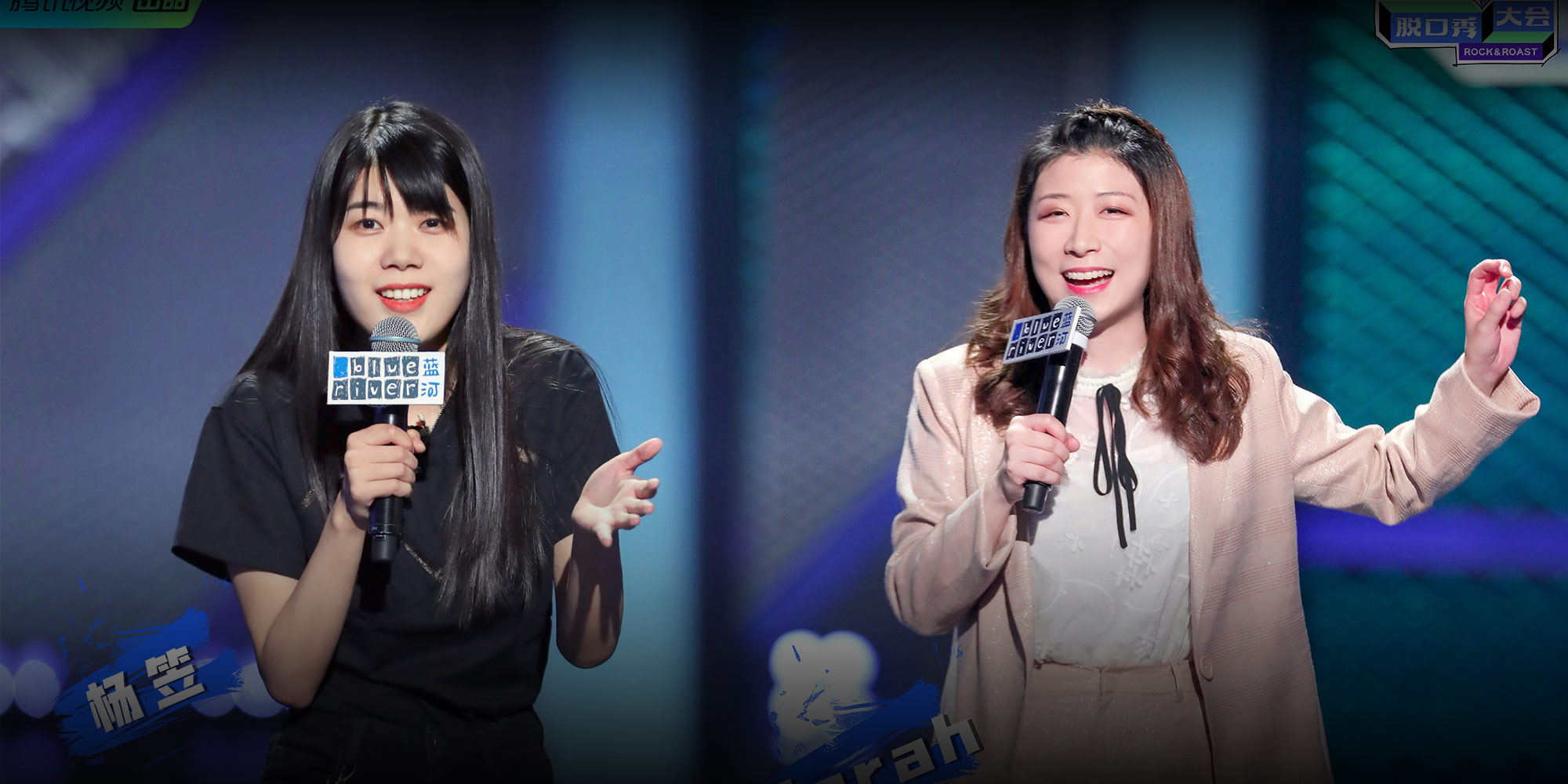 NEWS
The 'Punchline Queens' Ripping Into Chinese Comedy's Boys' Club
Female contestants are stealing the spotlight in the popular online series "Rock & Roast," sparking discussion on the wide gender gap in stand-up comedy.
SHANGHAI — "As men, you stand at the center of the universe. You spout pearls of wisdom that shape the future of the world. So when your female friend comes to you, you might wonder: 'Is she hoping to share her sadness with me? No, she must be hoping to learn something from me!'"
The audience roars with laughter and applause as Yang Li, flashing a mischievous grin, finishes her monologue with a flourish. She is one of 50 contestants competing for laughs on the hit series "Rock & Roast," a talent competition for stand-up comedy that airs weekly in China. Yang received the highest audience-rated score of the evening's 10 contestants, winning her an outpouring of support on Chinese social media, as well as the coveted title of "Punchline King."
"Yang Li is definitely a friend to women!" one fan wrote under a video of her set. "I really wish China's stand-up industry would have more women, to flush out the culture of toxic masculinity," wrote another.
Though one early comedy show, "Roast Convention," was slow to win over discomfited viewers in 2016, Western-style stand-up has gradually gained ground in China thanks to open mic events and shows with wider appeal like "Rock & Roast," whose hashtag has been viewed over 4 billion times on microblogging platform Weibo.
However, as in many other countries, female comedians in China represent only a small minority. According to Shanghai Xiaoguo Media Company — a giant in the domestic stand-up comedy industry, producing several online series including "Rock & Roast" — out of all the comedians who participate in the company's open mic events, only around one-fifth are women.
Since premiering in July, the third season of "Rock & Roast" has featured more female faces, many of whom regularly win the spotlight by delivering the funniest jokes, and by being outspoken and refreshingly open about gender issues.
For example, twins Yan Yi and Yan Yue have joked about the misrepresentation of female friendships in media and entertainment. "The only movie that doesn't depict two women fighting with each other over a man is 'The Shining,'" they said, referring to an iconic scene with twin girls in the Stephen King-inspired suspense-horror film. On microblogging platform Weibo, a video of their stand-up set has been shared over 51,000 times.
Yang also made headlines with a biting joke about how women are portrayed in the Marvel Cinematic Universe. "In 'The Avengers,' there are six heroes, and only one of them is a woman," she said during a July episode, referring to Black Widow, whose superpower is the ability to slow down her aging. "How exactly is she supposed to save the world — by surviving until all the bad guys die?"
Norah Yang — no relation to Yang Li — is among the talented comedians who made the top 30 on "Rock & Roast." Though she didn't make the cut in Wednesday's broadcast, which saw five female comedians left in a field of 19, Yang told Sixth Tone she has "definitely" seen women taking on more leading roles in comedy this year.
"I feel that the proportion of female stand-up comedians in China is actually moving in a good direction. When I went to the United States to perform, I found the gender ratio was more imbalanced," Norah Yang said. "When I was selected (for 'Rock & Roast'), I counted 12 women among the 50 contestants this year."
Despite better representation, however, Norah Yang says there's no doubt women face more challenges in the comedy industry.
"When I started in stand-up, a male comedian once jokingly told me, 'Be careful: If you're in this industry, you'll be single forever,'" she said.
Norah Yang isn't the only female comedian who has experienced awkward moments because of her gender. In an interview last week, Yang Li recalled how she was once reading a feminist book around a group of male comedians. "They all laughed loudly and asked if I was really reading that book in front of them," she said.
Discrimination and prejudice against female comics is a key reason there are so few women in the comedy industry, which has a reputation for being a boys' club, Norah Yang told Sixth Tone.
"I've found that audiences tend to be more judgmental about a female comedian's appearance," Norah Yang said. "You might have an ugly male comic, and they'll gush over how cute or funny he is."
Wang Yu-ping, a Shanghai-based comedian who does stand-up in English, echoed these sentiments, adding that sexual harassment is also rampant in the industry. To avoid unwelcome attention, female comics have to be especially judicious in choosing what clothes they wear to perform, she told Sixth Tone.
"It's common sense, practically instinctive, for us female comedians to watch what we wear when we're onstage," Wang said. "No miniskirts or anything overtly sexy, feminine, or form-fitting. We don't want our physical appearance to distract from the performance."
In a male-dominated field like comedy, women are sometimes taken less seriously, despite abundant evidence of their talent and commitment, said Maple Zuo, a comic who performs in both English and Mandarin.
"It's hard to fit in when I'm the only female comedian (at a show)," said Zuo, who has toured internationally. "Every time there's a comedy scene party, they always spontaneously divide up into two groups: one for the male comics, another for their girlfriends," she said. "I always end up hanging out with the girlfriends."
Despite the many challenges, Norah Yang is optimistic about the future for female comedians in China.
"When people ask what has motivated me to stick with stand-up comedy," she said, "my response is simple: I hope to use whatever influence I have to improve gender equality."
Editor: David Paulk.
(Header image: Yang Li (left) and Norah Yang perform during an episode of the Chinese stand-up comedy competition series "Rock & Roast." From @脱口秀大会 on Weibo)