Responding to a flurry of criticism about a depiction of animal sex in his bestselling children's novel, author Shen Shixi said that although some young readers and their parents might be offended by his work, sex is simply a fact of life that should not be ignored.
At the Shanghai Book Fair on Sunday, Shen admitted that parts of "The King of Wolf's Dream" may not be suitable for very young readers but defended the content some had objected to, describing it as "innocuous."
"Of course some parents and teachers might think it's inappropriate for children who are too young," Shen said. "Then we might make some changes — for instance, publishers might want me to make some alterations, tone down some parts, or remove some sensitive sentences."
Shen's book became the subject of controversy in mid-June after an article on social app WeChat slammed it for using "sexual, violent, and vulgar" language. In particular, the article's author, a well-known blogger and commentator on parenting issues who writes under the pen name Eason's Mom, highlighted some of the graphic details — dripping saliva, heavy breathing, ravenous licking, rough caresses, and a primal instinct to possess another creature — of the sexual encounter between the two wolves that she considered "inappropriate" for children.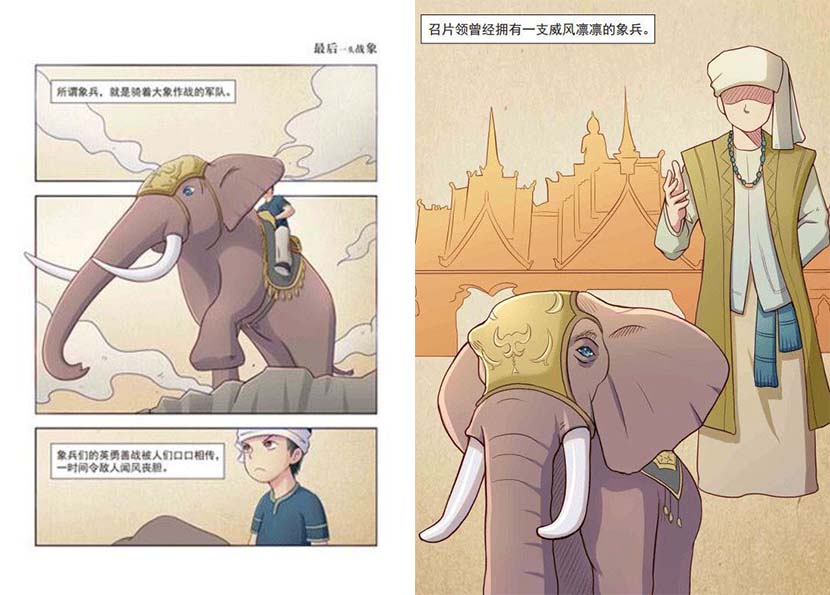 Illustrations from the bestselling Chinese children's book "The King of Wolf's Dream." From Weibo
"When I wrote out these words, I felt like I was copying a smutty adult novel," Eason's Mom wrote. "Although the protagonists in the paragraph are wolves, isn't it easy for the readers to identify with the animals and put themselves in their shoes? ... Isn't this just a different spin on erotic fiction?"
The WeChat article has garnered more than 100,000 views, the maximum number the platform displays. In response, many readers have called for stricter regulations on children's literature.
Cheng Yuhe, a middle school literature teacher and founder of a book club for young readers, told state-run newspaper Beijing Daily that although he understands the parents' concerns, children's literature is embedded in real life, and as such cannot ignore content like sex and violence.
"Some parents have this divine perspective and put children into this (metaphorical) incubator to carefully monitor their development," Cheng said. "But the world children live in is extremely complicated, and what influences and educates them extends far beyond children's books."
Cheng suggested that China should develop a classification system so children are exposed to age-appropriate reading material that's also reflective of their interests, psychological traits, and physical development.
Meanwhile, Shen's response has reignited debate over the book, as well as sex education for minors — a taboo topic in both schools and homes. A hashtag related to the author's response has been viewed more than 86 million times on microblogging platform Weibo.
"As we all know, Chinese people reproduce through mitosis," read a comment under a related post, referring to reproduction at the cellular level. "The vast prairies of Africa are populated with herds of wild animals that don't have sex," quipped another.
Shen, one of China's most renowned authors of children's literature, is sometimes described as the "king of animal stories." His books, including 2009's "The King of Wolf's Dream," are frequently found on elementary school reading lists.
In 2016, one of Shen's contemporaries, the award-winning children's literature author Cao Wenxuan, faced backlash over his characterizations of female characters, which some critics called "backward" and misogynist.
Editor: Bibek Bhandari.
(Header image: Cover art from the bestselling children's novel "The King of Wolf's Dream." From Weibo)