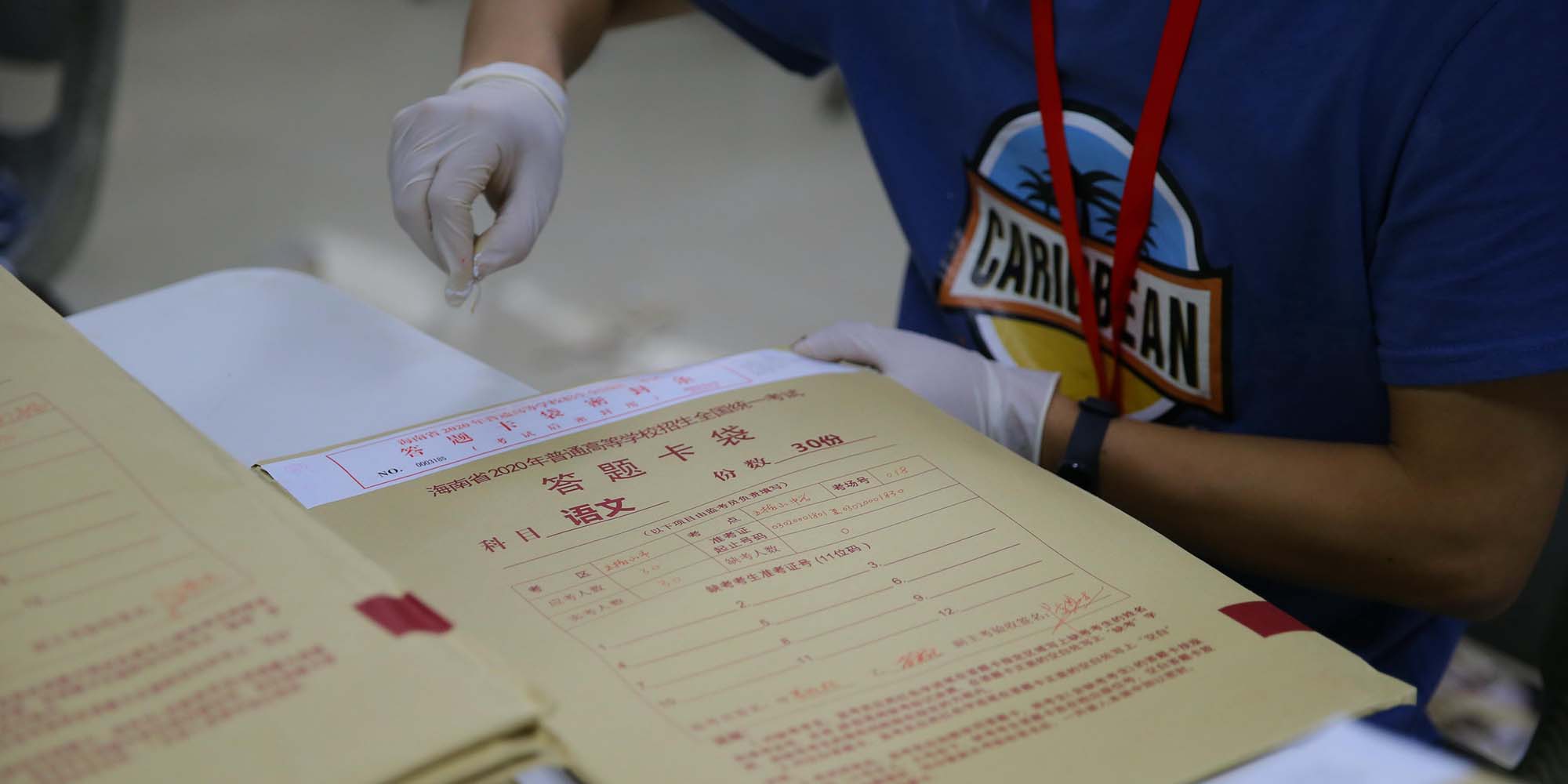 NEWS
'Gaokao' Grader Disciplined for Publishing Student's Exemplary Essay
Netizens are also questioning whether there may be a conflict of interest between Chen Jianxin's dual roles as head grader and study guide author.
A prolific standardized test grader in eastern China has been removed from his post for publicly sharing a high school senior's highbrow essay.
In a notice Thursday, the Zhejiang Education Examinations Authority said Chen Jianxin, the leader of a composition grading team for the gaokao, China's grueling college entrance exam, had shared and commented on a student's exam paper without permission — "a serious violation of grading discipline."
On Aug. 2, the full text of a high school senior's exam composition, titled "Living in a Tree," was published on the official WeChat account of Zhejiang International Studies University — an institution Chen is not affiliated with — along with Chen's comments. One grader had awarded the essay 39 points, while the other two had each scored it 55. Ultimately, however, the grading team had decided to give the composition a perfect 60, putting it among only a handful of gaokao essays receiving top marks each year.
The composition prompt for Zhejiang's administration of the gaokao was abstract, asking students to reflect on their hopes for the future, parental and societal expectations, "life coordinates," and the dynamic relationships between individuals and collectives.
The flawless essay — dripping with abstruse European philosophy, from Nietzsche and MacIntyre to Heidegger and Wittgenstein — soon aroused heated discussion on Chinese social media. Some agreed with Chen's assertion that its "academic expression of words is not what the average high schooler can write," while others lamented that its vain verbosity made it difficult to comprehend and relate to.
On Monday, retired journalist Li Weishu told The Paper, Sixth Tone's sister publication, that he had reported Chen to the Zhejiang authorities for being not only a gaokao grader, but also an author of gaokao composition-writing guides.
"The grading team has the power to score gaokao compositions, but they can't be both the coach and the referee," Li said, adding that "Living in a Tree" should be reevaluated because it is supposedly similar in tone and structure to another essay that received a perfect score and was published in one of Chen's study guides.
Two gaokao composition-writing guides Chen edited in 2016 and 2019 are still sold on a number of domestic e-commerce platforms. Chen has also hosted an online course for gaokao composition writing, priced at 199 yuan ($29). According to a promotional poster for the course, Chen has been the head of Zhejiang's gaokao composition grading team since 2000, overseeing all essays that receive perfect scores. It further describes Chen as "a famous grader who teaches students how to accurately respond (to prompts) and score points on the gaokao essay."
Chu Zhaohui, a researcher with the government-run National Institute of Education Sciences, told The Paper that it's "definitely inappropriate" for the leader of a composition grading team to publish how-to manuals for gaokao essay writing.
When asked about his gaokao prep guides on Sunday, Chen told The Paper "I don't know about this matter."
Zhejiang Education Examinations Authority is now investigating some of the "personal issues" netizens have raised about Chen, according to Thursday's statement.
Editor: David Paulk.
(Header image: A man unseals "gaokao" materials at a testing center in Haikou, Hainan province, July 13, 2020. People Visual)