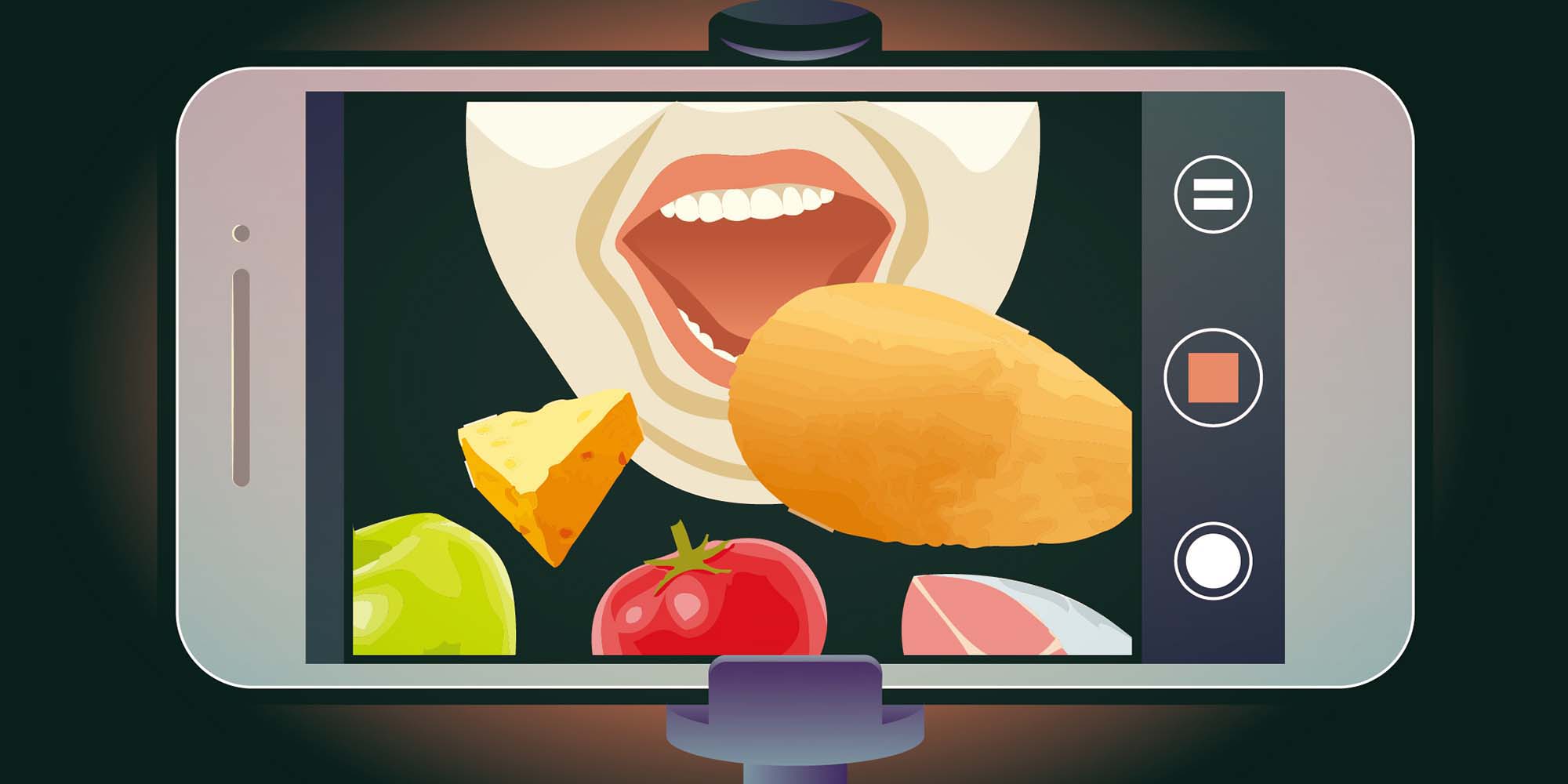 NEWS
'Clean Plate Club' Stars Targeted by China's Food Waste Campaign
Some online performers have attracted massive fan followings in recent years by eating stomach-churning quantities of food on camera.
Online celebrities with prodigious appetites might soon be excused from the table amid a national campaign to curb food waste and rein in China's extravagant dining culture.
China Central Television on Wednesday slammed "big stomach star" livestreamers for eating absurd amounts of food during their performances and encouraging waste. Popularly known as mukbangers, a term adopted from Korean, the performers have attracted huge fan followings in recent years through their videos — though CCTV also exposed many performers for pretending to eat, vomiting after their shows, or editing out footage of unconsumed food.
The criticism from the state broadcaster came a day after Chinese President Xi Jinping described food waste in the country as a "shocking and depressing" phenomenon. CCTV then blamed mukbangers for misleading consumption and promoting food waste.
On Thursday, the China Association of Performing Arts — the official body that oversees online performances — said it was banning "fake eating, induced vomiting, promotional overeating, and other behaviors that involve waste."
Chinese social media platforms have also introduced measures to discourage users from posting videos encouraging wasteful habits. Microblogging platform Weibo, for example, warned users it would punish livestreamers who treat overeating like clickbait, vowing to delete content or ban users violating the rule.
Video platforms including Bilibili, Kuaishou, and Douyin are also stepping up to prevent food waste. Users searching for keywords such as "eating broadcast" or "big stomach star" will now be shown messages urging them to "treasure food and eat reasonably." Several bloggers on the platforms have removed phrases such as "big stomach" from their social media accounts and video descriptions.
Mukbang, which originated in South Korea around 2010, is the online trend by which individuals broadcast themselves eating large amounts of food while leisurely chatting with their viewers. It combines a simulated dining experience with the shock appeal of competitive eating.
Critics have interpreted the craze for such videos as a virtual substitute for socializing while eating alone, claiming it originated from "the loneliness of unmarried or uncoupled Koreans, in addition to the inherently social aspect of eating in South Korea."
In 2016, Zhang Yumi — also known as Mizi Jun, and regarded as one of China's original mukbangers — rose to fame after eating 4 kilograms of rice during an eating competition. Her other single-meal records include 10 bowls of pineapple rice, eight bowls of rice noodles, and 10 pig's feet.
Seeing Zhang's popularity, more people began to follow her lead. According to a white paper published by short-video site Kuaishou, food-related videos were the most popular category on the platform in 2019.
Research shows that watching videos of excessive food consumption by healthy-looking people can cause viewers to regard binge eating as normal behavior, in turn triggering and reinforcing eating disorders. However, it may also help some overly picky eaters expand their diets and become more comfortable eating in social settings.
On Weibo, responses to the crackdown on mukbang have been mixed. While some support initiatives to curb food waste, others say mukbang brings them joy when they are not able to indulge in real life.
"Watching mukbang brings a sort of calmness," read a comment under a related post. "Many get a sense of satisfaction from watching this 'cloud eating' style, even while maintaining healthy diets. That's worth celebrating."
Editor: Bibek Bhandari.
(Header image: People Visual)