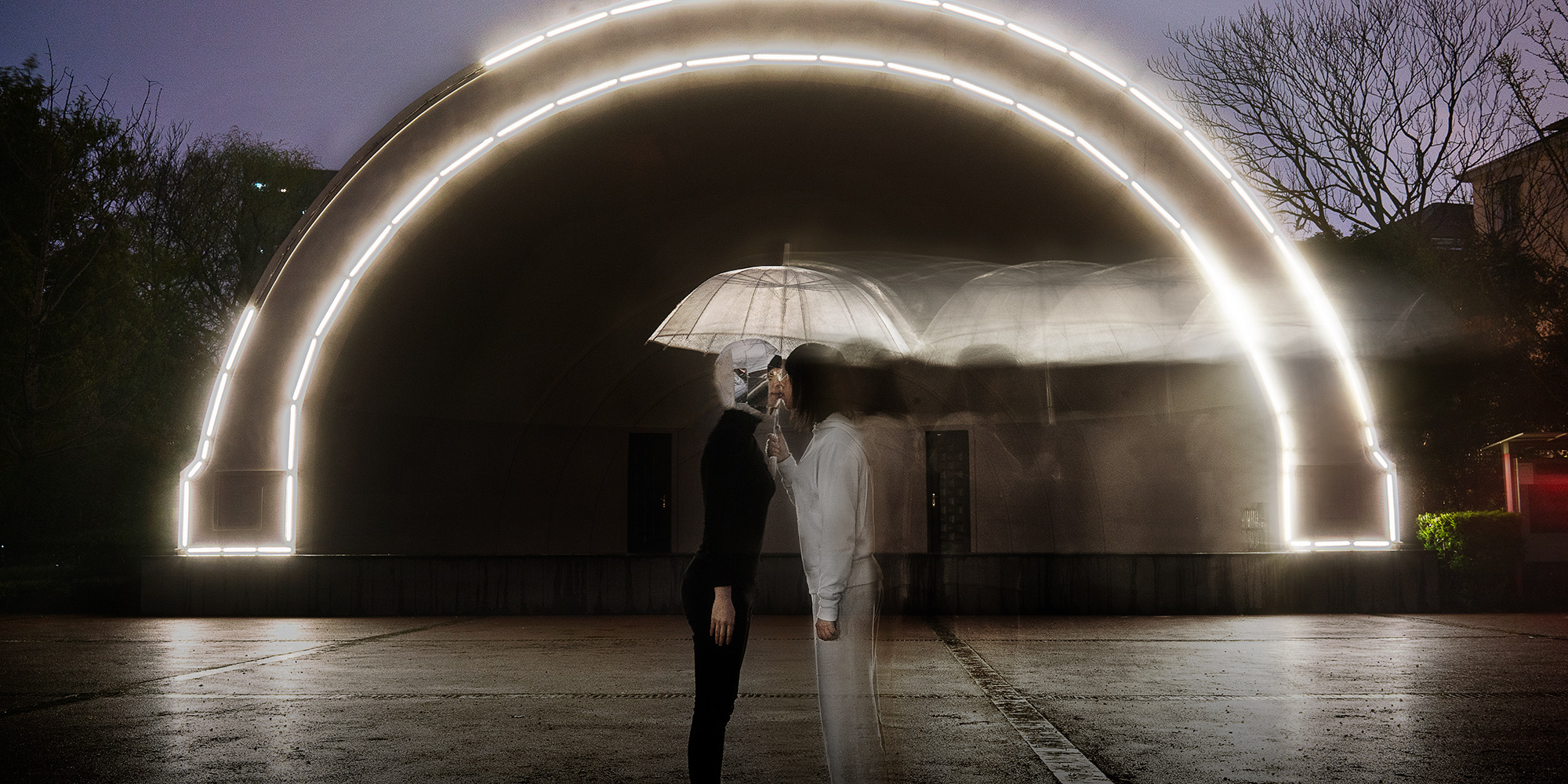 NEWS
At Pride Exhibit, Shanghai's LGBT Artists Vie to Be Seen, Not Silenced
The ongoing monthlong exhibition is showcasing the works of 17 emerging LGBT artists and allies.
SHANGHAI — Many of Yang Yiliang's works are similar to Chinese folk art: Traditional motifs including flowers and animals are intricately cut from red paper, symbolizing happiness, fortune, and prosperity.
But a closer look may reveal nuances involving same-sex intimacy.
"The red color of paper-cutting represents marriage," Yang told Sixth Tone, describing his piece, titled "Paper Grooms." "But for gay men in China, desires for unity and familial acceptance are unrealistic. The paper is symbolic because of its fragility and flimsiness."
"Paper Grooms" is part of this year's monthlong Pride Art exhibition in Shanghai, which kicked off Sunday. The exhibition has become an annual event, highlighting the longing for social acceptance, justice, and liberation among sexual and gender minorities.
"I strive to narrate the experiences of Chinese gay men through painting, bringing this often-marginalized community to the fore," said the 29-year-old artist, who is one of the 17 featured at this year's event.
Although China decriminalized homosexuality in 1997, acceptance of same-sex couples has progressed at a glacial pace. Legal protections for LGBT people remain rare, andgay conversion therapyis still practiced in some parts of the country.
While LGBT representation has become more visiblein recent years despite ongoing challenges, several queer artists at the exhibition told Sixth Tone they often struggle to find platforms to display their work due to pervasive fears and discrimination related to their subjects.
"Small towns are more conservative in general," Yang said, referring to his hometown in the central Hunan province. "Gallerists there would tell me that they appreciate my art a lot, but the subject is taboo and can't be shown in public."
As a result, many turn to cities like Shanghai, where the art scene is more vibrant and diverse, butchallenges persisteven there.
Large-scale art galleries in China need to receive authorization from the local cultural bureau, and securing permission for politically engaged events can often be difficult, said Kay Tsoi, the exhibition's art director. Organizers therefore prepare several alternative plans in case one of them gets shut down.
"All galleries must operate within Chinese law," Tsoi told Sixth Tone. "For example, nudity and sexual invitation can be tricky. We need to set up rules for our selection process so that our exhibition can take place as planned."
Such rules have made their mark at this year's exhibition, too.
Connor Yang, who is not related to Yang Yiliang, is a Shanghai-based visual artist known for his bold illustrations depicting same-sex intimacy. But for the exhibition, he chose a relatively subtle piece: three men in swimming trunks resting at a distance from each other on the beach. He described it as a nod to the show's stringent review process.
Growing up in a conservative household along the coast of the southern Guangdong province, Connor Yang told Sixth Tone that art encourages him to explore his desire and sexuality. When he first encountered LGBT-themed art online, he said it not only "validated" his sexuality but also "unleashed" his impulses — something he described as being similar to "opening the floodgates."
But the restrictions that often limit works by artists like him are demoralizing, he said: One of his friends pulled out of the exhibition at the last minute due to the nature of his artwork.
"Why bother to celebrate Pride if we're not allowed to be our true selves?" Connor Yang said.
Tsoi, however, remains hopeful, citing the ambiguous nature of artistic form. It's subjective to decide whether a work is salacious or vulgar, she said, and this leaves gray areas within which artists can operate.
"Gender and sexuality are fluid. So are relationships," Tsoi said. "Art provides a channel to show the uncertain and complicated nature of human beings. There are many forms of LGBTQ-themed art rather than nudity or sexual invitations."
Editor: Bibek Bhandari.
(Header image: "Fragile2" by Qian Ruya. Courtesy of Pride Art)