Peanut butter and jelly, bacon and eggs, rice and crawfish: Some pairs just belong together.
In China, the abundant crop and the popular crustacean form the perfect marriage, as they can be cultivated together in the same fields. The country has long touted the agricultural practice of growing the two species side by side because of their symbiotic relationship: While crawfish waste is a natural fertilizer for crops, rice supports the growth of microorganisms that make up the crustaceans' main food source.
The rice-crawfish system is encouraged in China, and strictly defined partly to ensure a stable supply of rice. In 2017, the Ministry of Agriculture and Rural Affairs set an upper limit of 10% for the amount of field space that can be allocated to aquaculture such as crawfish, with the remaining 90% reserved for growing rice. In a rectangular rice paddy, the crawfish-filled irrigation ditch surrounding the crop would account for 10% of the area of the field, while the interior space for rice would make up the rest.
However, compared with rice, crawfish are a much more lucrative business. The animals are easy to raise, and the domestic market has an enormous appetite for them. Medium-sized crawfish can sell for 30 to 40 yuan ($4.30-$5.70) per kilogram — almost 20 times the price of rice.
In recent years, some farmers have carved out larger portions of their fields for crawfish and given less space to rice. Such violations have caught the attention of state media, with Xinhua News Agency publishing an article Thursday to warn about the phenomenon.
"I can't guarantee that all of our farmers obey the regulations perfectly, but we haven't received any reports of misconduct from the village-level authorities either," said Zhang Wei, a staff member at the government-backed Qianjiang Agriculture Development Center in central China's Hubei province. "When we go help farmers set up their fields, we would always tell them about the rules clearly," he told Sixth Tone.
Hubei cultivates more crawfish than any other province of China, and the city of Qianjiang alone has over 800,000 mu (533 square kilometers) of fields dedicated to the rice-crawfish system.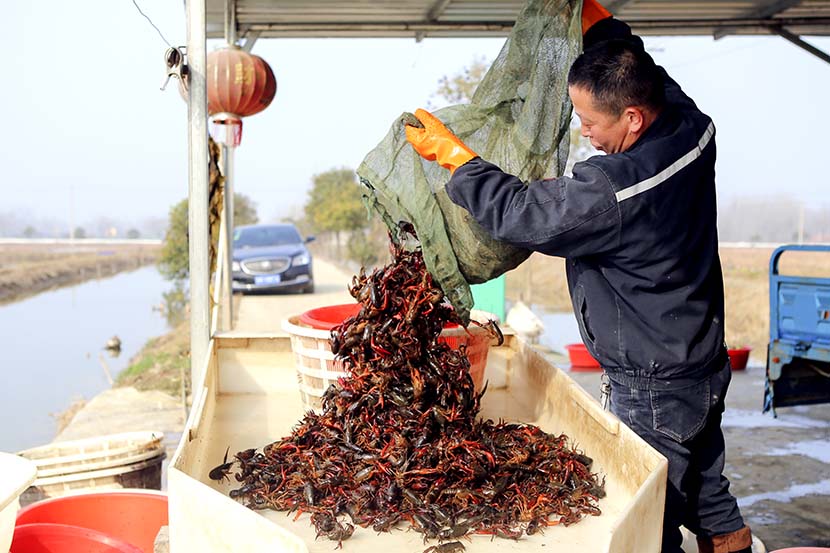 A man sorts crawfish in Huai'an, Jiangsu province, March 4, 2019. People Visual
Last year, the agriculture ministry announced a nationwide "thorough inspection" of integrated rice-farming systems, or the cultivation of aquacultural alongside rice.
"Some individuals and businesses lopsidedly pursue profits and overlook social benefits," the announcement said, adding that reduced rice yields "affect the healthy development of the industry."
According to Cao Linkui, an ecology professor at Shanghai Jiao Tong University, farmers who illegally expand their crawfish-cultivating areas are missing the point of introducing the crustaceans to rice paddies in the first place, which was to grow better grain.
"Farmers will need less chemicals such as fertilizers and pesticides, and improving the ecosystem is beneficial for supporting the sustainable development of agriculture," Cao, who studies integrated farming, told Sixth Tone.
However, limiting space for crawfish also limits the farmers' incomes, so Cao proposes more government assistance to encourage farmers to adopt green practices and seek "organic" certifications for their rice.
"These add-ons could increase the market value for good-quality rice, thus providing greater incentives for farmers to follow the regulations," Cao said.
Despite the limited space legally allotted to crawfish, the rice-crawfish system has lured many prodigal farmers back to their hometowns, according to Zhang.
"Back in the day, a lot of arable land was just abandoned. Many villagers left their farms and went to big cities where they could earn more money than by growing rice. But now, with the additional income from crawfish, some of our poor towns have managed to rise out of poverty," Zhang said.
Liu Hui, who runs a farm co-op of over 1,000 mu of rice-crawfish fields in Qianjiang, said farms he oversees have been following the 9:1 ratio carefully.
"The price of crawfish fluctuates all the time, but we don't have to worry about that as much with the rice as insurance," Liu told Sixth Tone. "The price of rice never crashes."
Editor: David Paulk.
(Header image: A man throws crawfish larvae into a rice paddy in Ankang, Shaanxi province, Sept. 19, 2018. People Visual)