Environmentalists in China are warning against a growing trend of using gadgets to electrocute earthworms, as it may also harm the soil's health.
The sale of the soft and slimy invertebrates is a profitable business, as they're in high demand for myriad purposes. Earthworms are sold as live bait for fishers, serve as an ingredient in traditional Chinese medicine, and help maintain soil fertility. But activists have warned that hunting the worms — also called dilong, or "earth dragons," in Chinese — on a large scale using an electrical current could prove harmful to the environment.
Linda Wong, deputy secretary-general of the China Biodiversity Conservation and Green Development Foundation, said that while hunting earthworms on a small scale wouldn't do much damage, more purchases of easily available electronic devices on e-commerce platforms to capture and kill a significant number of earthworms could have a negative ecological effect.
"It is problematic to catch earthworms to (the point of) extinction, as this could bring considerable damage to the ecosystem," she told Sixth Tone.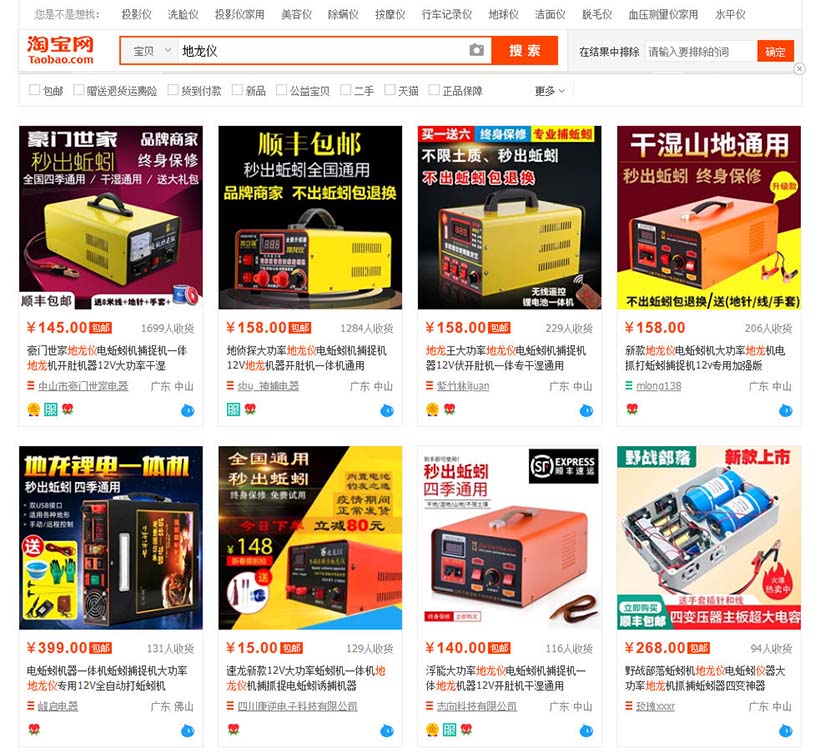 A screenshot shows earthworm-catching machines sold on Taobao. From @中国绿发会 on Weibo
Sold as an "electric earthworm machine" ranging from 150 yuan to 900 yuan ($21-$130) on online shopping platforms like Taobao and Pinduoduo, the machine is connected to a portable car battery, which is then wired onto iron poles stuck into the soil — a process similar to jump-starting a car. When switched on, the gadget sends electrical signals underground, driving the earthworms to surface.
A video of the entire process taken by a user of the device was reposted Tuesday by the conservation group Return to Wilderness to raise awareness of the issue, as well as highlight the importance of earthworms to both farms and farmers.
"Earthworms play a very important role in the soil ecosystem," said Song Jing, an associate researcher at the Institute of Soil Science of the Chinese Academy of Sciences. "They can improve soil pore structure and ecological system health, as well as facilitate remediation of contaminated soil."
While China has prohibited electrofishing due to concerns of ecological deterioration, there has been limited discussion on electrocuting earthworms, Wong told Sixth Tone.
One of the most recent debates dates from 2014, when the over-hunting of earthworms using electric shocks nearly caused an agricultural disaster in parts of the southern Hainan province, prompting authorities to crack down on such illegal practices. Local residents then told domestic media the devices had harmed their soil, impacting agricultural production.
Zhao Qi, a scientist studying earthworm species at Shanghai Jiao Tong University, said, referring to the Hainan case, that her team has already observed a reduced diversity in the earthworm population. She added there have only been limited efforts to protect the species, and there's a lack of public awareness of the issue.
"People keep catching worms as much as possible to sell, which could easily result in the disappearance of some earthworm species and ultimately harm biodiversity," she told Sixth Tone. "Microorganisms beneath the soil can also be affected during the electrocuting process."
According to Wong, China Biodiversity Conservation and Green Development Foundation filed separate lawsuits against the top three companies offering earthworm electrocution machines on e-commerce platforms — Taobao was named as a third-party seller in all three lawsuits — to demand that they stop selling such equipment. If accepted, it would be China's first public interest litigation filed for earthworms.
The case was filed in July at a court in Zhuhai, in the southern Guangdong province, where provincial authorities have prohibited hunting wild animals via electric shock.
"If we can push for a favorable outcome, it would guide future lawsuits," said Wong, whose nonprofit is also trying to get e-commerce companies, including Pinduoduo and Taobao, to remove electric earthworm machines sold on their websites.
Sixth Tone's repeated phone calls to the three companies being sued went answered by time of publication.
Editor: Bibek Bhandari.

(Header image: Vectorstock/People Visual)