SHANGHAI — A special "masquerade" edition of Asia's largest digital entertainment expo, ChinaJoy, concluded Monday after a weekend jam-packed with gaming, cosplay, anime, and futuristic technology.
Now in its 18th year, the Shanghai event is an annual celebration of what might affectionately be termed nerd culture, held at the expansive 200,000-square-meter Shanghai New International Expo Center.
At huge company booths, ChinaJoy visitors lined up to play-test unreleased video games, tinker with smart gadgets, and shop for their favorite collectibles, as well as spectate live esports, game shows, and dance performances.
Among all the costumes and heavy makeup, one ubiquitous fashion accessory stood out at this year's event: the blue surgical mask.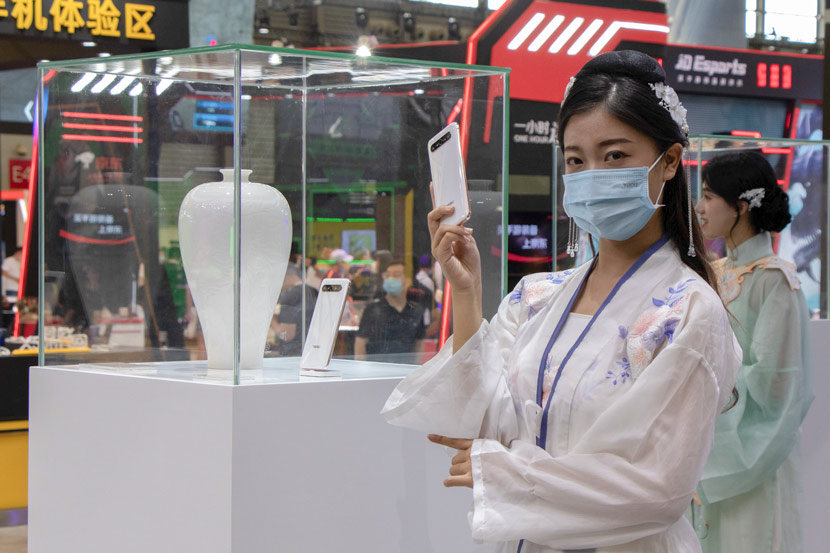 A woman in traditional "hanfu" clothing promotes a new smartphone during the ChinaJoy digital entertainment expo in Shanghai, July 31, 2020. Kenrick Davis/Sixth Tone
ChinaJoy has long been famous for its hundreds of attractive young models, who are hired and paraded around by participating companies. In the expo's early years, the show models wore so little that local authorities eventually stepped in and introduced rules — such as setting a permissible cleavage standard and banning "vulgar" poses — to shift the focus back to games and tech.
Apart from scantily clad cosplayers and hired models, ChinaJoy is also an important watering hole for professional networking, with several other industry events, such as the China Game Developers Conference, running concurrently.
In a year that has become synonymous with a global pandemic, resulting in mass cancellations of many large-scale sports and esports events in China and across the world, pulling off this year's ChinaJoy was something of a daring feat.
Sixth Tone visited the conference Friday and observed its infection-fighting measures firsthand. Tickets could only be purchased online, requiring real-name registration as well as questions about whether the guest had recently experienced flu-like symptoms. In numerous locations throughout the venue, security personnel could be seen holding signs instructing guests to "please wear masks."
A booth selling traditional "hanfu" clothing during the ChinaJoy digital entertainment expo in Shanghai, July 31, 2020. Kenrick Davis/Sixth Tone
Arriving at the venue, guests waited in line amid a din of screeching cicadas, then again once inside one of the exhibition halls. The final checkpoint was manned by 30 staff in pink vests, who took entrants' temperatures and checked for "green" health codes on Alipay's mobile app, indicating that the user had not recently traveled to a high-risk part of the country. Finally, visitors had their faces and photo IDs scanned to make sure their tickets matched, while a nearby hygiene station provided optional disinfectant gel and cartoony face masks.
This year's event brought in 200 companies — from gaming heavyweights Blizzard, Tencent, Ubisoft, and Epic Games to e-commerce giants JD.com and Taobao, along with several mobile phone makers and video-streaming site Bilibili — promoting close to 1,000 products. It was an impressive spectacle, even with guest attendance and corporate participation limited this year by pandemic-related travel restrictions. Among the notably absent were console gaming giants Microsoft and Sony.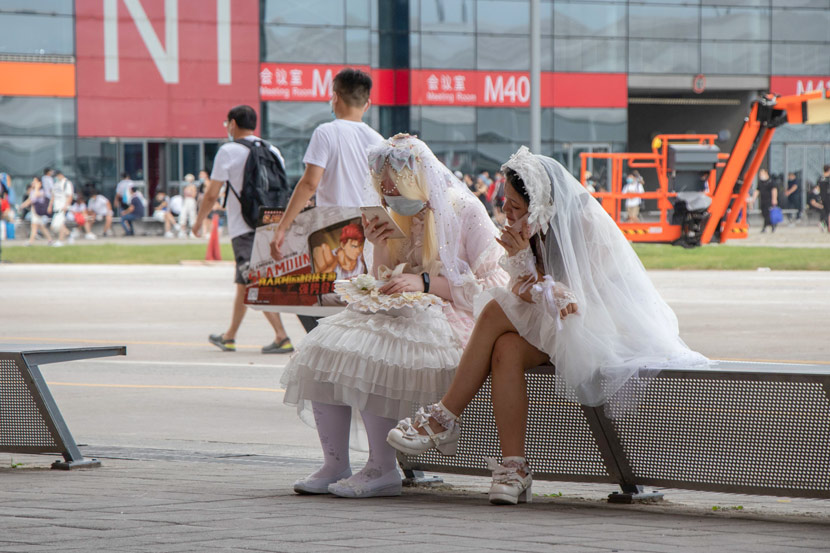 People in wedding dresses sit outside the conference venue for the ChinaJoy digital entertainment expo in Shanghai, July 31, 2020. Kenrick Davis/Sixth Tone
At smartphone maker Meizu's booth, models in traditional long-sleeved dresses and surgical masks invited visitors to try out the brand's latest handset. Other companies, meanwhile, seemed less concerned with immediate product sales and more preoccupied with putting on a good show. JD.com's booth featured a gyrating belly dancer, while the booth of Game for Peace — Tencent's patriotic, military-themed take on battle royale hits like PUBG and Fortnite, specially released for the Chinese market — held a raucous electronic music concert with DJs and dancers dressed as elves and sunflowers, among other colorful characters.
Though nine of the conference center's 17 exhibition halls were in use this year compared with 15 last year, ChinaJoy 2020 still felt overwhelmingly large: It was easy to wander among the rows of booths, perpetually distracted by the sights and sounds.
Hanfu, a style of traditional Chinese dress with a growing foothold in certain youth subcultures, was featured at ChinaJoy for the first time, highlighted in a runway-style fashion show. Meanwhile, 5G cloud gaming and shouban — collectible models and action figures of varying sizes — had their own dedicated areas. At the latter, visitors peered into transparent display cases containing expensive, limited-edition figurines.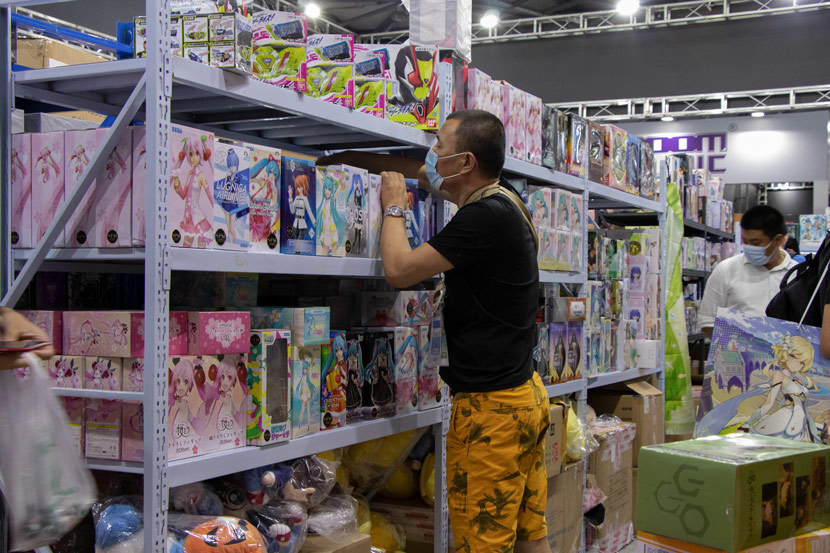 A man shops for "shouban," or collectible action figures, during the ChinaJoy digital entertainment expo in Shanghai, July 31, 2020. Kenrick Davis/Sixth Tone
Sixth Tone spotted visitors dressed as Ninja Turtles, Spider-Men, and a host of video game characters. One cosplay livestreamer with a purple wig and selfie stick in hand stayed in character while guiding his online fans on a tour of the expo. Behind stages and on the sidelines of the exhibition halls, cosplayers sat cross-legged, taking a break from the action or helping each other put on wings, helmets, wigs, and other eye-catching accessories.
To reach a wider audience amid China's ongoing pandemic control measures, virtual tours were offered via 10 different web platforms, reaching a total of 600 million live viewers.
Even as other industries have been crippled by COVID-19, livestreaming and gaming have thrived. According to a report released at this year's conference, China's video game revenue from January to July jumped 22.3% year-on-year, and the country now boasts 660 million gamers. At a ChinaJoy esports forum Saturday, a Tencent representative said China's esports market will overtake that of the U.S. in terms of commercial value by the end of this year.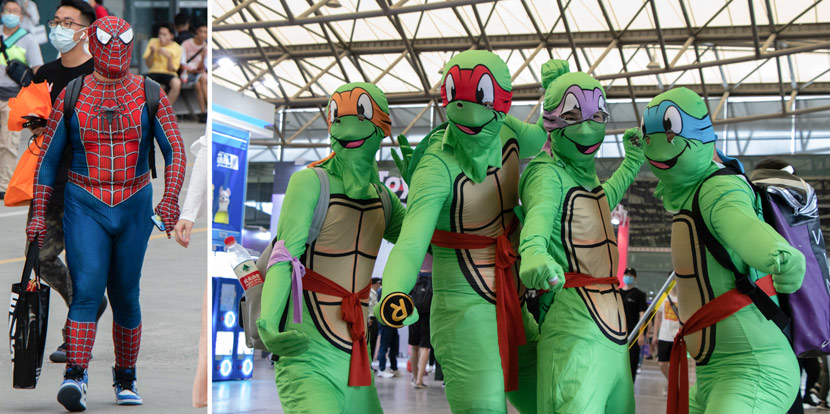 People dressed as Spider-Man and Ninja Turtles attend the ChinaJoy digital entertainment expo in Shanghai, July 31, 2020. Kenrick Davis/Sixth Tone
Domestic media have lauded how surging ahead with such a large event at such a sensitive time shows the extent to which the Chinese government supports the growth of video games and esports — once shunned as mind-numbing wastes of time — as legitimate industries.
"To some extent, the 18th ChinaJoy bore witness to the de-stigmatization of games and esports. They've evolved from 'electronic drugs' to a form of national entertainment," one Shanghai news outlet wrote in its coverage of this year's expo. "Today, they're an important component of the domestic economy… Even as China's economy bottoms out, esports is reaching its peak."
Editor: David Paulk.
(Header image: Cosplayers pose for photos at this year's ChinaJoy digital entertainment expo in Shanghai, July 31, 2020. Kenrick Davis/Sixth Tone)