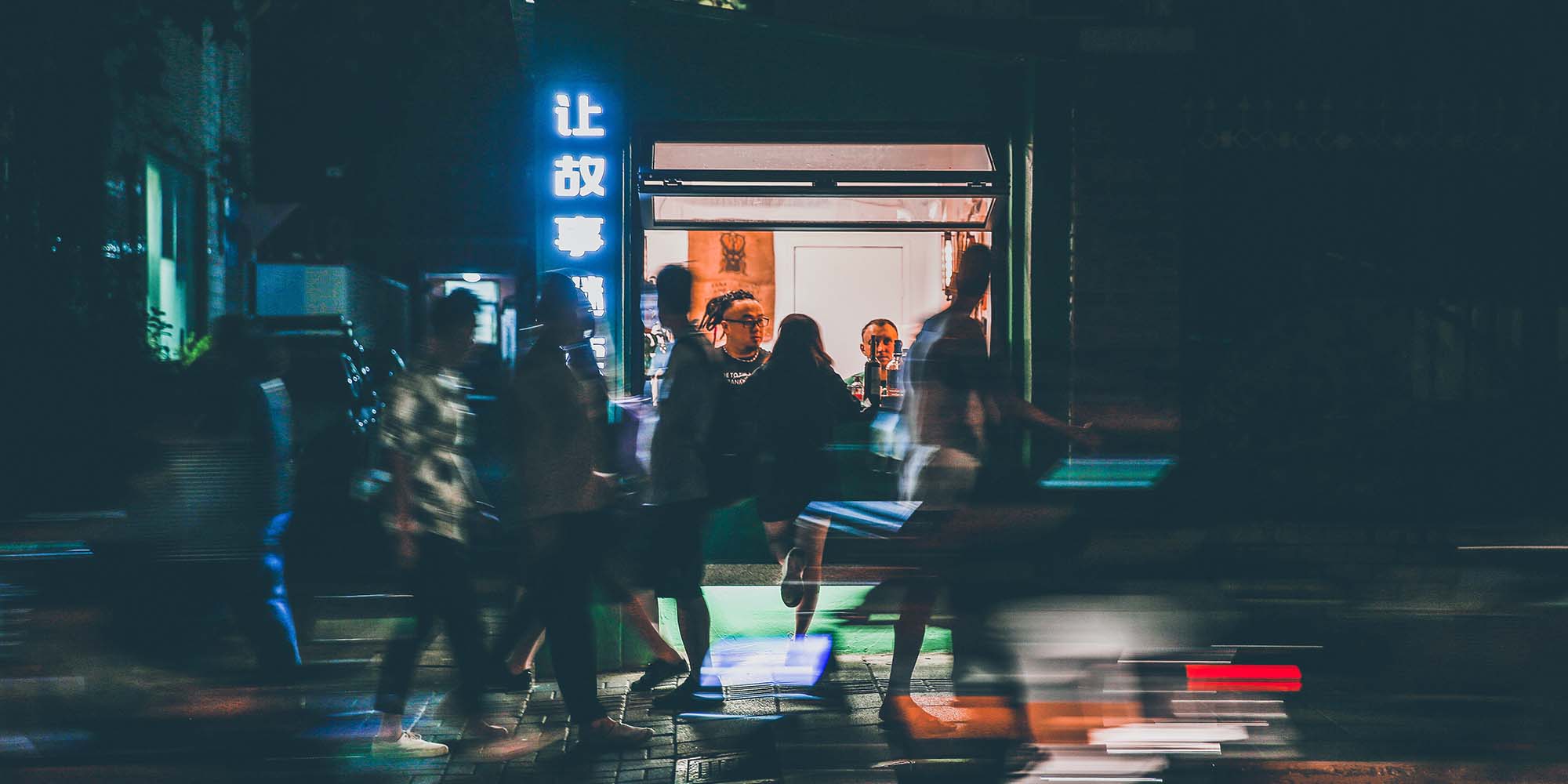 FEATURES
The Bard of Yuyuan Road
Each night, Shanghainese musician Tang Jiamin turns the personal stories of local residents into songs, revealing the human lives in a fast-changing Chinese city.
SHANGHAI — On an old, tree-lined street in central Shanghai, past upmarket cafés, manors, and artsy boutiques built over the ruins of former drug dens, there's a squat little store.
Coins, cards, and mobile payment codes are useless here. The manager — a large-framed, dreadlocked figure named Tang Jiamin — trades in an entirely different form of currency: stories.
"Money means nothing here," Tang tells Sixth Tone with a grin. "As long as you give stories, you can have everything."
Each weekday evening, the 32-year-old sits at the Story Store's open window, strumming a guitar as he waits for passersby to stop and share personal memories with him over a glass of beer, wine, or whisky.
Tang will then write his guest a song based on the tale they've shared, perform it back to them, and hand over the handwritten lyrics in a wax-sealed envelope.
"After I sing what's on this piece of paper, it's like it contains your pain and sorrow," he says. "I then fold it up, put it in the envelope, and stamp it, sealing your pain inside."
For the musician, the Story Store is a personal passion project, a way of digging under the polished veneer of modern Shanghai to find beautiful human stories that capture the reality of life in the city.
Through the project, Tang provides an emotional outlet for the local community on Yuyuan Road, a historic neighborhood that has been radically transformed over the past few years.
Since the space opened in June, the young troubadour says he's collected stories from over 100 strangers, ranging from mundane tales to harrowing memories of personal trauma.
Passersby have opened up about experiences of childhood abuse, severe bouts of depression, and attempts on their lives by jealous lovers.
Tang plans to publish the most moving tales as an online series. He's also writing a rock album about the people and places of Yuyuan Road, he says.
"There are many different people in our lives, each with unique and amazing tales," says Tang. "After I write the songs, more people will know Yuyuan Road and understand what real life is like."
But the Story Store also plays a complex role in the street's life. Though the project aims to act as a salve for the rapid gentrification transforming the area, it's ultimately part of it.
Built between 1860 and 1918, Yuyuan Road was formerly known as a historically significant, but sleepy part of the central Changning District. Its red brick terraces previously housed famous figures from the writer Eileen Chang, to Qian Xuesen, the scientist who helped build China's first nuclear bomb.
Since 2014, however, the road has undergone a dramatic makeover as part of Shanghai's citywide chengshi gengxin — or "urban renewal" — drive.
Local authorities handed over the job of rejuvenating Yuyuan Road to a private urban redevelopment firm named Creater, which christened the project with the motto, "Living art; art-ing life." The road, it was decided, would be transformed into an artistic hub that would help attract a younger crowd of professionals and consumers to the area.
Over the next few years, Creater set about doing just that, beautifying storefronts, converting a parking lot into a plush lawn, and bringing in all manner of trendy businesses, including a glass workshop, flower arrangement specialist, and design-your-own T-shirt store.
It was this wave of urban renewal that brought Tang to Yuyuan Road and eventually led to him becoming its resident bard.
Like many young Shanghainese, Tang's life has been a journey from country to contemporary — his red-tinted dreadlocks, lens-less glasses, and tattoos belying his rural roots.
He grew up in the '90s in an agricultural part of eastern Shanghai known for growing watermelons. As a teenager, he picked up music and carpentry from his relatives, later learning how to make guitars from a master luthier in the eastern Shandong province.
In 2013, this niche skillset helped Tang get a job at X-Music, a music store where he still teaches clients how to play and make guitars as a day job. X-Music is such an important part of his life, he has the store's name inked on his forearm next to the emblem of his favorite soccer team, Shanghai Shenhua.
Soon after Tang joined X-Music, however, the store's original location on Changning Road was earmarked for demolition. This prompted X-Music to turn to Creater, and after some negotiating the music firm secured permission to set up a new outlet on Yuyuan Road.
Over the following years, Tang built a relationship with Creater, helping the developer organize live music gigs and even writing a rap-rock song about the road for one event.
The idea for a "story store" first came from Xu Yinlan, the general manager of Creater. She tells Sixth Tone that in 2018, she started to realize Yuyuan Road's revamp had left many local residents feeling alienated.
"Most stores on the street had been occupied, but we suddenly found ourselves out of touch with our own lives," says Xu. "We'd renewed the road so much, our old lives had been renewed out of existence."
Creater abruptly changed tack and launched a series of projects catering to the tastes of the local community. In 2019, the firm established a "community bazaar" filled with old-time businesses that had been displaced due to the urban renewal campaign, such as tailors, locksmiths, and umbrella repair stalls, as well as restaurants selling cheap and well-loved Shanghai dishes.
As part of this effort — and to coincide with Yuyuan Road's 101st anniversary — Xu created a pop-up space where locals could make their voices heard and pen their memories of Yuyuan Road.
"I wanted to hear a sound that came from Yuyuan Road, no matter if it was residents or visitors, good voices or bad," says Xu. "However they saw Yuyuan Road, I wanted to know what they thought of some of the changes that had happened there."
It was a bold idea: a cool, artistic project designed to deal with local complaints that the road had become too cool and artistic. But the pop-up proved a hit when it opened last August, attracting attention from both local residents and the media.
To get the whole community involved, Creater invited Yuyuan Road locals and storeowners to take turns managing the new space — with Tang taking the first shift. By the time the pop-up closed in October, it had received over 2,000 written memories, told by people aged from 7 to 95.
In many of the testimonies, elderly residents fondly recalled the sights, smells, and sounds of Old Yuyuan Road. One writer who went by "Old Yang" reminisced about a market bazaar being set up on the street in the 1960s, with palm readers, magicians, and hawkers selling toy trinkets.
In those days, local stores sold rice, yellow fish, and gingko, while one vendor would occasionally lead a white mare down the street, prompting residents to rush over with cups to buy freshly squeezed milk, Old Yang wrote.
Another resident described taking part in a parade celebrating the 10th anniversary of the founding of the People's Republic of China in 1959, when he and other local children followed a float carrying a giant revolutionary coat of arms down the crowded street.
But many contributors — especially younger Shanghainese — expressed sadness at how the road had changed. "This road has become posh and fancy as familiar things have slowly but surely vanished," lamented one 30-year-old writer, who said he used to come to the street for drawing lessons in the early 2000s.
After the Story Store's first season ended, it briefly became a nail salon, before shutting down completely as the coronavirus pandemic took hold in China earlier this year.
By this time, X-Music had been informed their store on Yuyuan Road was scheduled — once again — for demolition. So, in April, Tang approached Xu, the head of Creater, with a proposal to reopen the Story Store, but this time as a music-story project. During the day, Tang would use the space as a music classroom and guitar-making workshop.
Xu agreed, and the second iteration of the project began in June.
Tang began his Story Store experiment with great gusto, transforming multiple stories into songs each night. But he soon had to cut down to one song a day, as the emotionally charged tales he'd hear every evening started to overwhelm him.
"There used to be so many people every day, but then I'd have way, way, way too many emotions," says Tang. "Many nights, people's emotions aren't very good at all. They have a lot of pain, a lot of unhappiness. They tell it all to me, and I write it down. Then, I'll feel their emotions … I think I need a therapist."
The Story Store may have started as an effort to preserve the spirit of Old Yuyuan Road, but Tang says he's philosophical about the rapid changes taking place in Shanghai.
"I definitely miss it (Old Shanghai) to some extent, but this is just the passing of an era," he tells Sixth Tone. "All bad things will become good in the end."
For Tang, the destruction of the old is part of building something new. Two of X-Music's stores have disappeared, but the company has still expanded and is working to set up practice rooms for promising bands at another location on Yuyuan Road, he says.
The musician prefers to describe his role on the road as a "life artist." What motivates him to continue the project, he says, is simply the beauty of uncovering astonishing human stories — good or bad — from ordinary people on the street.
Xu, meanwhile, says the Story Store has taught her that what many people want more than anything is to have a listening ear.
"Many stories, (people) keep to themselves," says Xu. "They don't want those close to them to know them. But they can accept the warmth of a stranger."
The only sadness for Tang is that Creater will likely take back the space at some point next month: The Story Store was always meant to be a three-month project. Without the space, he worries he'll lack the legitimacy to carry on collecting stories.
Like many things in fast-changing Shanghai, the Story Store and its guitar-wielding bard will soon become just another story.
Editor: Dominic Morgan.
(Header image: Tang Jiamin (middle, in black) chats with a friend at the Story Store in Yuyuan Road, Shanghai, June 23, 2020. Courtesy of Tang Jiamin)