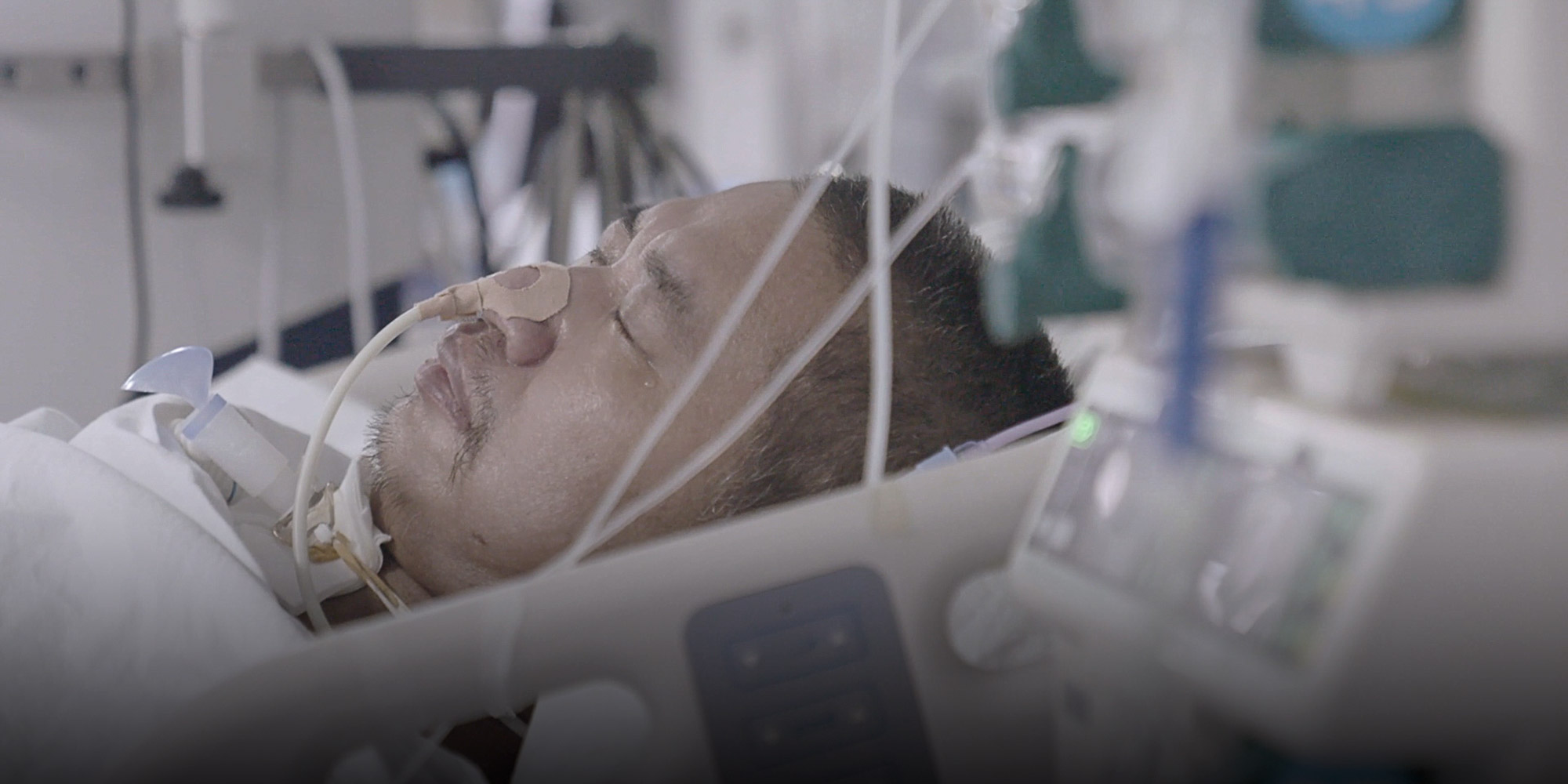 MULTIMEDIA
Missed Connections: The Struggle to Communicate, Post-Virus
After over a month hospitalized and hooked up to an artificial lung, Hu Dingjiang is finding it hard to open up.
This story is part of a visual series highlighting the first-hand experiences of those caught in the crossfires of the coronavirus epidemic in central city Wuhan. You can find part one here.
HUBEI, Central China — Amid the hum of the ward's medical equipment, a phone rings. A doctor answers and holds it in front of Hu Dingjiang, a COVID-19 patient who has been critically ill and bedridden more than 70 days.
"Did he throw anything on the floor again?" asks Li Jiahui, Hu's wife, on the phone. She's responding to a message from the ICU informing her Hu had lost his temper again.
"He tried to remove his stomach tube," the doctor says. Hu listens as their conversation plays out. Every so often, Li coaxes her husband to react with a nod, a blink, anything. He doesn't move. Near the end of the phone call, Hu finally blinks to respond to the doctor: Yes, he'd like to listen to relaxing music.
As the wave-like tune washes over him, Hu's eyes well with tears.
Hu, 40, was diagnosed with COVID-19 in early February. When his condition worsened, he was sent to the intensive care unit of Wuhan Pulmonary Hospital in mid-March. For over a month, Hu was connected to an ECMO, or artificial lung, as medical personnel brought him back from the brink. At its peak, 70% of the ICU's coronavirus patients were connected to ECMOs. The ICU saw 81 COVID-19 patients, with Hu one of the last ones left in the ward.
"Hu has been in the hospital for so long," resident ICU doctor Chen Yumei says. "He probably feels lonely without his family members' company. This is a common problem among ICU patients."
Restoring his ability to communicate proves particularly challenging for the temperamental Hu. His anxiety is aggravated all the more by watching the ward's other patients get transferred one by one. Hu slowly regains motion in his limbs, all while the city outside buzzes with life and traffic returns to the streets after Wuhan's lockdown ends April 8.
While the city outside Hu's window reopens, Hu has more immediate concerns: unlocking his phone, a simple motion made strenuous because of damage to his cerebellum.
The world inside his phone is so near, yet so far. But once Hu at last completes the necessary button presses, he drinks in all the messages before him.
On June 17, Hu is finally discharged from the hospital — its last coronavirus patient. Li's quit her job as a hotel staff member to take care of Hu. She remains optimistic, however, since the couple can now be in touch, with or without phones.
"I just hope we can stay together," Li says. "After all, I think life matters most."
Editor: Hannah Lund.

(Header image: Hu Dingjiang, a COVID-19 patient cries while lying in bed, at the ICU of Wuhan Pulmonary Hospital. Yang Shenlai for Sixth Tone)