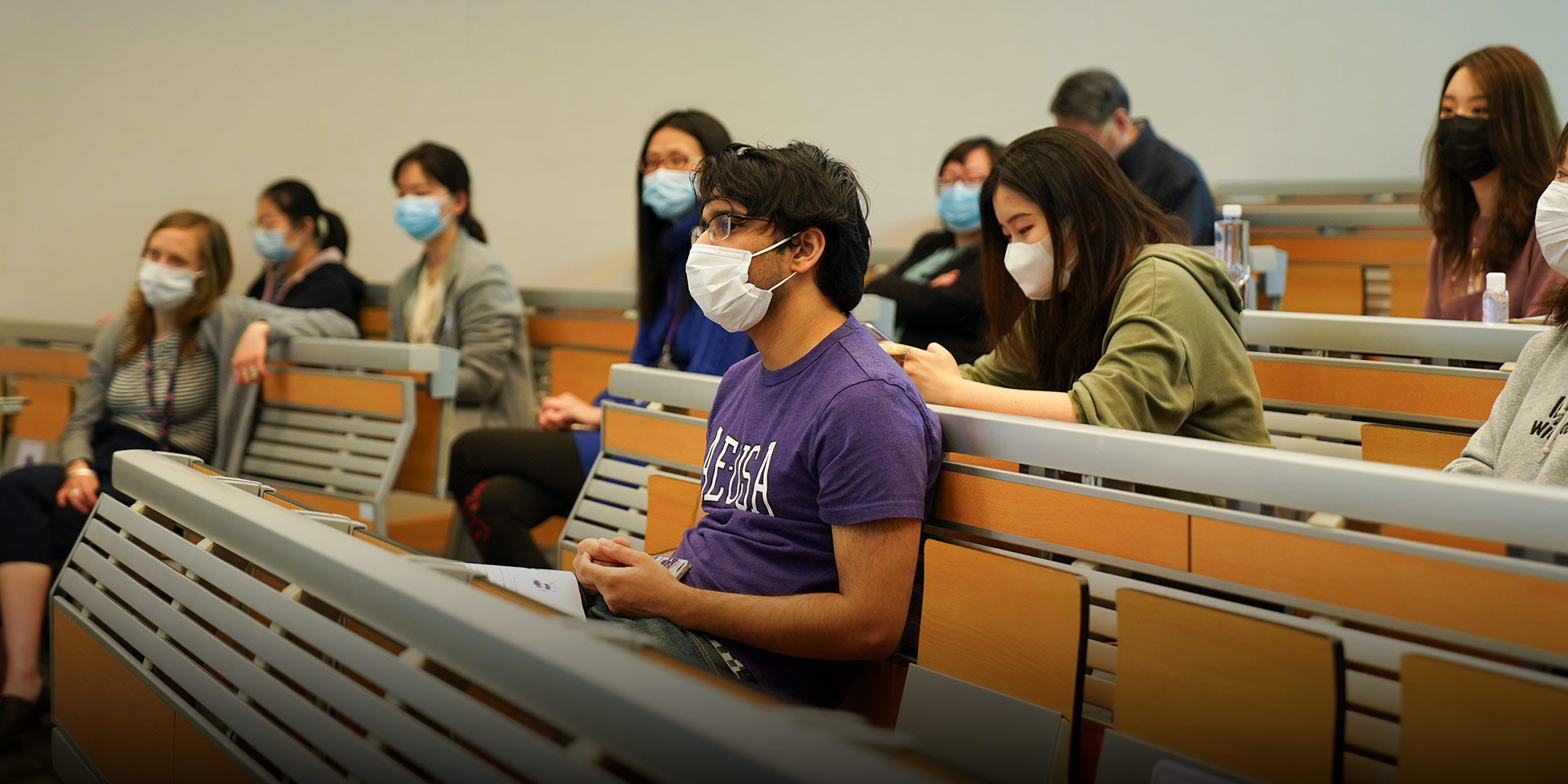 FEATURES
In 2020, China's Top Study Abroad Destination Is: China
As fears over coronavirus disruptions grow, Chinese international students are pressuring overseas universities to allow them to continue their studies in their home country.
When Wu Wenhao received an offer from New York University (NYU) in February, the 18-year-old thought he was about to begin a new life as an itinerant scholar. He planned to spend his first semester in northern Italy, before heading to New York after the winter vacation.
Then the coronavirus hit Europe and changed everything. Now, the college freshman's fall semester promises to be far less glamorous.
When classes start in September, Wu won't be in Florence; he'll be at a WeWork in central Shanghai, just a 20-minute drive from his home.
NYU has booked out swathes of the coworking space in the eastern Chinese city, which the university is hastily converting into makeshift classrooms and lecture halls.
The new facilities will be used to accommodate thousands of local students unable or unwilling to travel to NYU or its Abu Dhabi campus for the new semester — a strategy the university has dubbed the Go Local plan.
It's a radical response to the pandemic, but one that several Western universities are looking to follow as Chinese international students increasingly pressure colleges to let them continue their studies at home.
For Wu, staying in China is far from ideal, but it's better than attending online classes from a socially distanced dorm room on the other side of the world.
"I'm not sure how things will go, but going local is my best option right now," Wu tells Sixth Tone. "Although NYU offers online classes, I lack confidence in my ability to concentrate during those courses."
Many young Chinese feel the same way. China is the largest source of international students in the world, with more than 660,000 people leaving the country to study overseas in 2018. But the global disruptions brought on by COVID-19 are causing many to reassess their plans this year.
Some students fear catching the virus if they travel to the United States or Europe. Others are reluctant to pay sky-high tuition fees for what they expect will be an inferior educational experience. Still others face practical obstacles such as the U.S. travel ban, which is forcing Chinese students to quarantine in a third country for 14 days before entering the United States.
The prospect of a steep drop in Chinese student enrollment is causing Western colleges — many of which are heavily dependent on the income brought by international student fees — to take unprecedented steps to allow students to pursue their programs without leaving China.
The NYU plan, announced mid-July, is the most ambitious. Once the temporary WeWork classrooms are complete, they'll host an estimated 3,100 students — far more than the 1,700 currently attending NYU Shanghai, the school NYU runs in the city in partnership with East China Normal University.
Duke University also plans to allow around 125 students to spend the fall semester at the college it co-runs with a Chinese partner in eastern China, Duke Kunshan University (DKU).
According to Scott MacEachern, DKU's vice chancellor for academic affairs, the visiting students will share the same campus and classrooms as DKU's own scholars.
"We'll welcome students in China back to the campus, and we'll be teaching simultaneously online," says MacEachern. "That degree of flexibility makes it easier for us to accommodate extra students this year."
Other U.S. colleges without a major presence in China, meanwhile, are partnering with local institutions to host international students.
In July, Cornell University unveiled a "study away" program that would allow Chinese students to spend the fall semester at one of several elite domestic schools, including Peking and Tsinghua universities in Beijing.
Rutgers University, Syracuse University, Trinity College, Tulane University, University of Pittsburgh, and several other U.S. colleges have also announced similar agreements with Chinese partners.
The "go local" plans have been warmly welcomed by Chinese students like Matthew Liao, a rising sophomore at NYU's College of Arts and Science. The student returned to China from New York in March and has since been attending online classes, but he tells Sixth Tone he's been far from satisfied with the experience.
"I'm strongly against online courses as they lack a dynamic or interactive atmosphere," says Liao. "They don't provide opportunities for us to interact socially. There's no campus feeling at all."
According to Liao, NYU first offered students the Go Local option in mid-May. It's one of three choices the university's Chinese scholars generally have — the other two being continuing with online classes or deferring a semester, he says.
"Given the ongoing pandemic, there isn't much you can do if you choose a gap semester," says Liao. "Going local is the most acceptable plan at the moment."
But studying in China is far from a perfect solution, with many students expressing concern that the last-minute arrangement won't provide the quality of education they would normally expect.
Liao says students are still waiting for answers to several key questions regarding the Go Local plan, such as who will teach the thousands of additional students and how the university will ensure students have access to the academic resources they need.
For students who intended to go abroad, the lack of cultural diversity in all-Chinese classrooms is also a significant drawback. NYU Shanghai says it's working to secure permission for its non-Chinese first-year students to enter the country, but for now China's borders remain largely closed to foreign nationals.
"Without students from diverse backgrounds, I'm worried students might have similar thoughts toward issues, especially for liberal arts subjects," Chen Linglai, another NYU student on the Go Local program, tells Sixth Tone.
Other students have noted the lack of courses available at NYU Shanghai, which has a far smaller faculty than the university's campus in New York. One rising junior at NYU, who requested anonymity for privacy reasons, tells Sixth Tone she decided to continue with online learning due to the greater range of options available.
"I'm a bit worried about being separated from my friends for a long time, but eventually I chose to stay online to learn my favorite courses," she tells Sixth Tone. "I'm lucky enough to have some very dedicated professors. To adapt to the online format, they added more Q&A and one-on-one sessions, which helped a lot."
The issue most frequently cited by students considering the Go Local program, however, is the tuition fees. Like many Western universities, NYU has decided against offering international students a discount on their fees, despite the recent disruptions to teaching and academic life.
That means the vast majority of NYU students on the Go Local program are still paying between $50,000 and $100,000 a year in tuition fees, depending on the credits they select. Students enrolled permanently at the NYU Shanghai campus a few blocks away, by contrast, are charged 120,000 yuan to 180,000 yuan ($17,150-$25,700) in annual fees.
Feng Jing, a fourth-year student at NYU, tells Sixth Tone she's unhappy about having to pay such high fees when so many of the courses she wishes to take aren't available in Shanghai. "You're not getting what you paid for," she says.
A double-major in journalism and psychology, Feng pays $50,000 per semester in fees. Her parents, who work as civil servants in a small city in northeastern China, have had to make huge sacrifices to support her dream of studying abroad, she says.
But despite their disappointment with the university's decision, several students planning to enter the Go Local scheme tell Sixth Tone they're resigned to paying the full fees, reasoning they'd have to pay the same to attend online classes anyway.
"I don't think it's worth it, but it's still the best choice," says Chen. "I made the decision (to sign up for the Go Local scheme) myself. As long as I don't return to New York, my parents agree with any choices I make."
The imminent arrival of thousands of Go Local students, meanwhile, is causing disquiet among NYU Shanghai's own student body, who worry their new classmates will overwhelm the small campus.
"Each year our school has fewer than 2,000 students and faculty, and it already feels cramped," says Vincent Wu, an interactive media arts major at NYU Shanghai. "How will the school be able to control the number of students entering the building and at the same time provide a manageable environment for people … to socially distance?"
NYU Shanghai has tried to reassure its students, stressing that permanently enrolled students will have priority access to resources within the academic building. But Cai Tingting, who's about to start her final year, says she's still concerned she'll find it harder to access the campus's career guidance services.
"If the departments receive more requests, their efficiency will decline," says Cai. "That will definitely impact us."
Yet despite all the potential disadvantages, go local schemes appear to be popular among China's international students. Those enrolled at other U.S. universities tell Sixth Tone students have been lobbying their schools to set up similar programs.
Yang Hang, an up-and-coming junior at Bates College, wrote to her school's administrators in early July, asking the school to create a go local option for the around 60 Chinese students enrolled at the college. As a neuroscience major, Yang emphasized her courses mostly include lab experiments that can't be replicated through remote learning.
Bates, however, turned down the student's request, telling her the college was "not moving toward that direction." Yang says she's now unsure what she'll do next.
"I'll see if I can only take the courses without lab work," she says. "If that doesn't work, then I'll take a gap semester."
At Mount Holyoke College, several Chinese students approached the school in early July to demand a go local option, according to Zheng Ruining, a 20-year-old anthropology major at the college.
Again, however, the school rejected these calls, and Zheng says she now has no other choice but to take online courses in the fall.
"I really miss the in-person learning experience," says Zheng. "I guess I'll invite my friends to a library so we can study together, to mimic the in-class experience."
Back at NYU Shanghai, sources at the school tell Sixth Tone they're rushing to prepare the new WeWork classrooms by mid-August. Cai Tingting, the rising senior, says she's sure everyone will get on board with the Go Local plan in the end.
"Many remain concerned because a lot of information is still unclear," says Cai. "Once we're back at school, I think things will be just fine."
Contributions: Shi Jiannan; editor: Dominic Morgan.
(Header image: Students attend a class at NYU Shanghai, April 27, 2020. Courtesy of NYU Shanghai)